My writing chair faces north. Through a wide expanse of windows, I have a beautiful tree top view.  And even though I can't see the sun rise from my spot this morning, I do see fingers of golden light reaching… reaching around as gentle wisps of radiant color into my narrow view.
From this vantage point, my field of vision is limited.  The branches of the tall oaks are silhouetted against the dawn like a line drawing.  The intricacy is incredible… but it is only a glimpse of a bigger world.  For as far as I can see… beyond the trees… are more trees.  Off to the side… between the pattern of branches… there are tiny openings where I can barely make out small portions of a few houses in the distance.  And though I know there is a street below, it is not within my view.
That is my world from my chair.
That's how it is with God for many.
We have come to know God because someone introduced us to Him, but like the view I have from my window, it is a very limited and narrow view. What we have is quite wonderful, but it is just a glimpse.
God has given us a bigger picture of Himself… it's in His word… the Bible.  It contains everything we need for life and living and best of all… it is there that we get that bigger picture of God our hearts desire AND the intimacy with Him our spirits crave.
I love the Psalms and often include a short reading of them as part of my larger daily Bible reading. This passage was, to me, like tasting the most incredible lunch while sitting on the edge of one of God's stunning masterpieces….
The Law of the Lord is perfect, giving new strength to the soul. The Law He has made known is sure, making the child-like wise. The Laws of the Lord are right, giving joy to the heart. The Word of the Lord is pure, giving light to the eyes.  The fear of the Lord is pure, lasting forever. The Lord is always true and right in how He judges. The Word of the Lord is worth more than gold, even more than much fine gold. They are sweeter than honey, even honey straight from the comb. And by them Your servant is told to be careful. In obeying them there is great reward.  ~ Psalm 19:7-11
Reading these words grew my love for the Lord, it increased my desire to know Him more and inspired me to be more faithful to feed deeply on His word.
I want to understand even more His perfection.  My spirit desires that new strength for each day. My mind is hungry for more wisdom. My heart yearns for more joy.  My eyes… more light to see Him and to see the world with His eyes. My worship of God will never cease. His truth is absolute.
This Book I hold in my hand (or often the text I read on my screen) is the most valuable thing I have in this life. All of this is better than that exquisite lunch on the precipice of the world.  And unlike a lunch that concludes with an empty plate, this is a never-ending banquet of food which not only sustains me and helps me thrive in this life… but as I remain faithful to the Lord and His word… will reward me in the life to come.
My heart is full.
God's loving care and goodness overwhelm me and it is through passages like these that He breathes life into me.
I feel more alive.
Where are you sitting right now?
What is your view?
Maybe you are like the hospitalized blind man who asked the man in the next bed to describe the view out the window.  You have been told of trees and flowers and sunsets and a park filled with families walking and playing together.  A beautiful sight to imagine.
Ask God to take away your blindness and open your eyes to more of Him and all that He has for you through His word.   May you be encouraged to click on the scripture link and read today's verses on your device… and then keep reading… asking God to illuminate them for you.
The sun slowly ascends into the sky as the morning progresses.  And as it does… we can see more clearly by the minute.  God's word is like that too.  Bit by bit, the more we read, the more we SEE God as never before.
Sink your teeth into the deliciousness of His word today and be filled.
It's JoyDay!
And time to get our joy meters soaring!
Please join me in thinking back over the past week and counting seven things for which you are thankful.  This simple exercise of counting and giving thanks together in this space is something we do each week to reset our compasses and put our eyes back on the Lord.
I'll start…
Thank you, God for…
Your word and how it breathes life into me and fills my heart with joy.
giving me the desire of my heart.  I am so very grateful for how you made it possible.
the reality of a dashed dream.  It is so good to know that even then You hold us in the palm of Your hand.
gorgeous flowers at my supermarket.  What a gift!
spring and all the beautiful new leaves and flowers we're seeing everywhere.
the time I get to spend with my good friend after our long separation of miles and time.
Your love beyond measure.
Your constant care and provision… thank you for being all we need. 
Now…it's YOUR turn!
List your 'seven' in the 'share your extraordinary thoughts' section below.
You'll be glad you did.
Thank you for stopping by and leaving your sweet thoughts.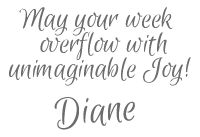 Receive FREE inspiration like this in your inbox!
Sign up Now.