Today we're making another stop at my friend's home to see her lovely living room dressed for fall.
Earlier in the season I showed you her jewel-toned dining room, her stunning entryway, and I showed off my book page pumpkins on her screen porch.
This past weekend I was at her home and finally the sun came out so I could get some good shots of her living room.   In between a trip to the farmers' market and breezing out for a stop at the hob lob, I grabbed my camera and shot a few photos.  I didn't take a lot of photos… this is pretty much everything.  This was not a photo shoot by any means.  There was no adjusting or tweaking.   Rochelle has an amazing eye for decor and I'm so glad I get to share it with you here.
Tips for Dressing a Living Room for Fall
The fireplace and mantel are stunning in their simplicity.
One thing Rochelle has done so well is repeat a theme.  Leaves.
It's helpful that her fireplace screen is festooned with copper leaves.  But here, it goes from being an accent in the room to being the anchor piece that sets the theme.
You'll notice the huge leaf bowl on the vintage coffee table.  As a singular piece it makes a dramatic statement and echos the theme well.  It's also a great way to store a large piece that will be used for entertaining later.
The orange candles (in the first photo) punctuate the warm tarnish of the plate and the two matching orange jardinieres on the mantel.  The jardinieres also have leaf designs and serve to bring a bright warm seasonal tone into the living room which Rochelle painted in Benjamin Moore's raisin plum.  (The color here is a bit rusty… the sunshine warmed it considerably.)  The treasure box also has a leaf design and more warm fall colors.   Together these repeat the warm tones of the copper leaves in the fireplace screen.
Rochelle has beautifully used a mix of metals in the room.  It's interesting how polished silver, slightly tarnishing silver, and very tarnished silver and brass, along with the copper leaves, give the room an additional warmth, with their lightly reflective qualities.
The sun was shining brightly on Saturday.  I didn't have the heart to scooch kitty from her sun spot.
Again, the leaf theme has been repeated on the sofa pillows in such lovely warm colors.  On the credenza against the wall, there is a tall amber vase glowing in the sun with some lovely sunflowers.  The warmth of those colors give the room additional warmth and are eye-catching as well.
Rochelle  has such an easy touch with adding metallics into her living room.  She painted the top of her vintage hex table and accented it with Martha Stewart gold paint.   Notice the mirror with the fruit frame is also a burnished metallic.
I love the vintage green cloche and the majolica pot filled with faux leaves.  Again… the leaf theme continues.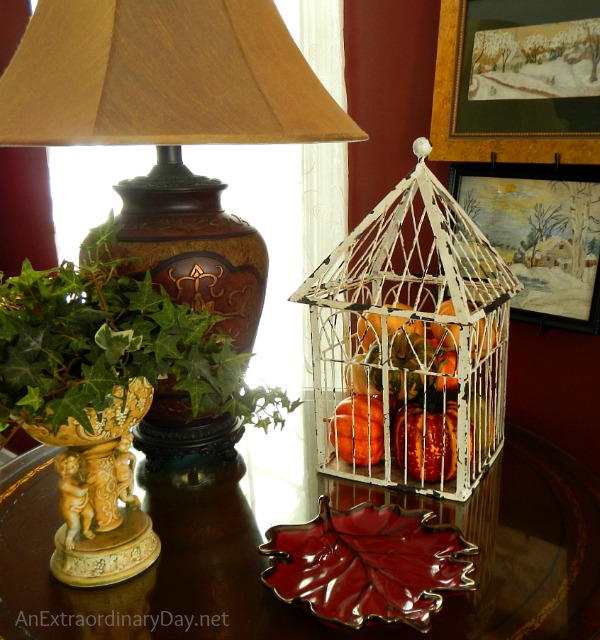 This vintage round side table has a splash of orange to repeat the candles and jardinieres on the mantel as well as a leaf plate which is a nod to the large leaf dish on the coffee table.
All the accessories are added with a light touch and carefully chosen for repetition of color, theme, and finish.
Don't you agree?  Rochelle's living room sings fall in a most delightful way.
I hope you picked up a few tips for dressing a living room for fall. 

What caught your eye?
What look do you want to duplicate?
Please … "Pin-it" – Share it on Facebook – Stumble it!
Thank you for stopping by today.
I appreciate you and your sweet comments make my day.
If you enjoyed this post….please pass it on to your friends.
Click any of the sharing buttons at the bottom.
Best wishes for An Extraordinary Day!
Diane
To receive FREE bits of inspiration like this
in your inbox or reader, subscribe now.