You know that phrase, "He/She is a pain in the neck."
It's amazing how debilitating a neck pain can be.
This week my neck was so tired that I felt like it could hardly hold up my head.  It sounded like I had gravel in my neck when I turned it and it was painful, too.
So I called the chiropractic office to see if I could get an appointment.  Fortunately, I could get in that same day.
That afternoon, the doctor massaged my neck before manipulating it.
After he finished the adjustment, he suggested that I think about those muscles in my neck that he just worked on and focus on relaxing them.  Then he left me laying on the adjusting table with a pillow under my neck to do just that and allow the adjustment to set in.
When he returned, he spoke with me about all the tension I carry in my neck.  He told me that I've been through a lot in the past and that I needed to quit pushing so hard.  That it is okay for me to relax.
That was quite telling.  I don't talk much about my past challenges, but my body does.
It would be rare to find me in a relaxed state.
Often when I'm sitting, you'll notice my body is moving.  When sitting next to Tim, he's been known to ask me to sit still.  Seriously.
And I can drive him crazy when he's trying to relax and I pop up and down.
If you've gone through some challenges, you know how it is to always be looking for a way out of them or through them.  I'm always waiting in eager expectation to see how the Lord will move.  But, my waiting, generally isn't sitting still.  And if I am sitting still… my mind is moving at a frantic pace.
I said to my husband, after that appointment, "I don't think I know HOW to relax."
Sure we drive down to the beach to walk or see the sunset.  Tim and I occasionally watch re-runs of humorous sitcoms. We take walks and sometimes even sit and talk.
But, in the background of my mind, I always have things I feel I should be doing.  Mentally, I'm planning, creating, and thinking about who knows what.
This whole idea of letting go… of caring for my body… of being mindful.  This doesn't come easily.  Especially since I'm an expert at doing.
Even in the midst of health struggles I let my mind run frantically even if my body is too tired or unwell to be in constant motion.
Retraining is a struggle.
The thing is… God doesn't want it to be a struggle for me.
In fact, it seems that the way I have lived, in constant motion (mentally or physically) is not the abundant life Jesus came to give me.  I'm short-changing myself and dishonoring God.
Whomp!
Dishonoring God?!
You know, I've never thought about it that way before.
I have thought about the importance of resting and the benefits for our bodies and even talked about it in these posts… When Rest and Trust Collide with Popular Convention and What if God wants you to quit the hustle?
It never occurred to me until now that my inability to adequately rest was more than a health issue… it is a spiritual issue.  And until I get this resolved there will be ramifications.
How can I do this when… I am just starting a new intensive 18-week class, the holiday season has just begun and my list of projects is long?  And that's just for starters.
That's when this verse came to mind…
"Come to me and I will give you rest—all of you who work so hard beneath a heavy yoke. Wear my yoke—for it fits perfectly—and let me teach you; for I am gentle and humble, and you shall find rest for your souls; for I give you only light burdens."
Matthew 11:28
I have created a heavy yoke for myself.  Maybe you have too.
Jesus tells me that I need to wear HIS yoke because it fits me perfectly AND… he gives rest and only light burdens.
As I embark on a very busy week, I need to do things differently.
I need to bring my plans to the Lord and make sure that all my plans are his best for me.  And if not… I need to make some adjustments.
If Jesus' yoke for me is gentle and not burdensome it will give me time to relax.  Time to restore my soul and my body.
I'm reminded that a workhorse works better when it is well rested and well fed and well cared for.  That would be true for each of us, too.
Why do we think that we can run like the horses in the Derby or the Belmont or the Preakness without giving ourselves the care that each of those racehorses receives?  We deceive ourselves.
It seems that I'm a slow learner.  Maybe even a stubborn one too.
One thing I know for sure.  I don't want to dishonor the Lord when he has made every provision for me to live a full and abundant life while wearing his lightweight yoke.
Scripture is full of references that tell us how important rest is, starting with Genesis when God demonstrated the importance of resting by resting on the seventh day of creation.
It's pretty obvious that this is a process for me.  And one that God has been whispering to me about for some time.
I'll check in with you later to let you know how it's going.
In the meantime, if you struggle in this area, please let me know.  We can surely encourage each other.
There's a ton on my agenda today… but first… I'll be making God and rest (relaxation) my priority… in that order.  I'm going to trust him to show me how to prioritize the day and rest in him.  And I'm going to take time to focus on relaxing those tight neck muscles, too.
It's JoyDay!
And time to get our joy meters soaring!
Please join me in thinking back over the past week and counting seven things for which you are thankful.  This simple exercise of counting and giving thanks together in this space is something we do each week to reset our compasses and put our eyes back on the Lord.
I'll start…
Thank you, God…
for gently reminding me of the importance of relaxation and rest.
that YOU are our place of rest
for the golden leaves that glow against these gray November skies.
for my dear friend who tells me I look so much healthier. It's such a wonderful encouragement.
for all the fun we had shopping together on Friday night.
for sunshine.  Oh, how I miss it these days!
for Your limitless grace and for the healing YOU are bringing me.  All praise and glory belong to YOU! 
Now it's your turn!
List your 'seven' in the share your extraordinary thoughts section below.
You'll be glad you did… I dare you!
Thank you for stopping by and leaving your sweet thoughts.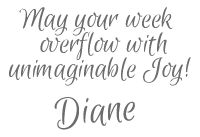 Receive FREE inspiration like this in your inbox!
Sign up Now. 
If you found this post helpful….please pass it on to your friends.
amazon.com/shop/anextraordinaryday