The concept of REST and TRUST and WAITING are counter-cultural to our nonstop lives where HUSTLE is king. How would your life look different if you defied common convention?
Nearly a month ago I had an appointment with my homeopath where my current state of health was the topic of conversation.  I'm grateful that she is a spirit-filled believer and so when she speaks, I listen.  She said something that set me back in my seat. "Diane, you need to rest or you will miss something big God has planned for you." Those words slapped me in the face.  Hard.  I don't want to miss out on God's plans for me. 
Since then, I have been trying to figure out what rest means for me and my body.
As a creator and writer, even though I might be sitting more than standing as I write and create and photograph and edit posts and projects, I'm expending considerable mental energy.  Continually, I'm trying to learn something new… taking a class, trying to figure out something that doesn't come naturally to my nongeek brain, or striving to hone my craft and improve all that I do for the blog and on social media.  It's a big task.
Besides that, I have a side job where I work "on demand."  There I mostly stand and work, but on top of those tasks, I often expend a lot of mental energy in attempting to catch all the details of the job. Occasionally I help a friend who owns some apartment buildings by doing some fast heavy cleaning and maybe a little painting when the need arises.  Additionally, we have an open door for two energic neighbor kids that are 7 and 11.  And, of course, there are the daily tasks we all are responsible to do from making meals to caring for our homes and family to self-care activities like quiet time and exercise,  not to mention our activities and acts of service outside our homes.  My days are full from the moment I awake to the moment I put my head on the pillow.
I am thankful to live such a full and blessed life.  However, for many many years, I abused my body by getting little sleep, even less rest, and working LONG days.  But… all of that came at a huge cost to me. Living on adrenalin recks havoc on the body.
My doctor reminded me that although I "feel" like I'm back to living a "normal" life, my life is far from "normal." My body is still reeling from living "in between" for far too long, not to mention all the years of self-inflicted "adrenalin abuse."  Recovery will not come overnight… even with God's help.
I've had a sense for some time now that God has something good ahead for me, so my doctor's admonition to REST hung heavy and hard on my mind.
There are so many stories over the years I could tell you where God showed me that I was disobedient in not resting.  Ugh! We've talked about the importance of taking a Sabbath each week.  Unfortunately, I'm still working on that.  However, I am learning that I don't HAVE to get up with my husband every morning and make breakfast.  And since eggs have been banned from my diet, that makes it even easier for me.   I continue to wake up when Tim does and we pray together, I stay in bed and sometimes sleep, more often I pray and talk with God and just have a good lay in as I call it, before starting my day.  That slower start to my day has paid great dividends.
I'm making progress.  Step by step.
A few scripture verses hit home with me this week…
It is a waste of time to get up early and stay up late, trying to make a living. The Lord provides for those he loves, even while they are sleeping.
Psalm 127:2
This verse is one I wish I had not glossed over, but taken to heart, many years ago.  It would have saved me from my current state. There is no doubt that God honors our hard work.  What he does not honor is working hard because we are choosing to either be self-reliant or because we make our work our god. God wants us to trust HIM first and foremost.  We know that his word tells us that he will provide everything we need to live, yet we take things into our own hands, don't we?
If you will be calm and trust me, you will be strong.
Isaiah 30:15
There we have it again… taking time to be quiet and trusting God, those two practices are what makes us strong.  Not frantically running around like crazy.  It's time to quit the hustle.  It's time to quit all the busyness.
Wait and trust the Lord. Don't be upset when others get rich or when someone else's plans succeed.
Psalm 37:7
This verse doesn't tell us that it's through frenetic activity God will prosper us. NO! It's by being in his presence, by worshiping, reading his word, and waiting… NOT doing.  He doesn't want us to compare ourselves to others.  He wants us to keep laser focused on him and trust HIM for all we need and our success.
Everything about that flies in the face of our culture and the way we've been raised.  We live fully on 24/7.   Okay… maybe 19/7… after all most of us can get by, we think, with 5 hours of sleep. At least that's what we tell ourselves.
This message of rest, trust, and waiting is one that God continues to impress upon me. 
Although I'm a pretty quick learner… in this area of life… I struggle.
Too much of my personal value in life comes from what I accomplish.  Not in "whose" I am.
Slowly I'm learning that I need to quit the striving in order to thrive.
Somewhere in the midst of this, I'm hoping to see results for changing my mindset and my need to keep trying to do more and more.
Making less space in my day for my agenda and more space for God does not come easily to me and frankly, I'm not exactly sure what that is supposed to look like for me.  Every day I begin my day in the word and in prayer… but what happens later in the day? Allowing myself time, even scheduling it, to rest and "do nothing"… is frankly a rare occurrence.
In my spirit, I have a sense that when I get this figured out… when I learn how to rest and be quiet in the Lord throughout my day… I think I just might have a big breakthrough in my personal life and in my business.
One thing for sure… this is important to God and so I need to make it important for me too.  Not just for my health and well being.
Have you figured out the healthy balance of honoring God with your rest and trust?
Or are you constantly striving, living sleep deprived, and always trying to be better, work harder, and push, push, push?
If you're in a similar position to me… I hope that you feel gently nudged today.
And if this is an area where you have successfully replaced your hustle and striving with rest and trust… please tell us how you are defying hustle and the common convention of our culture.
It's JoyDay!
Would you join me in thinking back over the past week and counting seven things for which you are thankful?  This simple exercise of counting and giving thanks together in this space is something we do each week to reset our compasses and put our focus back on the Lord.
I'll start…
Thank you, God for…
Your words that are alive and active and at work teaching and convicting.
baby steps made in learning to rest and trust.
the beginning buds of pussy willows that I saw on my walk yesterday.
an amazing message on the new covenant I heard this morning from Andy Stanley.
Your patience with me as I strive to quite striving every. single. moment of the day.
the incredible unlimitable love You have for each of us.
being a God who intimately cares about how we live our lives.
Now…it's YOUR turn!
List your 'seven' in the 'share your extraordinary thoughts' section below.  You'll be glad you did.
Thank you for stopping by and leaving your sweet thoughts.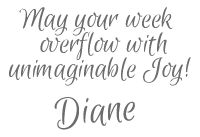 Receive FREE inspiration like this in your inbox!
Sign up Now. 
If you found this post helpful….please pass it on to your friends