If you listen to today's news or watch images of violence and hate flash across your screen it's easy to become discouraged.
Maybe that's why this quote from the 1600's by English Puritan and clergyman, Thomas Manton, struck me.  It's incredibly relevant for the 21st century… more than 400 years after it was first penned.
What an excellent ground of hope and confidence we have when we reflect upon these three things in prayer ~ the Father's love, the Son's merit, and the Spirit's power.
–Thomas Manton
Click HERE to DOWNLOAD this free 8×10 Thomas Manton QUOTE Printable for personal use.  Slip it into a frame to remember what counts.
Do not be discouraged…
Have I not commanded you? Be strong and courageous. Do not be afraid; do not be discouraged, for the Lord your God will be with you wherever you go."
Joshua 1:9
Do not lose hope…
This old hymn that I remember singing many years ago came to mind as I was thinking about hope.  Singing truth replaces all those fearful and negative emotions.
My hope is built on nothing less
Than Jesus' blood and righteousness;
I dare not trust the sweetest frame,
But wholly lean on Jesus' name.
On Christ, the solid Rock, I stand;
All other ground is sinking sand.
"My Hope is Built on Nothing Less"
by Edward Mote, 1797-1874
Be confident…
You are my hope, O Almighty Lord.
You have been my confidence ever since I was young.
Psalm 71:5
When we know the source of our hope and confidence we can quietly meditate on God's love for us, the resurrection of Jesus, and the power of the Holy Spirit.
When we take our focus away from what's happening around us so that we can re-center ourselves and find our "true north," we'll find that our strength returns, our hope rises, our confidence increases, and our faith grows.
This then is the ground we stand on… the place that becomes the filter for what is happening around us… and our place of safety amid the world's turmoil.
This practice is not an escape from the world, but instead, when we reflect on the Father, Son, and Holy Spirit we should then be able to be the reflection of love, grace, and wisdom to the world that only comes from the Lord.  All while, giving us the fresh infusion of hope and confidence we need.
May your hope be renewed and your faith strengthened as you purposely include this practice in the good and the hard moments throughout your day.
It's JoyDay!
And time to get our joy meters soaring!
Please join me in thinking back over the past week and counting seven things for which you are thankful.  This simple exercise of counting and giving thanks together in this space is something we do each week to reset our compasses and put our eyes back on the Lord.
I'll start…
Thank you, God…
for being our Hope and our Center.
for fun Christmas decor finds.
for brief glimpses of sunshine and beautiful sunsets.
for soup and crisp and being able to share them with my good friend.
for my new class — I surely need your help and focus to do this.
for my small group and our lively conversations.
for Your limitless love and grace and mercy and for the healing YOU are bringing me.  All praise and glory belong to YOU! 
Now it's your turn!
List your 'seven' in the share your extraordinary thoughts section below.
You'll be glad you did… I dare you!
Thank you for stopping by and leaving your sweet thoughts.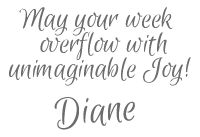 Receive FREE inspiration like this in your inbox!
Sign up Now. 
If you found this post helpful….please pass it on to your friends.
amazon.com/shop/anextraordinaryday