Right now I feel like I'm in the midst of a teaching moment.
One where I am the student. It started when I was chatting with my husband about the blog. I have a sense that I need to step up my game.  Improve some technical aspects of the website, educate myself on a few areas where I lack expertise, and overall, be more diligent and purposeful in my work.  And then I said, "But I don't think God wants me to hustle."  
There wasn't anything earth-shaking about that conversation or my statements.
I'm guessing that when we are in the process of being molded by God, the process is pretty ordinary.
The following night I had a lengthy phone conversation with a friend who moved to a new job in another state.  She needed a trusted long-time friend to talk with.  I had other plans that night.  Plans to stick to my editorial schedule and finish writing a post. But, by the time we were finished, I had only enough time to do one very brief task and go to bed.  I thought about staying up, but decided that I needed to take care of myself and get my rest.
Usually, before I go to bed I read an inspirational post or my husband reads from one of the books we're reading together. On this particular night, I chose to read one of Ann Voskamp's posts. I wish I could say that I regularly read Ann's posts. However, I think I had a divine appointment with this one.

As I read… these words almost jumped off the page…
"Jesus came to touch those suffering from the scars of scarcity — the scarcity of wellness, the scarcity of wealth, the scarcity of worth, the scarcity of worship — and He heals them with the generosity of abundance.

Hadn't Jesus' own disciples suffered from scarcity: "How can you feed these people with bread in the desert?" (Mark 8:4).

But Jesus's mind is made of the generosity of abundance, and He stands in the burning heat and asks the question of abundance:  "How many loaves do you have?" (Mark 8:5). They answer: "Seven."

This is enough.

What you have in your hand, God can always make into enough.

What Moses had in his hand, God made into enough to part the Red Sea.

What the poor woman in the temple had in her hand, God made that mite to be mighty enough.

What the boy with a few loaves had in hand, God made into leftover loaves in overflowing baskets.

What ashes from your hope and dreams that you still have in your hand, God will make into abundance that will be too much to hold in your hands.

This is the theology of enough — the theology of abundance.

He will leave none of your ashes alone until He alone makes abundance out of them.

And only those who believe in and live out the theology of enough can live out Sabbath rest.

The rest who don't believe God will give enough bread, they have to hustle every day of their lives.

Those who can't rest in the rest of God, who can't rest in the mystery of abundance, live Pharaoh-like lives, Pharaoh who never took a day off, who kept striving to get more and more and they never slow down because they are duped by the lie of scarcity that they won't ever have enough and God alone is never enough.

There is none like God — and He needs none of our relentless hustle."  –Ann Voskamp in You'll Need This When Your Life is On Fire: When Your Hopes & Dreams Burn Down (The Theology of Abundance & The Myth of Scarcity)
There it is… God needs none of our relentless hustle.
So the next morning I sat down to fill up on God's word and also read a devotional which included a link to some worship music.  Again… I'm nudged to take the time to listen.  The song is one I know well, but it ends with a few bars of a new tune that perked my interest and then it was over.  As always on YouTube a grid of songs appears and then all of a sudden a new song starts playing.  It just happens to be another group singing a long version of the short song that just ended.  I listen and these words flood my soul…
Lord, I don't want to rush on ahead… in my own strength… when you're right here

And later…

I am not in a hurry when it comes to your presence, when it comes to your spirit, when it comes to your glory…
I'm listening to this and at the same time almost fall off my chair.  Using a song from YouTube, God has my attention.  He doesn't want me rushing on ahead trying to do all the blogger stuff bloggers do to get ahead, striving in my own strength to get more pageviews, get noticed, and more.  He doesn't want me to separate my day into time with Him and time for me.  He wants ALL my day to be His time… to not hurry… to seek His advice for EVERY thing… to see Him at work in my life… to be aware of His nudges… to be teachable, guidable, moldable.
And then, towards the end of the song, these words are sung and repeated a few times…
All I ever have is loaves and fishes…  from Not In A Hurry by United Pursuit
 And I can almost hear God saying…
"It's all you need."
"I am ALL you need."
Remember the story of the loaves and fishes? When the disciples gave Jesus that basket containing 5 little loaves of bread and 2 tiny fish? Jesus took that small basket of food meant for one boy and fed more than 5,000 men and their families… and there were leftovers.  Twelve baskets of leftovers to be exact. Jesus took what was available and made it more than enough.
God wants us… He doesn't want our hustle.  
If we get all puffed up and prideful over what we accomplish… we dishonor God.  It's then we forget that it's HE who gives us our talents, keen minds, abilities, etc.  Everything we are and have is from the hand of God.
God wants us to work hard… as if we are working for Him… but He doesn't want our hustle.  He wants us to trust Him to take our seemingly small basket (our lack) and turn it into more than enough.
Deuteronomy 8 is a reminder of how God took care of the Israelites when they walked through the wilderness for forty years.  They had food to eat and their clothing never wore out.
"He wanted to find out if you were truly willing to obey him and depend on him, so he made you go hungry…  The Lord was teaching you that people need more than food to live—they need every word that the Lord has spoken." Deuteronomy 8:2-3)
After this testing, God brought the people into the "promised land." There they had land and animals and everything they needed to prosper.
However, there was a caveat…
"When you become successful, don't say, "I'm rich, and I've earned it all myself." Instead, remember that the Lord your God gives you the strength to make a living. That's how he keeps the promise he made to your ancestors.
But I'm warning you—if you forget the Lord your God and worship other gods, the Lord will destroy you, just as he destroyed the nations you fought." (Deuteronomy 8:17-20)
Through all this, I'm learning.
Learning I need to keep working hard, using all the gifts and talents the Lord has given me.  Learning God doesn't want me to waste these nor my time.  Even more… I'm learning He wants me to work in His power and His strength.  He wants to be the One I turn to for answers… not Google or some self-proclaimed "expert." And God wants me to know that He will take what I have… if I trust Him… and make it into more than enough.
Eight years ago, in April…
I stood backstage preparing to lead an auditorium full of elementary-aged kids in worship.  As I was going through my 'talk,' I said these words which I would soon lead the kids in repeating after me, "I can trust God no matter what." And the Holy Spirit, asked me, "Can you really?" My response was, "I would like to think I can." Little did I know that within two months, my time of testing would begin. A testing that continues to refine me.  A testing that God has used to help me now be able to say, "I can trust God no matter what," with much more confidence than I had that day eight years ago.
In all honesty.  I would like to believe that my time of testing is over and that like the Israelites the day of prosperity has come.  A wilderness experience, even with all its goodness and value, is just plain hard.  I'm glad I had the experience because I have grown in countless ways.  God surely doesn't waste any part of our life experiences, He uses them all to refine and make us into the people He has designed us to be.
It's through the wilderness that I have come to know and believe that God will give us what we need.
It doesn't mean that I haven't gone hungry… because I have.  It doesn't mean that He has met all my needs… because He hasn't…. at least in the time frame that I needed them to be met.  But, being without doesn't change who God IS.  He is still my provider, He is still the one who takes the ashes of my life to create a woman who is more reflective of His image than I was eight years ago. And more than anything, I know that He is always with me.  He walked with me through hunger and lack. And He still walks with me today.  Only today… I know Him as bigger, stronger, and more powerful God than ever before. He is my God.  He is my Lord.  And He is my all in all.
So tomorrow, when I get back to work, I know that God will take what I have and make it more than enough.  I know that He IS my Answer Man when I don't know which way to turn or where to find the answers.  And, I know I do not work alone, He is ALWAYS right by my side.  No longer do I need to hustle.  I simply need to trust.  And rest in Him.
How about you? 
Have you been struggling and striving and getting more and more exhausted by the moment?
Will you join me in laying it all down, choosing to rest in God and His power to help you take YOU and what you have and make it more than enough… because God IS enough?
And that my friend is the key… God is enough… for you and every situation.
It's JoyDay!

And time to get our joy meters soaring!
Please join me in thinking back over the past week and counting seven things for which you are thankful.  This simple exercise of counting and giving thanks together in this space is something we do each week to reset our compasses and put our eyes back on the Lord.
I'll start…
Thank you, God for…
how YOU continue to teach and mold me.
my friend whom I LOVE working with!
the burst of forsythia this weekend.
sweet bloggy friendships.
taking care of my friend through her time of transition.
breaking the chains!!!
for spring and warmer temps and new life (on so many levels).
being our healer, provider, restorer.
Now…it's YOUR turn!
List your 'seven' in the 'share your extraordinary thoughts' section below.
You'll be glad you did.
Thank you for stopping by and leaving your sweet thoughts.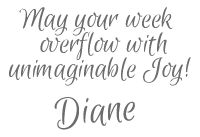 Receive FREE inspiration like this in your inbox!
Sign up Now. 
If you found this post helpful….please pass it on to your friends.