You'll never guess my accidental discovery for cleaning the tarnish off silver.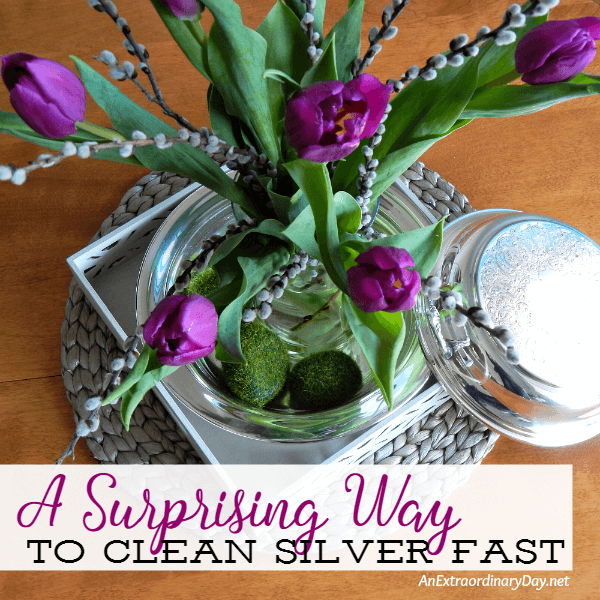 It all started after a trip to a thrift store.
This particular thrift store is notorious for using wide packaging tape to tape sets of things together… glass, pottery, metal, plastic… they use it on everything.
Have you ever tried to get that tape gunk off from items?  It can be a real challenge.  On plastic… you can just about forget it.
This week I picked up a set of tiny bowls, the kind you use to hold pre-measured spices and such for baking and cooking, for a dollar.  I also picked up a tarnished silver bowl with lid for just a few more dollars at this infamous thrift store.  Both the glass and the silver items were taped to survive any unforeseen disaster.
Before popping the glass bowls in the dishwasher, I tried to get the sticky gunk off and then I remembered that my husband has a bottle of something he uses for painting mistakes. It wasn't on his shelf, which meant it was still in the trunk of his car from one of his painting projects.
But, there was something there that caught my eye.
It was a can of WD-40
.  So I thought I would try that. The tape gunk came off fairly easily. Great! I was hopeful that it would clean the sticky gunk off my silver find, too.  Much to my surprise!  Not only did the gunk come off… so did the tarnish.  
The best part?  I don't think the whole process took 15 minutes!
I hadn't planned on removing the tarnish from the silver… I sort of like the tarnished look… especially for what I had planned.  BUT… there is always room for Plan B isn't there?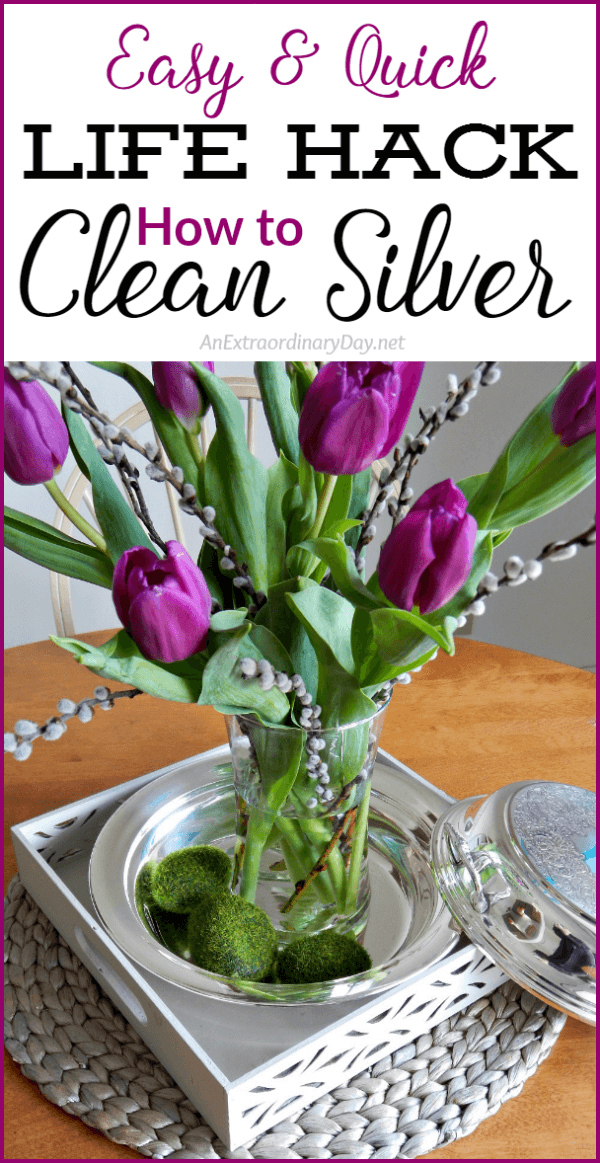 LIFE HACK How to Clean Silver with WD-40
Disclaimer: be sure to wash items well after removing tarnish – WD-40 is not food safe.

Supplies
Soft clean cloths like old t-shirts
Disposable gloves
Paper towel to cover work surface
WD-40
Tarnished Silver
Method
Clean your tarnished silver in a well-ventilated area.
Begin by laying paper toweling on your work surface to protect it.
Be sure to put on disposable gloves… your fingers can get very dirty otherwise.



Spray a small amount of WD-40 directly on the tarnished silver.  Using your soft cloth, begin cleaning the tarnish off your silver piece with a small amount of pressure.
Reapply WD-40 as needed and continue cleaning, turning your cloth as it gets blackened.


All the tarnish may not be removed if you have vintage pieces.  Some, like mine, have deep pits in the silver, but that adds to the character. (You may note that the embossed top has a coppery look.  I am guessing that it came in contact with a heat source at some time and was permanently discolored.  It's not tarnished and gives the piece an interesting look.)
Once all the tarnish has been removed, use another clean cloth to buff and remove any residue from your silver piece and give it a polish.



Finally, use slightly diluted dish soap and with your hand, rub it all over the silver, rinse well, and dry well.  Your silver should sparkle.
Use and display your silver proudly.
This little vignette I put together to show off my pretty purple tulips may be Plan B, but it's the perfect centerpiece for my breakfast table.
Are you in love with the color of my tulips, too? I picked those up on a recent stop at Wal-mart… $4.98.  The pussy willows were free… I love all the gifts available to us from Mother Nature if we take the time to see what we can find and become a student of the seasons.  This simple glass vase came from a thrift store.  When I saw it I KNEW it would be perfect for holding tulips. You might remember the tray.  Originally I decorated it with the lovely items I was given for a sponsored post but wanted to use it as a tray, rather than wall art, so I scraped off the pretty birds and paper and painted it with some Revere Pewter paint I was given. The placemat is from Pier 1 and made its first appearance on the blog, showcasing this delicious recipe.
I'm working on a few other spring and Easter decorating ideas I think you'll really like.  Be sure to watch for those in a few days.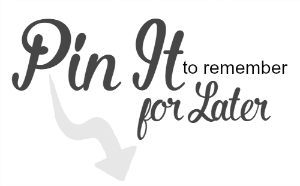 I'm pretty excited to share my first LIFE HACK How to Clean Silver.  
What tarnished silver lurks in your cupboards wanting to be given a new life of freedom and beauty?
Whatever it is… give your silver a WD-40 makeover.  It'll only take a few minutes! 
Thanks so much for popping by today!
If you enjoyed this post would you please share it with your friends and "pin it," too?

Receive FREE inspiration like this in your inbox!