My husband LOVES pasta and noodles.
Me. Not-so-much. Maybe it's because I'm a bit tired of pasta slathered in the ubiquitous red sauce.
If you're like me, today's post just might change that pasta indifferent attitude with a least one amazing recipe. I won't say which one, but mine is sooooo good I'm going to guess it'll become a family favorite!
My blogging friend Kim, from The Kim Six Fix, hosts a bi-monthly blogger recipe challenge. This month's ingredient is pasta. Last month's recipe challenge was potatoes.
My goal this month was to develop a recipe that is incredibly delicious and healthy that can be served with pasta or noodles. It was also important to me to discover pasta/noodles that had some nutritional value.
For some time now, I've realized that the traditional pasta made from durum semolina flour made my elbows hurt. Wheat generally can be inflammatory for many people and this particular one seems to bother me, so I've been discovering alternatives.
When I lived in New York, I had lots of options at the grocery store and health food store. My options here in Western Michigan have been much more limited. So when I found earthy buckwheat soba noodles (70% organic spring wheat, 30% organic whole buckwheat) at the health food store, I decided to pair them with sauteed swiss chard and a medley of other vegetables.
My husband declared the dish delicious and asked for more.
In addition to all the wonderful flavors swimming on my taste buds, I love that this vegetable saute requires few ingredients and is easy to prepare. The hardest part for me is washing and drying the swiss chard.
This recipe is simply a list of ingredients.
You'll need to judge how much of the following you'll use, based on the number of people eating.
Also, if you love garlic or onions, you can go crazy with them. The dish can handle it.
I could tell you to prepare so many cups of broccoli, or onions, or chard… but fresh veggies are packaged differently and we need to be good stewards and not throw away the little excess that doesn't match the ingredient quantity precisely. I suggest cooking up a whole onion, several leeks, a bunch of swiss chard, and a head of broccoli, along with several cloves of garlic and enjoying leftovers later. BUT… you don't have to do it that way. Make it work for you and your family.
Ingredients*

Food Prep
Rinse swiss chard and pat dry between clean towels or paper towels. Cut the stem from the leaves, going up into the leaves until it starts to thin out. Slice the stems into half inch pieces. Stack the leaves and slice across the leaves in one inch ribbons.
Rinse brocolli and shake out any excess moisture. Cut the florettes into small pieces.
Slice onions.
Slice leeks into thin slices.
Mince garlic cloves.
If you're adding chicken or other protein to the dish, tear or cut it into appropriate-size pieces.
Cooking Instructions
Put a large pot of water on the stove to boil.
To prepare this Healthy Swiss Chard and Garlic Vegetable Saute you'll need a large saute pan or wok.
Begin by melting a half stick of butter in a large saute pan over medium heat.
Since all the vegetables do not cook at the same rate, add them to the saute pan one at a time.
Add onions and toss frequently until they start to get a little bit limp, add the sliced leeks, stir and toss until the leeks soften.
At this point, don't hesitate to add more butter. If you're wondering why so much butter. Fat is essential to helping our bodies take in the valuable nutrients found in fresh vegetables. Not only does it keep the veggies from sticking to the pan it's a good fat and necessary for healthy brain function. If you feel like you're in a brain fog sometimes… try adding butter or ghee and sour cream to your diet. It really does make a huge difference.
Next, add in the stems of the Swiss Chard as they take a little longer to cook than the leaves, followed by the minced garlic. Keep stirring and tossing to flavor the medley of vegetables.
Remember that pot of water boiling away? Now is the time to add your soba noodles and a heaping teaspoon of Celtic sea salt. The noodles take between 5 and 7 minutes. Watch so you don't over cook them.
Follow that up by adding in the sliced leaves of the swiss chard, stirring and tossing until they are limp.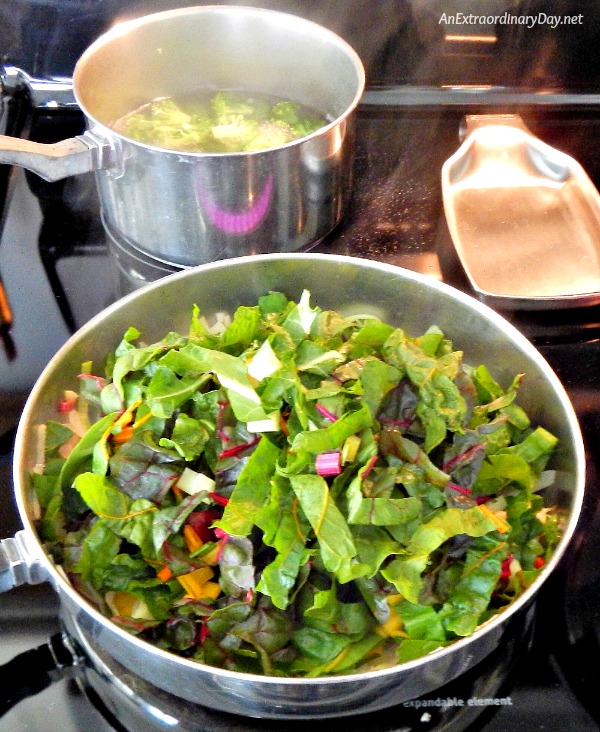 My current kitchen is dark and cramped. Not exactly conducive to food photography. However, my dear friend invited me to use her beautiful bright kitchen. I had so much fun preparing this meal in her kitchen and serving her a delicious lunch of Healthy Swiss Chard and Garlic Vegetable Saute on Noodles. It was a huge treat for her and she even enjoyed leftovers.
Because her saute pan was large but not extra large, I placed the broccoli in boiling water in a 2-quart pan to cook, drained it and then added it to the other vegetables. Typically I would have added the broccoli at the same time as the swiss chard stems to give them time to cook. However, this time, my saute pan was not large enough to cook the broccoli as the swiss chard takes a lot of space in the pan until it wilts down.
That's the beauty of this recipe, you can make easy adaptions to fit your taste or situation.
If you would like to add protein to your dish… now is the time to do it. I used a breast, leg, and thigh from a supermarket roasted chicken, but you could use tuna, or salmon if you wish.
Once the chicken has been warmed in the dish, liberally pour olive oil over the vegetable medley, sprinkle with sea salt, and toss to mix well.
Drain your soba noodles.
Assemble this amazingly delicious Healthy Swiss Chard and Garlic Vegetable Saute on the Soba noodles.
Grate Pecorino Romano cheese (a salty, hard Italian cheese made from sheep's milk) over the dish to complete the flavor mix. Don't skip it either. You absolutely must add this cheese. And believe me when I say, parm will not cut it.
This certainly is not your usual pasta with red sauce meal.
But, if you're looking to embrace a whole foods diet or are yearning to have a meal filled with flavor… this is one you'll want to add to your menu rotation.
I am absolutely in love with this wonderful rustic dish.
It's hearty and filling, but not so much that you'll wish you'd worn those stretchy waist pants.
I just know you'll want a bite… so enjoy this one.
One bite to tease and tempt you until you can make a trip to the store.
Bon Apetit!
This is just the beginning of 35 different pasta menu options. Check out all the delicious links below. Your family will love you for it.