Yesterday, while working on a project, I thought about and prayed for some friends who have had one unpleasant surprise after another.  The guy said to Tim, "I feel like Job, only I still have my wife and kids."  No doubt you relate.  All of us go through days, weeks, months, and sometimes years, of challenges.
As I attempted to encase a mound of fiberfill pushing to be free while applying just the right amount of pressure to the sewing machine pedal, this verse came to mind…
Always be joyful and never stop praying. Whatever happens, keep thanking God because of Jesus Christ. This is what God wants you to do.
1 Thessalonians 5:16-18

 The Unexpected Key to Discovering Joy Lies Here…
Many years ago I memorized 1 Thessalonians 5:16-18 in another version…
Rejoice always; pray without ceasing;
in everything give thanks;
for this is God's will for you in Christ Jesus.
We often focus on the "in everything give thanks; for this is God's will for you" portion (italics my own).
I contemplated that verse as I wrestled with the fabric and the machine hummed.  How many times have I heard someone say that I needed to give thanks FOR my circumstances?  I've even written here numerous times about the importance of giving thanks for everything… the big and the small… the good and the not so good.
In the midst of those thoughts and all that fiberfill… I had a revelation.
Verse 16 says… Always be joyful and never stop praying.
Just like kids doing hopscotch… we skip right through, "be joyful" and "never stop praying."
I talk a lot about joy.  Just last week I talked about how God is serious about our joy.  But somehow, I missed a really big connection between the point of giving thanks and joy.  I know this may sound like I'm splitting hairs here because I actually did discuss joy and gratitude.  Let me explain that unexpected key to joy…
Originally I learned the verse… "this is God's will for you." That made me think that if I was being obedient to God I would give thanks for everything… no matter what.  
God desires that our hearts overflow with gratitude for the love, grace, and mercy He has given to us through Jesus.  Being fully centered on God and continuously grateful for His gift of Jesus is what gives us joy.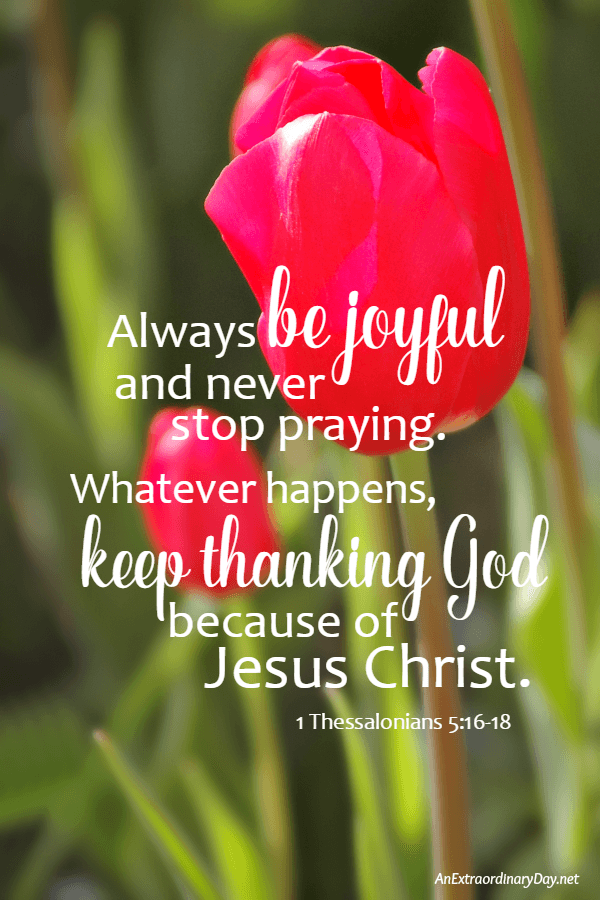 Always be joyful and never stop praying. Whatever happens, keep thanking God because of Jesus Christ. This is what God wants you to do.
1 Thessalonians 5:16-18

If we are constantly focused on God… through prayer and meditation… when the stuff of life comes our way… we will still keep praising and thanking God for who He is and what He has done for us and will do… and we won't be robbed of joy.
God wants us to have the same joy that He and Jesus have.  So whatever happens… job loss, illness, lost key, broken pipe, homelessness, car repair, broken relationship, lost sale, underemployment, worn out shoes, and spilled milk… remember He KNOWS… trust Him with it… and take on a heart of gratitude because not only does Jesus know and understand the challenges and difficulties of life…  He conquered it all… even death.
That's the place He wants us to live.
We need to remember we are more than conquerors in Christ Jesus.
The one who loves us gives us an overwhelming victory in all these difficulties. I am convinced that nothing can ever separate us from God's love which Christ Jesus our Lord shows us. We can't be separated by death or life, by angels or rulers, by anything in the present or anything in the future, by forces or powers in the world above or in the world below, or by anything else in creation.
Romans 8:37-39
God will give us the victory we need in all these difficulties.  Okay… it might not be our timing… but that's where trust comes into play.  (And this is my biggest challenge.) BUT… my focus should not be my biggest challenge or any other difficulty.  I need to trust God fully for the victory and focus on Him and His amazing love for us demonstrated through Christ.
This was a simple but profound revelation.
I'm not "there" yet.  However, I do know without a doubt that I need to direct my thoughts and keep my focus fixed on what He's done for me and what He will do.
The day I chose to follow Him He saved me from what I would have become if left to my own resources.  I don't even want to venture down that road.  I know God saved my husband from a possible life of alcoholism which befell many males in his large family.  How can we not be continually grateful to a loving God who rescued us?
Today… let's practice gratitude… a deep abiding heart overflowing gratitude.
Download this verse as a FREE 5×7 printable for personal use HERE.
Let's… keep thanking God because of Jesus Christ.
Let's start with JoyDay! and let God lead our trusting hearts.
It's Joy Day!


And time to fill up our hearts with joy.
Please join me in thinking back over the past week and counting seven things for which you are thankful.
I'll start…
Thank you God for…
your love, grace, and mercy and Jesus' ultimate sacrifice.
rescuing me.
showing me the way to true joy.
reminding me to live in victory… you've already won the battle.
a wonderful new place to live… I can't wait to see what you have for us.
the beauty of spring flowering bulbs and trees… they sing your praises.
song and how you use it to not only bless and move on our behalf but to glorify you.
Now…it's YOUR turn!
List your 'seven' in the 'share your extraordinary thoughts' section below.  You'll be glad you did.
Thank you for stopping by and leaving your sweet thoughts.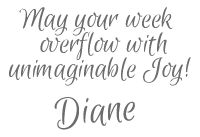 Receive FREE inspiration like this in your inbox!
Sign up Now. 
If you found this post helpful….please pass it on to your friends.
Click any of the sharing buttons at the bottom.