Are you settling for second best?
God intends for us to live life fully. He doesn't want us to settle for second best.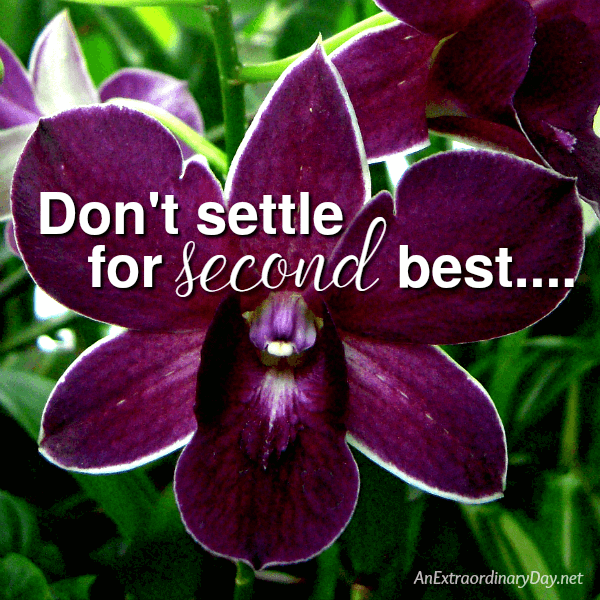 Sometimes it's really good to read scripture out of context. It's then the Ah-Ha moments can come.
That's what happened when I read this verse….
God did not keep back his own Son, but he gave him for us.
If God did this, won't he freely give us everything else?
As we make our approach to Easter, we're contemplating this amazing love that God has for us and the significance of Jesus giving His life to pay the price of our sin.
When God sent Jesus to earth to be born as a human baby, He opened the door for us to come to Him, to call Him Papa, to sit on His lap, and to know Him like never before. He didn't hold ANYTHING back to demonstrate His love for us.
And yet…
We doubt.
We worry.
We're fearful.
Here we are… God's precious children we lacking nothing.  Not. One. Thing.
If God gave His own Son for us… the ultimate gift…  won't he freely give us everything else?
Peace of mind…  Check!
Joy….  Check!
Freedom… Check!
The Holy Spirit… Check!
His constant presence… Check!
What else can you add to the list?
Why is it that we settle for second best when God gave His VERY BEST?
Whatever else gives way, whatever else disappoints, whatever else fails, this all-encompassing promise of future grace can never fail.  –John Piper
What is it that you've been worrying over?
God knows what it is…
don't own it…
don't chew on it over and over…
Trust God and the SEAL He has given to every promise. Jesus. 
Let me encourage you to take some time this week to meditate on Romans 8:32.  Put your situation in the context of this verse and see how it really can reframe your situation and your state of mind and your spirit.
Know you are loved beyond imagination.
If you have any doubt… read this verse again.
The God of the universe, out of His great love for you did not hold back the One who was most dear to Him…
Our only response is to receive His offering and to live in the love and joy and hope that comes only through Jesus.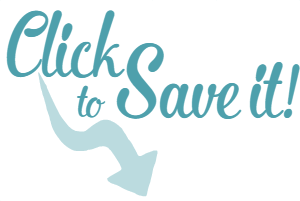 It's JoyDay!
And time to get our joy meters soaring!
Please join me in thinking back over the past week and counting seven things for which you are thankful.  This simple exercise of counting and giving thanks together in this space is something we do each week to reset our compasses and put our eyes back on the Lord.
I'll start…
Thank you, God for…
this wonderful insight on your amazing love for me.
my friend who is now working with me. What an answer to prayer and a huge relief.
that you are taking such good care of another friend who is preparing for a big move.
pussy willows and all the tiny bits of green we're starting to see burst forth for spring.
rest.
Your healing and helping me feel a bit better each day.
Your amazing love and care and provision each week.  I am so very grateful.
Now…it's YOUR turn!
List your 'seven' in the 'share your extraordinary thoughts' section below.  You'll be glad you did.
Thank you for stopping by and leaving your sweet thoughts.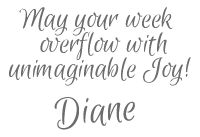 Receive FREE inspiration like this in your inbox!
Sign up Now. 
If you found this post helpful….please pass it on to your friends.