Are your summer containers still looking good, or are they starting to show their age?
As long as it's still warm(ish) you want to keep enjoying what you have by making a few little updates so your container plantings on your patio or your entry keep looking GORGEOUS! Here are a few tips to help you fresh what you have beautifully and easily.
I have a thing for mums. Garden chrysanthemums to be exact. These perennials which we usually treat as annuals are a fabulous and inexpensive way to paint the stunning colors of fall across my apartment's balcony garden.
You LOVE easy and I do too!
To refresh a container garden that looks a little tired after a long summer. Simply pull out the sorry-looking plants, rearrange any others if necessary, and pop in a mum or a couple of miniature mum plants to freshen the pot and you have a new fall container!
Just a few white mums and a purple mum transitioned my container gardens from summer to fall. Makes my heart do a happy dance for sure!
Mums last quite a while, but if they bloom too fast from extreme heat or drown in too much rain, it's easy to pick up more from the supermarket or garden shop to freshen things up.
Generally, it's good to make sure your chrysanthemums don't dry out, especially when it's a hot day or it's been windy, even when the temps drop. But, at the same time, they don't like moisture on the flowers and leaves. They are really easy… just keep in mind that paying attention to these little details can help them have a long blooming season.
And, when blossoms fade, pinch them off to keep your container looking fresh.
You might remember my beautiful spring container garden. I confess I never took pictures of it planted up this summer. Probably because it was a process. As the bulbs finished on this year's spring container garden I popped those out while some of the other perennial plants got larger and filled things up. In time, many of those perennials were pulled out and given to my friend to plant in her garden for next year and other annuals plants were popped into those spots.
This is my second year of growing these huge and stunning Pegasus Begonias from Proven Winners. You might remember I grew them in my balcony garden last summer. They have tiny pink flowers that are barely noticeable, but their height and spread are substantial making them quite a statement plant with their large leaves which are so rich and elegant with their silver spots and gradient colorations.
My balcony garden is on the north side of our building. That means I have bright light but hardly any direct sunshine. Last year I grew pretty pink impatiens with no problem. This year… they bombed. Maybe we had too many cloudy days. I have no idea. I also had no success with Fuchsia plants that I also had in my container garden… a first for me as I love delicate-looking Fuschia flowers in shade gardening and have planted many shady window boxes with them.
I was happy that the pink polka dot plants (Hypoestes) that I substituted a bit later in the summer for the impatiens and Fuschia they did exceptionally well. Sometimes pretty leaves are as good as flowers.
Usually purchased as small houseplants, the pink polka dot plants were pinched back many times over the summer to keep them more compact. Those two plants thrived and bloomed with their tiny purple flowers.
For fall, I could have popped a bright yellow mum in the container, but I decided to go with the muted purple mum. It's not a match to the pink polka dot plants, but it blends in well and I love that moody fall look with the begonia. Purples and mauves are so lovely in the fall. They are such a gentle way to usher in the change of season. Some years I'm not quite ready for the brassy yellows and rusty reds initially. It's like they need to warm up on me… and they usually do.
Tim went with me to the farmers' market one day and he picked out the blue pumpkin. Which I think is actually a squash, though I'm no expert on all things pumpkin and squash. Doesn't it look perfect sitting among the pretty porch pots brimming over with greenery and a touch of fall with their stunning mums?
The lantern with the warm coppery patina is just the right touch with its unusual shape and petite size. I was at the grocery store and noticed it on sale for 75% off!! Such a small thing, but it has been so fun to have it grace my small garden balcony this fall.
Because I want my containers to look their best for as long as possible, I'm careful to move them under the eaves whenever I anticipate it will rain. It definitely keeps the mums beautiful. I do have a tendency to pamper my plants, but I really think it pays off.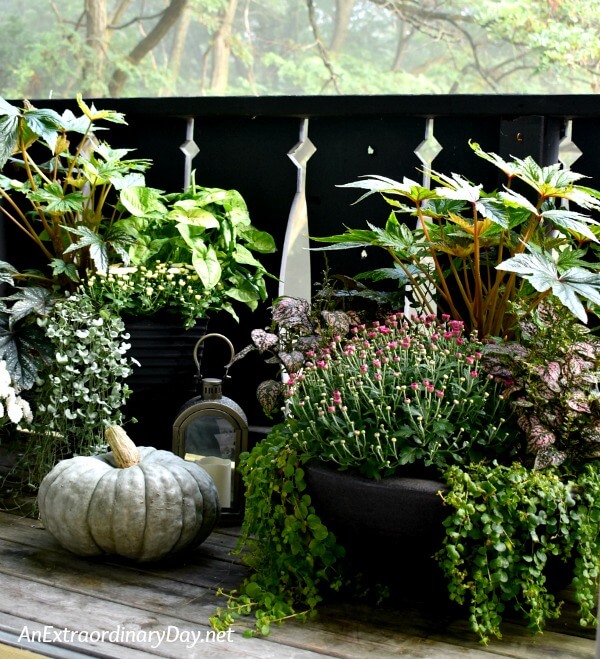 We've had a night where there was a possibility of frost. And yes, I actually hauled my containers inside. Usually, I keep the plastic sheets the greenhouses give out to protect my car when I purchase flats of flowers for just this kind of thing. Those large sheets are pretty sturdy and work great for protecting my carpet from any "planty" accidents. Of course, plastic shopping bags do the trick for smaller containers.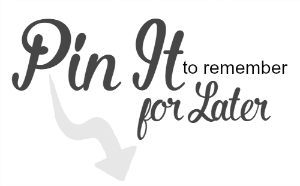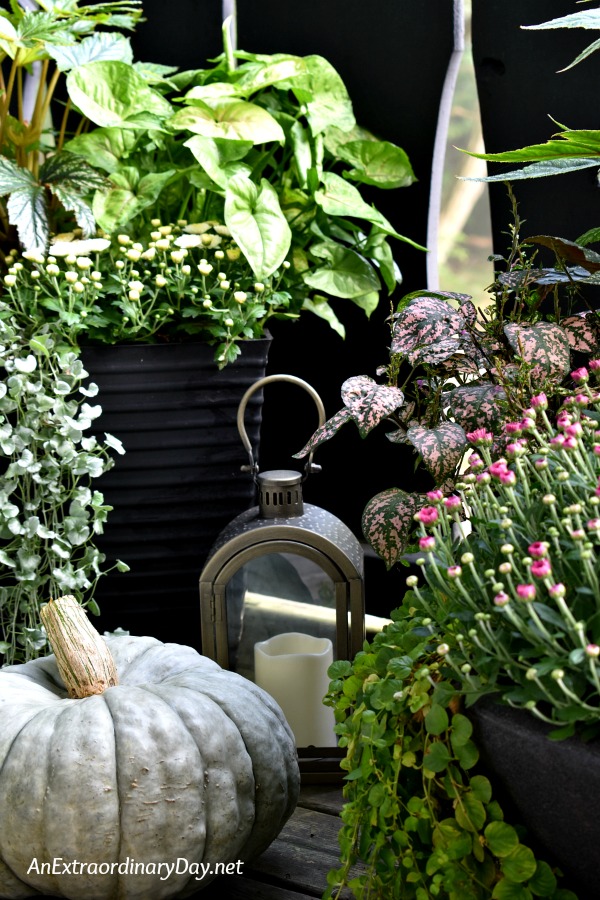 Aside from the occasional frost, there is plenty of time to enjoy fall mums and container gardens. Just be prepared for those nights with a sheet to lay over them or haul them inside and you'll enjoy your pretty fall containers for a long time.
I hope you were inspired today to transition some of your summer container gardens into stunning fall gardens with just a little refresh.
Do you spruce up your summer container gardens for fall?
Do you put out pots of mums or other fall plants?
I'd love to hear what you do to decorate your patios, balconies, and porches for fall!

Receive FREE inspiration like this in your inbox!
Sign up Now
If you enjoyed this article, please use the sharing buttons to let your friends know and "pin it," too.