There's something special about a bundle of love letters wrapped up in ribbon.
Want to top that?  Create a lovely stack of letters that is a treasure box in disguise…
Sweetest Day is just around the corner!
Those of you who live in the Midwest are undoubtedly familiar with the special celebration in October called Sweetest Day.  Saturday, October 18 is Sweetest Day, this year.  It's a day created by Cleveland, Ohio confectioner manufacturers back in 1921.  You might have thought this holiday was a creation of Hallmark since the greeting card manufacturers are enjoying this day too.  Regardless…we can all use a little sweetness this time of year, can't we?
If Sweetest Day is a new or old tradition for you, consider setting aside a little time to create a Faux Love Letters Box for your sweetie.
Originally the Box Disguised as a Stack of Letters Filled with Words of Affirmation was published for Valentine's Day, sans tutorial, earlier this year.  At least I'm getting the tutorial to you in time for Sweetest Day. [wink]  Or you could get a head start for the big ol heart day.  I'm so sorry that I have taken so long to put this tutorial together.  My sincerest apologies.
Faux Love Letters Box Tutorial
Supplies: (contains Amazon affiliate links)
Invitation Envelopes work best for this project.
Thinner cardboard and chipboard work best.  Various thicknesses are great too.
Scissors, Wallpaper cutter, X-ACTO Knife , or other sharp razor blade cutting device.
Pen/pencil
Cutting Mat or something to protect your surface from cutting.
Paper Glue Pen as shown, also helpful to have Tacky Glue.
2 or 3 Toothpicks
Spool of  3/8 inch ribbon
Optional: Postage Stamps Sheet (purchased from the post office, or a sheet of scrapbooking paper that is printed with stamps) Note: the top stamp is the only one that can be seen well, you may wish to have only one stamp for the cover.
Optional: Fancy Key, etc. from the scrapbooking dept. or craft store
The supplies highlighted
Directions:
1. Cut card board slightly smaller than the envelope size so that each piece slides into the envelope fairly easily (thicker pieces may need to be cut smaller than thinner pieces).  Cut as many as you wish for the height of the box desired.  I used 12 pieces total.
2. Decide how large you want your opening (I measured 1 and 1/4 inch from the sides) and marked the lines for cutting.
3. Cut the first opening.
Note: reserve 2 pieces to serve as your base and cover (ie. do not cut a center in two pieces).
Your first piece will serve as your top piece in the stack (under the cover) and will also be your template for other pieces.
4. I chose to make my stack of letters look like they were loosely gathered together.  In order to do this, you will need to skew the placement of your template as shown here.  Use your pen/pencil to draw a guide and cut the center from the cardboard.
5. Repeat the process adjusting the placement each time to resemble the illustration here.  The goal is to stack your 10 pieces of card cardboard which will form your box so that the inner box is square, but the outer edges resemble loosely stacked letters.
6. Slip a cut piece of cardboard into an invitation envelope.
7.  Using your cutter…cut the envelope as shown right next to the opening you previously cut into the cardboard.
8. Repeat to cut the second side of the envelope.
9. Repeat the process with all nine of the cardboard box pieces.  (2 pieces will remain whole as noted in #2 and one will be used for the top of the box (but not the lid).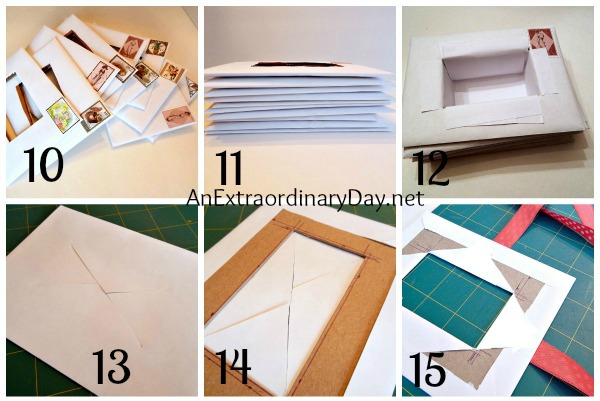 10. Apply stamps to the corners of the envelopes
11. Stack 9 of the 10 letters with the center openings squared up. (I don't have any photos to show this.)  You will find it helpful to take the piece you are reserving for the top of the stack (which is perfectly squared) and lay it on the full sheet of cardboard inserted into an envelope which you will be using for your base. Trace the inside square on the top side of the envelope.  This traced line will be your guide for stacking the envelopes.  Do a test run and then glue your envelopes together as you stack them to form your box.
12.  Cut two strips of paper to fit your center opening, one for the horizontal, one for the vertical, glue them in place as shown.  (I'm sorry I missed taking better photos of this step.)  You want to be sure that your paper strips give you complete coverage of your inner box.   You can glue the strips to the bottom of the box and to the top as shown in #12.
13.  Using your cuter cut an "X" on the front side of the 10th letter.
14.  Flip it over and trim the sides as shown
15.  Pull the points firmly over the edge to give you a nice finished edge and glue down as shown.
16. This is your finished box top.
17 & 18 & 19 & 21.  These and the following steps are a little tricky to explain.  Bear with me.
At this point you will want to take your ribbon and tacky glue and lightly glue one end to the center of one side as shown in #19.  Then, lay it on top of the box and draw the ribbon around the box and over the top and cut the ribbon so that there is enough to wrap under the top layer as show in #21.
Repeat.
18 & 20 & 21.  Now that you have your two pieces centered perfectly and glued down as shown in #18, flip it onto the top of the stack of letters and one at a time draw the ribbon around the box and carefully tuck the end in place as shown in #20.  Apply glue to your toothpick and insert the gluey toothpick to the area between the ribbon in the box.  Press down firmly.  Repeat for the other ribbon as you see in #21.
22.  Apply glue to your tooth pick and add a small dab of glue to each of the corners as shown.
23 & 24.  Admire your completed box bottom.  Note how nicely finished the box looks now.
25. You should have one uncut sealed letter remaining.  Cut your ribbon to go around this lid to your letter box as shown.  Before gluing in place with a dot of tacky glue, be sure that you are planning for the flapped side of the envelope to be down (box side), and be sure that your ribbon is precisely centered with the ribbon on the box, so that at a glance it looks like one piece of ribbon wrapping the entire box.  Note: Because I planned to decorate the top of the box, I glued the cut ends of the ribbons to the top keeping the inside finished.
26. Repeat for the second ribbon.
27.  Note how the ribbon on the lid precisely matches the ribbon on the base of the box.
28. Lay your lid down as if the flap would be open as shown.
29. Make a hinge for your box top.  Using your ruler and scissors cut a rectangle as shown from an extra envelope so that the color matches your letters. (Mine was approximately one inch by two inches.)
30.  This is what it will look like before gluing.
31. Fold in half and using tacky glue, glue your hinges to the edge of the box and closely to the ribbon as shown.
32. Glue the lid to the hinge in the same manner.
33. You now have a box of letters tied up in a ribbon that appears to be continuous.
34. Open box
35. Closed box with stamp added to corner
36. Tie a ribbon into a bow and attach to the box lid with tacky glue.  Add additional embellishments such as key if desired.
If you like you can use a heart-shaped punch and punch out hearts to place inside your box and write messages on the box, or place a special gift inside your box.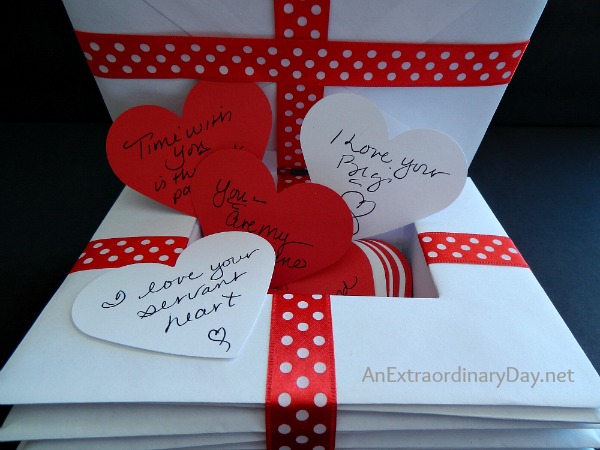 There you have it!
A Faux Love Letter Box… ready for giving a special treasure.
Please "pin" this image or share on Facebook
These little boxes would make great gifts for more than sweethearts.
Dress them up creatively and use them for giving special gifts for any occasion.
Actually…make up an occasion.
I'd love to hear what you'll be giving in your sweet box.
Thanks for stopping by today.
I appreciate you and your sweet comments make my day.
If you enjoyed this post….please pass it on to your friends.
Click any of the sharing buttons at the bottom.
Wishing YOU an extraordinary day!
Diane
To receive FREE bits of inspiration like this
in your inbox or reader, subscribe now.
Don't miss these inspiring Valentine's Day ideas…
Easy S'mores Valentine Gift in a Mason Jar and Printables
An Everlasting Love | Chalkboard Printable
Create a Fun Valentine's Day Mantel with Book Pages
Disclosure: If you make a purchase using the links above, I may earn a commission and I am very grateful for your support of this site. Thank you.  An Extraordinary Day is a participant in the Amazon Services LLC Associates Program, an affiliate advertising program designed to provide a means for sites to earn advertising fees by advertising and linking to amazon.com.