How do you celebrate Valentine's Day?
Usually my husband and I choose to make a lovely dinner together and I decorate the table in a way fitting for the day.  We have been doing this for several years.  It really is more fun than going out.  And more economical, even if we splurge for special menu items or ingredients.
This time of year we are inundated by offers from jewelers and florists and chocolate shops.  At our house, we don't place any pressure on exchanging gifts and cards, but if we choose to give a gift, it probably will be in an unexpected kind of way.  One year my husband bought chocolates in little clear boxes from a local chocolatier and printed off endearments on little slips of paper which he enclosed with the chocolates.  He then placed the little boxes throughout the house for me to unexpectedly discover.  That was a fun, thoughtful, delicious, and very loving gesture.
This year, I made a box and filled it with heartfelt sentiments.
I was inspired by a box disguised as a stack of letters, tied up with a ribbon, that my friend made. I had noticed it on her shelf, but had no idea that it wasn't a stack of love letters.  What a surprise to discover that when you lift the top letter in the stack you'll uncover a secret compartment.
After studying the box disguised as a stack of letters and consulting my friend for advice, I created my own version.  And then I filled the secret compartment with red and white hearts which I had punched out of cardstock.  Each of the hearts has a loving sentiment written on it.  I'm hopeful that my husband will appreciate the words of affirmation.
This box disguised as a stack of letters is a great gift for a spouse, or sibling, or older child, or close friend.
Everyone needs words of affirmation….especially those whose love language is words of affirmation.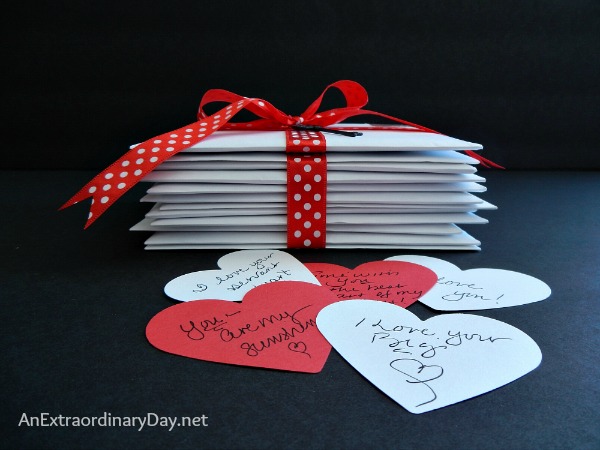 Do you know your love language?
If you don't know your love language, or your spouse's, or your child's love language, I encourage you to pick up this book by Dr. Gary Chapman, The Five Love Languages.  It's so helpful in discovering what make
s your spouse or child 'tick.'  [Disclaimer: I am an Amazon affiliate and will receive a small percentage of your purchase at Amazon through the above book link.]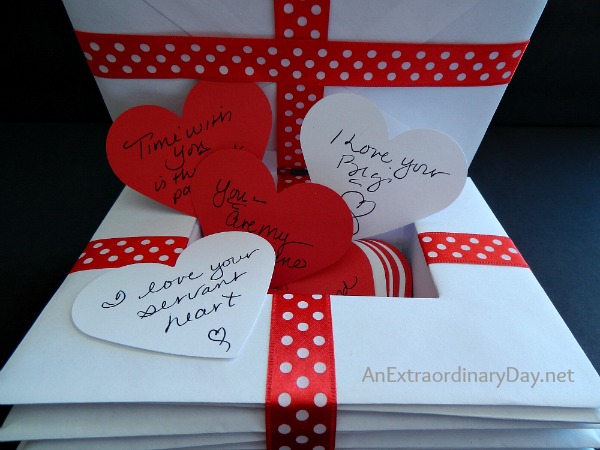 Often, we demonstrate our love for someone based on what feels good to us.  Our love language.  My love language is acts of service.  If my spouse's love language is gifts or quality time and I demonstrate my love mostly through acts of service, our relationship will be lacking.  If you haven't read the book, let me encourage you to put it on your reading list.  There are more Love Language books by Chapman on this topic geared toward children and singles as well.  You can also go to the author's website and take a quick test to discover your love language.
My husband appreciates words of affirmation.  Most of us do, to some degree.  So why not punch or cut out a pile of hearts and write down all those things that you appreciate and love in your spouse, child, or friend.  You can place them in something you made, like this box disguised as a stack of letters, or be creative in your delivery method.   It's a fun and meaningful activity that you could get the whole family involved in doing, too.  The possibilities are endless.
To make your own box disguised as a stack of letters…see my tutorial here.
If you'd like more Valentine's Day ideas, please check out these posts:
52 Practical and Thoughtful Ways to Encourage Others
3-D Hanging Paper Hearts Tutorial for Valentine's Day
Thank you for stopping by today.
I appreciate you and your sweet comments make my day.
Diane
To receive FREE bits of inspiration like this
in your inbox or reader, subscribe now.
I'd be delighted if you'd share the goodness here with your friends.
Click any of the sharing buttons at the bottom.
An Extraordinary Day is a participant in the Amazon Services LLC Associates Program, an affiliate advertising program designed to provide a means for sites to earn advertising fees by advertising and linking to Amazon.com.