Raise your hand if you like quick, easy, and inexpensive party ideas.
Me too!  That's why I just had to share with you this super simple and inexpensive… yet extraordinary 4th of July dessert idea.  Plus a few extra tips to make your Fourth spectacular!
Whether you just entertain a few friends or the whole neighborhood… you are going to LOVE this!
Here's how it all came down.
I just made a quick trip into Walmart to pick up glitter, jars, and Mod Podge for this amazing 4th of July mason jar post I am cooking up for the blog.  As I was running from one end of the store to the other, I spied this round display filled with the cutest little brown boxes.  Of course, I just HAD to stop and check it out.  It was filled with little apple, blueberry, cherry, and lemon mini pies.
Oh, my heart!  I just knew there was something that I could do with them for Fourth of July… so into my cart they went.  All except the lemon. Somehow that just didn't seem particularly patriotic to me.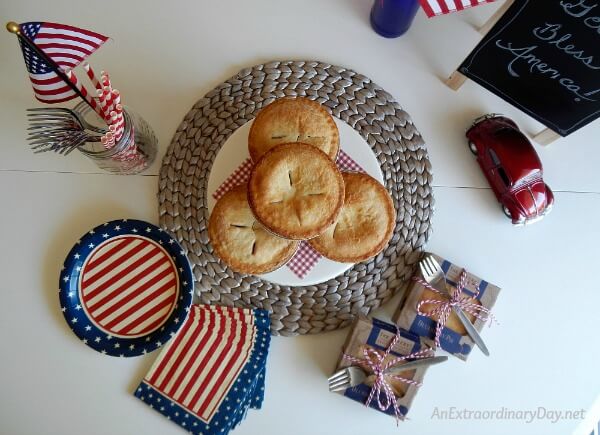 Once I got home, after scoring a sweet little 4-drawer chest for my living room for just $20 at a church youth group sale we stopped at serendipitously en route, I stowed my little treasures in the fridge.  I knew I would have a flash of inspiration a bit later.  And I did… in the midst of coating those mason jars I mentioned earlier with coats and coats of paint, Mod Podge, and glitter.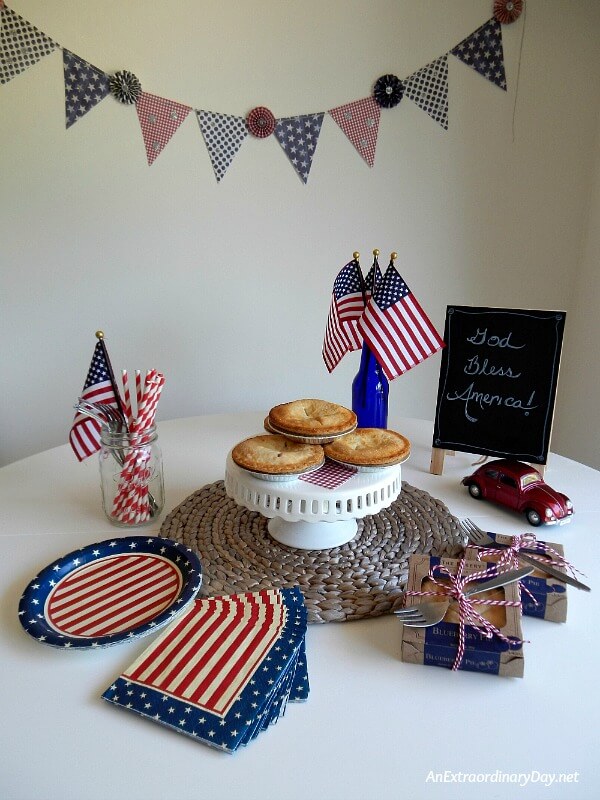 Are you in love with this festive table?
I am!
These pies!!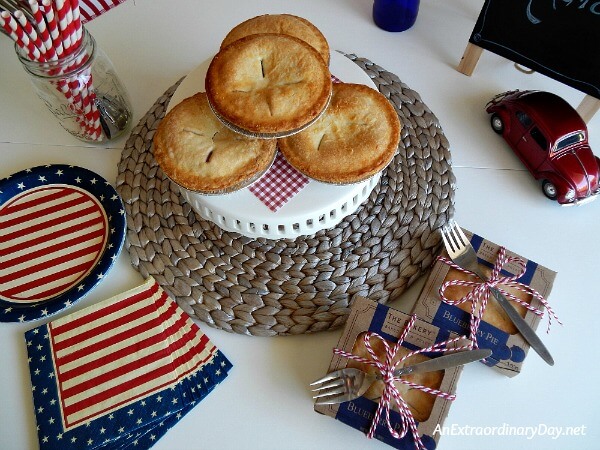 Oh my goodness! For store bought pies, they are delicious.    AND… they were just 50 cents each! I know!
At this price, you can pass them out to the neighbors.  Okay… I might be getting a little carried away here.
However… you can fill up a cake stand with them.  Just slip them out of their cute little brown boxes and stack 'em up!  Entertaining a crowd… get more and/or larger cake stands.  And for fun and an extra cuteness element… stick a little American flag in some of the mini pies.  Totally adorable.
Or….
You could tie them up with bakers twine and a fork.  I saw the cutest wood forks here
 (affiliate link), perfect for a crowd.  If you just have a small group… tie on your dessert forks like I did.  Over the top charm!  I used red and white twine on the blueberry pies.  You could use blue and white on the cherry pies.  I'm not sure about the apple… they've got green ink on their boxes… maybe you'll just have to serve those sans boxes or skip the all-American favorite.
Let's not forget about some of the other necessary elements
for your little Fourth of July dessert party….
Grab a mason jar and fill it with red and white, blue and white, or red, white, and blue straws
.  Because no matter what you sip on… a colorful straw will make it even better.  Plus they are so cute and add a punch of color to your table.
Because my crowd was small… I added dessert forks to the same mason jar.  Feel free to place yours in a separate jar if you wish. If you're feeling extra fancy… tie a pretty ribbon around the neck.
My mason jar was topped off with a small American flag.  Every 4th of July celebration needs a few flags.  Okay… if I had my way… LOTS & LOTS of flags!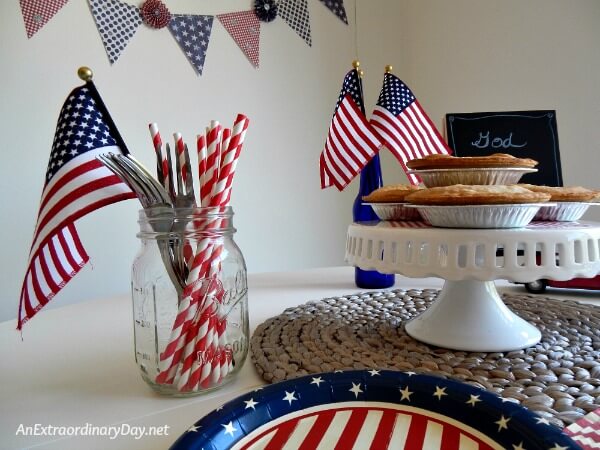 Speaking of flags, I added three to the cobalt blue bottle.  I was going to put in flowers… but flags are more festive and truly perfect.  The blue bottle… some of you may recognize it… but not from the blog.  Last summer I was out on my friend's paddle boat and I spied it floating in the water.  This is not a body of water that ever has a piece of litter in it, so of course I picked it up.  And then I thought… this is the perfect color.  The label came off fairly easily and voila! I became the owner of a pretty blue bottle.  Perfect for my American flags.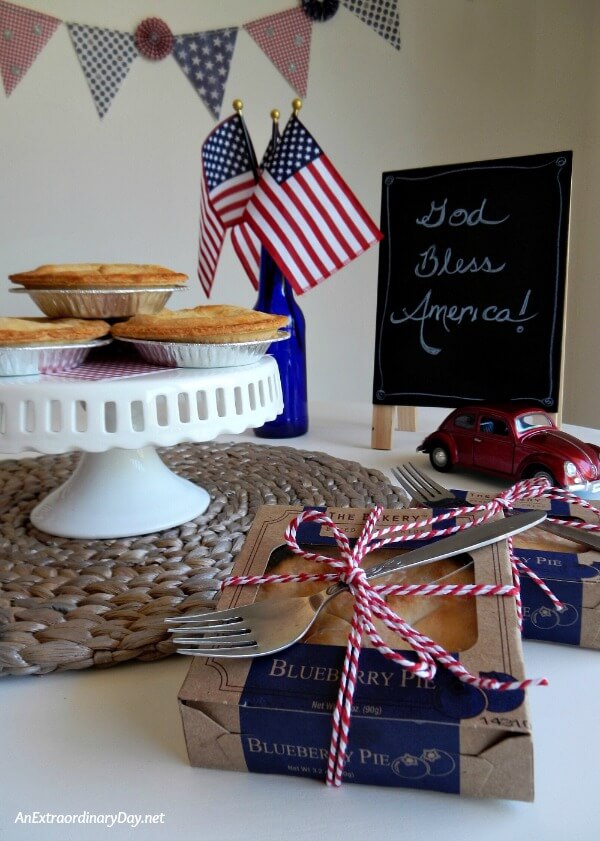 Then, just for fun, I went to my stash and pulled out this little chalkboard easel.  Usually, one would draw on the chalkboard with chalk.  All I had was a white pencil.  Generally, with chalk, you need to condition the board, or you'll always see the first words you write on your chalkboard.  Since that wasn't a possibility… I decided to take a risk.  And made a mistake.  My drawing stinks… I couldn't even manage a sparkler or an American flag drawing.  It wouldn't rub off… and it was going to show. Bummer.  Now, what?!!  I grabbed the soapy dishcloth and gave it a little rub and voila! Clean as a whistle.  Yay!  I'm guessing the pencil has wax in it, so that's why it stayed and why it came off with the warm soapy cloth.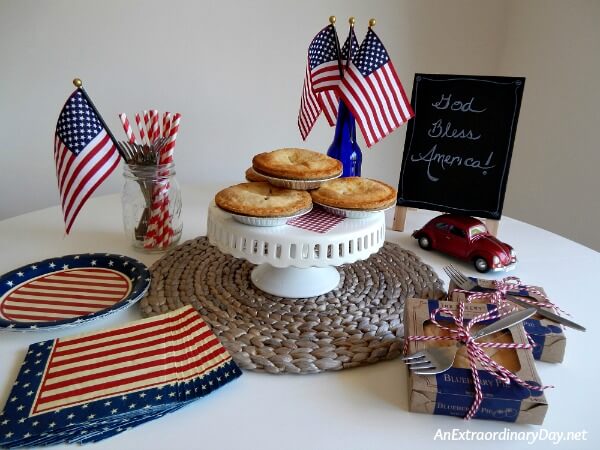 The final bit of whimsy was a red "Bug" that we picked up at a garage sale.  Tim was going to use it as a prop in a lesson he was teaching but changed his mind and gave it to me.  What would I ever do with a car? I thought it was a fun whimsical and colorful addition to the table.  AND… I have plans to use it again come Christmas.  Any ideas as to how?
I'm usually a pottery dish gal… but you can't beat stars and stripes paper plates and napkins for helping to give the table a patriotic flair. Mine came from Aldi.
One last thought about holiday entertaining.
It's easy to call up family or your same circle of friends when you want to host a gathering at your home.  Let me encourage you to invite some other people you know… particularly those who don't have family in the area or might be spending the holiday at home.  This is where entertaining becomes hospitality.  Entertaining is about "us."  Hospitality is about others.
It might not be natural or even feel comfortable to reach outside of what you're used to doing… but do it.  You know who those people are… And if you're not sure.  Pray about it.  I'm sure God will bring someone to mind.  And then, make your event others-focused.  Think about how you can bless those that attend.  You'll find more joy in your party, and maybe it will even be more fun.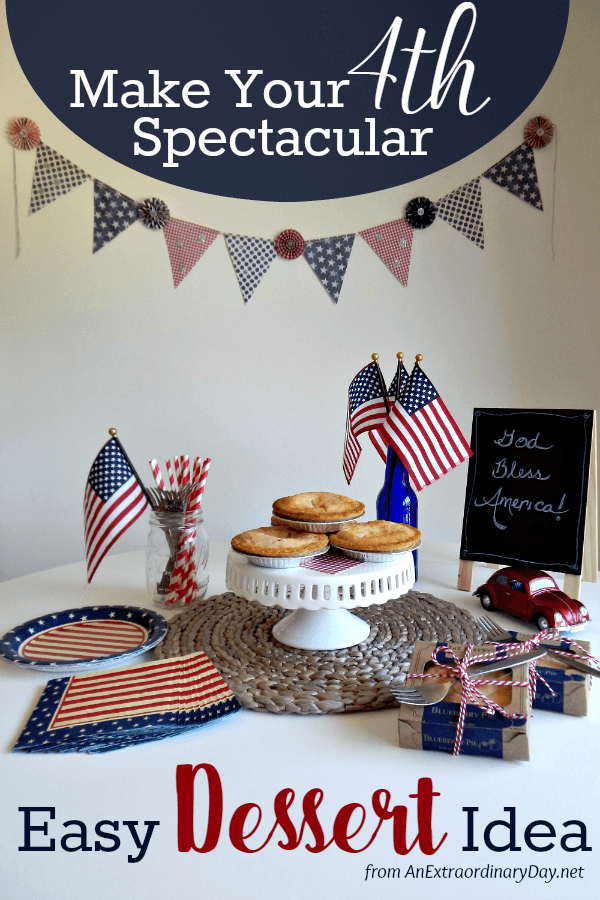 Did you notice the red, white, and blue banner hanging on the wall in the background?
I've got plans for a tutorial so you, too can create one like that out of scrapbook paper.  Another quick and easy project that lives big for the 4th or all summer long.
Isn't this Fourth of July pie table, just the berries?
I hope you'll be able to use this easy 4th of July dessert idea.  I'd love to know which ideas you found inspiring, too.
How do you plan to celebrate the holiday this year?
Last year I made an American Flag Pie.  It was fun and fairly easy to make and so very patriotic…
You'll want to check out more of my patriotic projects here.
Thanks for stopping by today… I can't wait to hear your lovely thoughts!

Receive FREE inspiration like this in your inbox!
Sign up Now.