I have one of those rooms that many just dream about.  A Studio.
That's what I call it.  Most would call it a craft room.
A tiny 9×9 room in my house that is totally dedicated to my love of papercrafting.
I have dropped hints that I might show it to you.  Some time.
And all these months later…I'm pretty certain that you wondered if I even had a craft room.  Um.  Studio.
So without further ado….
Welcome to my Studio!  Ahem.  Craft Room.
May I offer you a glass of ice water, lemonade, or lightly  sweetened tea?
Let's begin our tour of this modest room.
This is your view as you step into the doorway.
Better yet, sit down with your cool beverage…we're going to be here a while.  [wink]
This is not your perfectly coiffed craft room.
It's filled with leftovers, things I love, things that need a home, like my giant file drawer in the corner, mementos of travels, gifts, and of course lots of crafty goodness.  It's eclectic and random and whimsical and fun.
It's vintage and shabby and not.   And I love it.
There's even stuff I made…like this recipe book shelf with drawer I made for my mom back in my woodworking days.
And baskets.  Lots of Longaberger Baskets.  They sure make 'stuff' look good and hold the odd essential like 12×12 scrapbooking paper, which doesn't fit anywhere.
This was an old fallen apart mirror that I snatched up, re-glued, and painted.
Looking through its aged face we see a glimpse of the other side of the room.
And a fancy cake and a special cover I created for it that I need to tell you about some time.
If  you're interested.
Oh…this is the corner of which you only got a glimpse.
Isn't it fun?
Most everything at my fingertips.
A friend of mine back in New York is a Stampin' Up demonstrator.  She's creative, and fun, and had these fun gatherings at her house where we would make the cutest cards, and such.  And the gals who attended would take turns being the hostess and well…you know the rest of the story….cause it's all here.  I'm a gal who loves her tools.  Um.  You noticed, right?
Stamp pads will dry out.  Their handy little cases aren't air tight.  And because I don't like re-inking the pads, I store my ink pads in shoe box-sized plastic containers.  And keep them all organized by their color families.  Haha!  No!  Do you do that?
And because there's lots of paper scraps when paper crafting, I organize all the scraps by colors in file folders, in a Longaberger Small Gathering Basket, on my worktable.  I also have files for partially completed cards, extra stamped or embossed images, and scraps of fancy paper, too.  These aren't color-coordinated folders with Washi tape and scrapbook paper covers labeled with a p-Touch.  That would be soooo cute!!  Maybe someday I'll get fancy like that.   And if I do…I'll be sure to show you.
Isn't this just the best shelving?  The people who lived in our home previously left this potting stand in the garage.  It was rough finished wood that I cleaned up and painted with the same paint that graces the walls.  It works hard and doesn't stand out in the room because the color makes it blend in nicely.
I love how the bottom shelf holds a large bin for all my fabric projects in the works, and the convenience of having all my stamp sets easily accessible on the middle shelf.   Pretty slick, huh?
Way up on top is a Bakery Basket on the left with completed cards.  My supply is dwindling with several empty categories.  I need to get to work on that.  Haha!  You'll recognize the 3-D heart from a post here.  A jar for ribbon scraps, and a Spring Basket filled to overflowing with glitter and embossing powders and tools.
The next shelf holds most of my ribbons and strings and jute and my handy dandy Cuttlebug Machine
.  My favorite thing is to use it for embossing cardstock.  L.O.V.E. it!!!
And then the main level shelf holds another basket (surprise!) or two of punches, and then there's the basket filled with hardware embellishments, and a vintage blue jar filled with ink refills.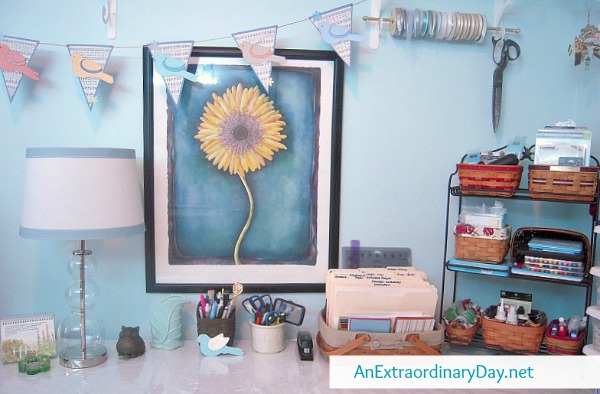 Another storage solution is the cafe curtain rod that was cut down a used to hang ribbon.  It isn't as handy as being lined up in a basket, but it sure is cute there.
Did you notice that huge scissors hanging there?  I am not sure.  But my father's father was a tailor.  A really good one.  He made suits and coats for the lumber barons of my home town with names like Hackley and Hume.   That scissors was always in one of the drawers at our house growing up and I'm pretty sure it was my grandfather's.   You have cool stories like this to tell when your dad get married late in life.  Having an older dad was not cool when I was a kid.  I didn't like being asked if he was with my grandfather.  Not at all.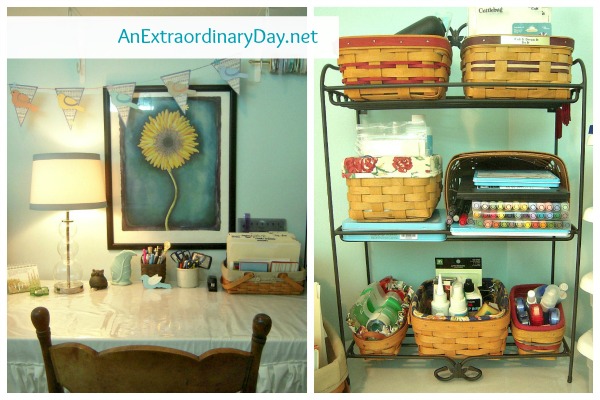 You may recognize the bird banner I wrote a tutorial for here and used to grace my vintage window here.
The large print is one we picked up at Epcot a number of years ago and slipped into an inexpensive frame.  I love art that reminds me of travels and good memories.
One of the handiest storage items for me is this Wrought Iron Bread Basket Rack from Longaberger.  It's now retired from the line, but it is terrific for holding baskets of small things at hand and is a terrific space saver too!
Another glimpse into the mirror shows you the opposite side of the craft room.
The shelf behind the 'cake' is filled with books from which I steal pages for papercrafting.
And the shelf above perfectly holds all my colorful cardstock.  I love that.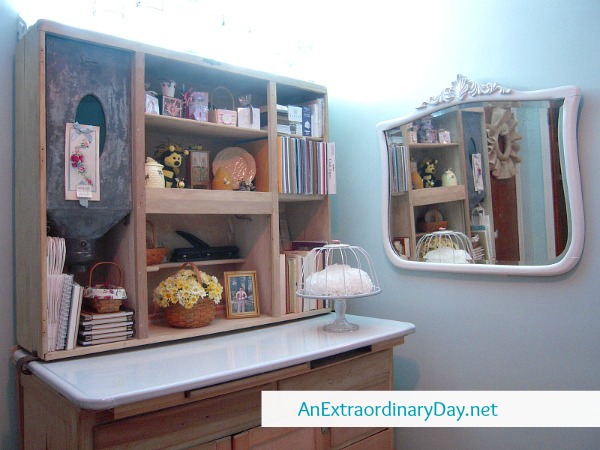 This old Hoosier cabinet was in the back of my parents' garage in my growing up years.  I lived in the same house that my dad was born in and so I have a few really old things.  This was used as storage for paint cans and such until one day I took it away and had it 'dipped' to remove all the old paint and gunk.  The down side of that, the side panels are veneer and they got all warped and crazy, so it lives in it's stripped state.  I've used it in a kitchen in Indiana that was a bit shy on cabinets, and for displaying my cocoa tin collection in the family rooms of two others, and now it works great for storage and display in my studio.  Craft room.  Ahem.
Notice the glow on the top of the Hoosier?  I'll tell you more about that.  Just be patient. [wink]
You get a better look of just how small the room is here.  And a view on the Hoosier's top shelf of a few fun papercrafting projects.  The next shelf hold some fun bee things, because I love the reminder that bees…especially bumblers…are anything but ordinary.  They remind me to (wait for it!)
BEE Extraordinary!!
It was completely by accident that I discovered how helpful it was to have the extra light cast by a shoplight in my studio.  When I was painting the room this gorgeous shade of blue….which I have had a dreadful time photographing acurately without the benefit of much daylight….I found that when placed on its back the light really illuminated the room well.  And we all know good light is important for crafters.
Here's a view of the jars with the light off.  It was virtually impossible to take these pictures with the lights on.  The camera and the eye do NOT see things the same and this was made very clear to me as I tried many different possibilities.
This is one of my favorite things in the studio.  It's fun and whimsical and who would guess that this would look so amazing.
Of course you have to trust me that it looks amazing since the photos are so, so.
I neglected to mention that my vintage Blue Ball Mason jars were the inspiration for the room's color.
You may have noticed the color theme of the blue with accents of white and yellow and a bit of red thrown in there for good measure.
And one more story to finish with.  If you scroll back up to the first second photo, you'll see the upper shelves.  Do you see the sewing machine?  It is electric and when I was a little girl my mom bought it for me.  She was a pretty handy crafter in her own right and reupholstered a lot of our furniture.  One day we were at this crazy, over-stuffed upholstery store where she got her supplies when we spied this sewing machine.  I still can't believe that we walked out with it.  My parents didn't gift through the year…everything came at Christmas…including my back to school clothes.  The funny thing….I never remember sewing on it.  But obviously I did learn to sew.
Have you been noticing this huge work table?  It's one of those folding banquet tables.  Which is a good thing, because I don't know how it would have gotten in the room otherwise.  For the longest time I used it plain and bare.  And gray.  While the room was looking pretty the table was… Just. There.  So…I started dreaming of what I could do and decided that I would take two old twin bed sheets and make a table skirt.  This is not perfection.  Okay…I am not perfect.  And remember, The Nester says, "It doesn't have to be perfect to be beautiful."  I'd like to say I had fun creating this.  Well, maybe I did have some fun, but that cool ruffled top row which was inspired by Gussy Sews was a challenge.  And somewhere along the line, even though I measured, the ruffle went up hill and then down hill while I sewed it.  Even though I had a ton of pins.  It looks super easy to do, but it wasn't.  Gosh, it's cute though!
Of course, I stamp and paper craft on this table, why would I want a white cloth table covering?  Am I crazy?
Don't answer that.
In my stash of cool things I had a roll of clear heavy duty plastic…you can buy this kind of thing….but I found it at my parent's house and thought I could use it and finally I did.  (And in case you think I'm a hoarder…my friends will testify that I'm not….but I sure have a lot of interesting things…thank you Mom & Dad.)  It is perfect for covering the top of the table and I can wipe it clean and it's super easy to scrape off the scraps too.
Whew!  I think that's the most words I have written on this blog since it's humble beginning.  I warned you we'd be here a while.  Who knew there would be so much to talk about in one humble 9 by 9 studio?  Um. Craft room.  [wink]
If you want to see more places Where Bloggers Create, click on the link graphic above.  The lovely Karen Valentine of My Desert Cottage has created this fabulous gathering of blogging creatives willing to open their studios and craft rooms and workshops to you.  What fun awaits!
Thanks for being an Extraordinary friend and sticking with me through to the end.  You deserve a prize, for sure!!
What's your favorite part of my studio?

Do you have a room dedicated to your craft?

What does your dream craft room look like?
Wishing you Extraordinary crafting….
Diane
P.S.  This post contains links to Longaberger and Amazon.  I am a Longaberger Independent Consultant and do receive commissions from your purchases.  I am also an Amazon affiliate and receive small commissions for anything you purchase at Amazon through that link.  I endorse products that I enjoy using…and hope you will too.  Thank you!!
If you enjoyed this post, please use the sharing buttons at the end of the post to invite your friends to stop by!   Thanks!!
To receive more inspiration like this
in your inbox or reader, subscribe now.  It's FREE!
Let's connect!  Facebook  ::  Pinterest  ::  Google +  ::  Shop Longaberger Lifestyle