These past two weeks I've been laser-focused on making this little apartment our home.
I'm been scoping out the second-hand stores, choosing paint colors, and painting thrifted furniture and accessories. With the few funds I have available, I want to 'get it right.' And I don't want to waste precious time.
For the past 10 months other than the balcony oasis I created this summer, my decor focus has mostly centered around the table and creating seasonal moments on my console table, another roadside find.  So this passionate approach I've taken to feathering my nest since moving to this temporary apartment is definitely a new twist.
To the casual observer, I probably look like I'm all caught up in "the things of the world."  My in-laws might even call me "materialistic."
It's true that I'm temporarily bent on creating a home in this spot where we are.  It's also true that I don't want to live in a place where the furniture is simply utilitarian without any pleasing home decor.  And if being materialistic means choosing to include objects in my home for their usefulness and beauty… so be it.
God didn't make a minimalist black and white world, he didn't make everything round, or angular, or 2D. This magnificent world that God created for us and his glory is intricate, beautiful, and is filled with one colorful marvel after another.
As I sit here on my $55 thrift store love seat and tap on the keys of my laptop, I look across the room and through the window panes I see spectacular treetops.  Tall oaks starting to turn golden brown around their leaf tips, yellow, peach, orange, and golden maples, and if I look closely, I even see a few graceful bronzed beech trees.
The mosaic of colors alone delights my eye.  I never tire of my view of the layers of branches and leaves and tall dark brown and sometimes lichen-covered tree trunks.  Today I even get a glimpse of a bright blue sky and white puffy clouds behind the leafy branches that seem to be dancing in praise toward heaven.
If that were all I knew of the world, would I not want to bring that inside as well?
We were created to appreciate beauty.
Wherever we call home is our earthy sanctuary and I believe, should in some way, be cozy, visually pleasing, and comfortable.
We had expected that we would have moved into a more permanent house by now with all the things that we have stored 8 hours away.  As much as we have hoped and prayed for that… we have not been able to make it happen.  Yet, I'm reminded that it is not our place to force the hands of God, either.  So, I am doing what I know to do… making a sanctuary for our little family to call home.
What's interesting… as driven as I've been in this short time to make a home in this temporary tiny apartment… I've realized that as important as it is to create a family sanctuary… we have a bigger and better sanctuary in our Savior and a true forever home that is beyond anything we can imagine.
This isn't a new concept to me. Far from it.
What's most apparent to me right now is that though I enjoy the hunt and the process of transforming things, my heart is different.
Tim and I are no longer employed as "professionals," instead, we are doing the work that God has placed before us and doing our best to bless those we work with and for through the work of our "hands."  More than ever before, we are aware that everything we have and everything we are is ours only by the grace of God.  I've understood that concept for many years… but it has become personal to me these days.
Making a purchase at the thrift store or TJ Maxx or Hobby Lobby does not give me any intrinsic satisfaction.  Each find, each purchase makes me keenly aware that it is only through God's gracious generosity and provision that I am able to create an attractive and comfortable space.
I am overwhelmingly blessed to be able to express my creativity in putting found objects together for visual appeal.  Applying paint and transforming someone's cast-off furniture or architectural piece is gratifying.  Not just for the end result, but because in some supernatural way, it puts me in touch with my creator God and his redemptive work in my life and in the lives of those I love.
Though our hopes and dreams seem to have been obliterated, God is showing me that in spite of our displacement, we still have value and goodness to offer in his kingdom.  And so this process of restoring objects and using them to create a home in what is otherwise a less than desirable location brings me joy… JOY in the ONE who daily demonstrates his love and care for me.  It also fans the embers of hope that had almost gone cold.   This process is one more way through which I am able to acknowledge my gratitude for God's goodness.
Tim and I are no longer in a position where we can boast about our accomplishments in any form.  Maybe that is a blessing in disguise.
What we can do… is what we now love to do more than anything… boast in the Lord our God.
He has demonstrated over and over that regardless of our circumstances, he is loving, faithful, and just.
And best of all… the more we know and understand God, the more there is to know and understand.  And on and on it goes.
"The wise should not boast of their wisdom,
    nor the strong of their strength,
    nor the rich of their wealth.
If any want to boast,
    they should boast that they know and understand me,
because my love is constant,
    and I do what is just and right.
These are the things that please me.
I, the Lord, have spoken." 
It's JoyDay!

Through all the ups and downs of life, I've come to the conclusion that counting and giving thanks are key to trusting God.  When we take time to see all that God is doing in and through our lives… it's pretty amazing!  How can we NOT put our whole trust in HIM?  So… please join me in thinking back over the past week and counting seven things for which you are thankful.  This simple exercise of counting and giving thanks together in this space resets our compasses and put our eyes back on the Lord. And ultimately fills our hearts with JOY!
I'll start…
Thank you, God for…
all You have shown me through this nest-feathering process.
some of the nicest compliments this week. Thank you for encouraging me through the words of your people.
another vehicle.  I'm amazed at how it has already reduced my stress.
paint and its transformative power and the realization that YOUR transformative power goes much deeper than the surface.
being able to say goodbye to the downstairs tenants. (Please join us in praying for new quiet, wholesome, rule-abiding neighbors.)
a very special baptism, yesterday.
being our God and so worthy of our boasts of You.
Now…it's YOUR turn!
List your 'seven' in the 'share your extraordinary thoughts' section below.  You'll be glad you did.
Thank you for stopping by and leaving your sweet thoughts.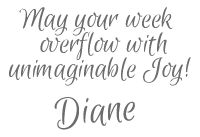 Receive FREE inspiration like this in your inbox!
Sign up Now