It persuaded me just a little with its $7 clearance price tag.
That small red tag pushed me from simple infatuation to head over heels in love.
With a tablecloth.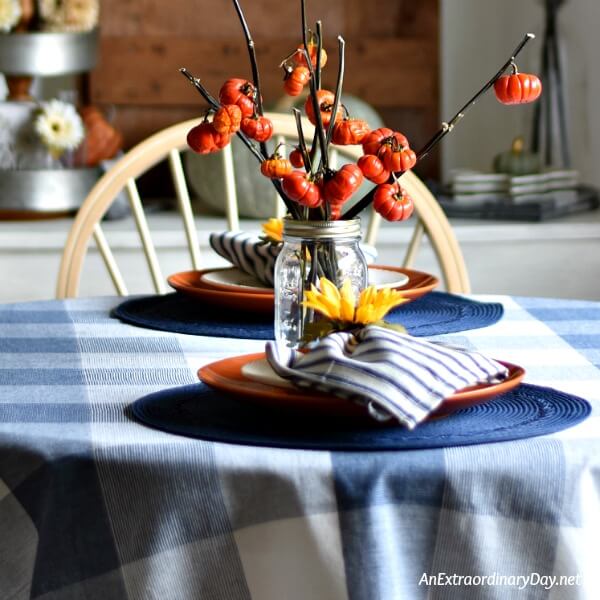 Which is why this lovely dark blue and white tablecloth with the huge gingham checks jumped into my hands and came home with me.
I couldn't wait to put it on my little table.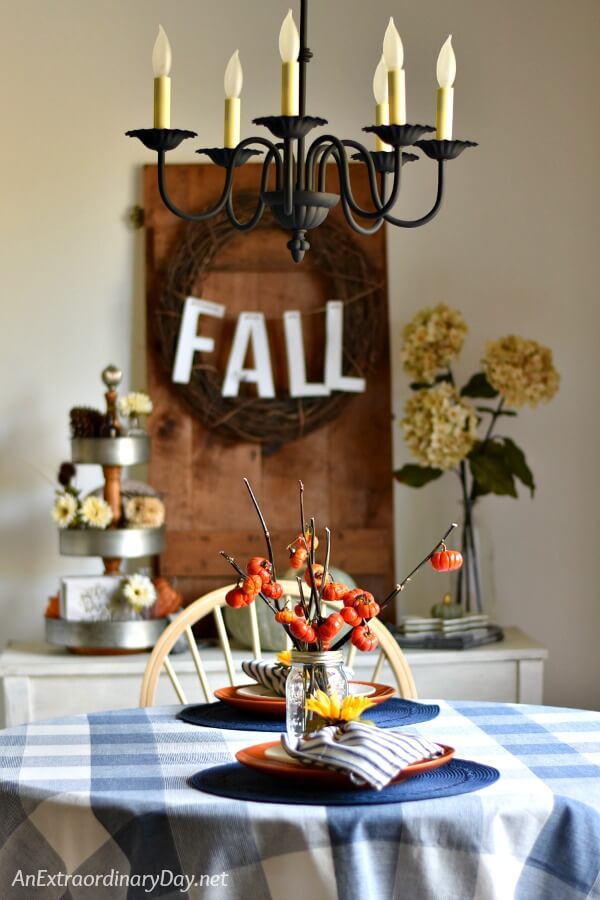 Do you know the difference between the hugely popular buffalo plaid and gingham?
I didn't.
Want to know?
Lean in…
Buffalo plaid is a larger square plaid of two colors… one is always black and the other is your favorite color.
Gingham, on the other hand, is made of two colors of thread woven into a check pattern, though white is usually the constant with one other color.
Who knew that two threads of blue and white woven into a huge check pattern could make my knees so wobbly?
And if that tablecloth wasn't enough… the placemats that I'd seen a few weeks earlier were still waiting for me on the shelf to travel home with me, too.
I think I danced all the way to the checkout and out the door to my car with my new blue table accessories.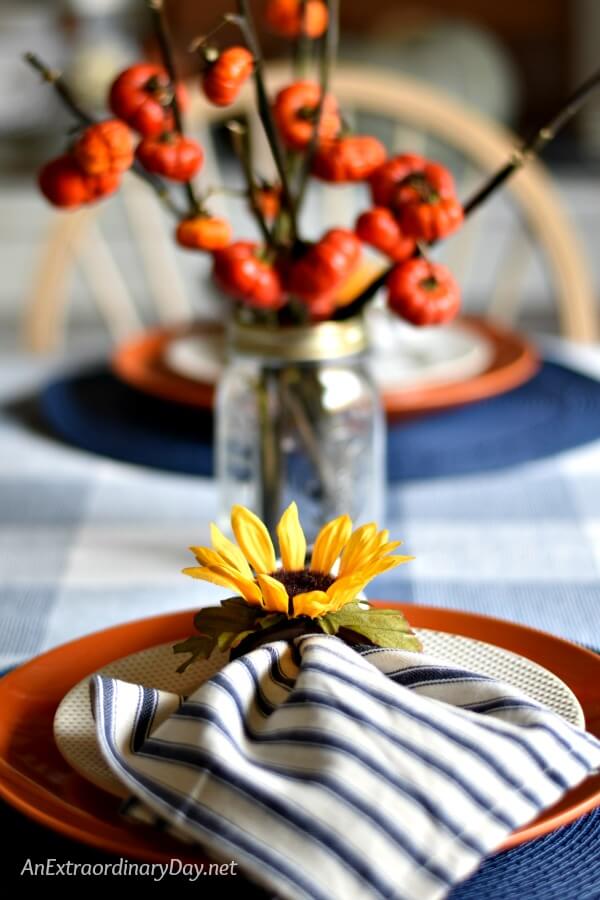 Dark blue is my new passion.
AND…. a major player in the transformation I'm giving my tiny apartment.
Oh my goodness, I can't WAIT to show you.
Soon…
Pinky finger promise… it won't be long.
I still have paint on my fingers and another project or two to go…
It's going to be lovely.  Well, at least it is in my mind's eye.
Just last night I finished painting my cream and mauve and green plaid ottoman.
Can you guess what color?
While I was dreaming and scheming my new color… yes… scheme… I set my table for fall.
These bright rusty orange dollar store plates just popped set against the dark blue placemats.
Clay-colored dessert plates I had picked up at Hobby Lobby back in the spring for 90% off (I know!  How does that even happen?!?) were perfect to place on the dinner plate to keep the blue and white theme going.
And because I was still smitten with the sunflower napkin rings I made, I just had to thread these sweet blue and cream ticking napkins through the rings to grace the plates for yet another combo of my current color faves.
This place setting for two…
It's simple… colorful… and seriously… makes my heart happy.  Every. Single. Day.
That colorful centerpiece?
My bestie saw those when she was at Trader Joes and brought them over to me late one night on her way home.  They are called, Eggplant on a Stick!  And they are so stinking cute I can't stand it. Originally they were on tall stems, but I chopped them down to size for my table and slipped them into a clear mason jar.  So simple and so fun!  Oh, how they make me smile!
Every morning, noon, and night, I'm greeted by this cheerful table as I pass through to my kitchen.
You know… it really is the little things that make a day extraordinary.
That's why I've been on a mad tear to get my living room pulled together with my transformed thrift-store finds.
I could keep living with just the bare minimum necessities.
But that's not extraordinary.
Extraordinary is taking that little bit of ordinary we have
and making it into something extraordinary. 
What kinds of ordinary fill your home and life?
What would it take for you to take what's ordinary and make it extraordinary?
When are you going to start?
This table setting will be perfect for a casual dinner gathering, even Thanksgiving.  More fall ideas await you HERE and below.
Thanksgiving Table Top Inspiration
Thanksgiving Tablescape :: Creatively Using Woodland Elements
Make a Simple but Spectacular Silver Thanksgiving Centerpiece
Table Art for Fall or Thanksgiving Table Settings
 Thanks so much for popping by today!
If you enjoyed this post, please use the sharing buttons
to let your friends know and "pin it," too.

Receive FREE inspiration like this in your inbox!
Sign up Now.