This week I discovered in a new and fresh way the power of prayer.  
On Monday morning, instead of jumping out of bed and scrambling eggs and preparing fruit as I usually do, I stayed in bed.  The night before I hardly slept at all.  My midsection was so uncomfortable it felt like all my organs were swollen.  What was going on?  I had a great day on Sunday and finished it off by cleaning my oven and then baking a blueberry buckle coffee cake with the last blueberries of the season.  Just before going to bed I enjoyed a warm piece of it along with my hot cup of "tiger milk."
I was so miserable that morning I called on a few of my friends who know how to pray and asked them to pray.
As the evening came around I finally was able to eat a little and went to bed early.
The next morning I awoke feeling so much better after having slept the entire night.
There was no question, my friends' prayers, along with my heart cries, were answered.
I cannot even begin to express my gratitude.
Gratitude to my friends for being faithful to pray.
Gratitude to my heavenly Father for placing his hand of healing on my body.
The transformation over 16 hours was amazing.  However, I still have a way to go to be fully healed.
You see, after an appointment with my homeopathic doctor, I came to learn that my body was responding to the toxins I subjected my body to.  Not only did I clean my oven on Sunday night with a fume-free oven cleaner, but at the beginning of the week, I cleaned an apartment for a friend after her tenant moved out.  Lots of window cleaner was sprayed, and yes, I used oven cleaner there too.  Both times I had all the exhaust fans going and windows open, but, I failed to remember to wear a mask.  It never crossed my mind this time… how did I forget?
If there is a silver lining in this unpleasant experience, it is the reminder that we can call on our friends to pray and their prayers will move the hand of God.
It certainly is nothing I take for granted.
My heart is still overflowing with gratitude.
Keep close watch over me as the apple of Your eye;
    shelter me in the shadow of Your wings.
Psalm 17:8
As I recover, this verse is so meaningful to me.
It reminds me of the intimate relationship we're to have with our heavenly Father.
I know, growing up, that I was the apple of my dad's eye.  It was pretty obvious.
Now, even as an adult, I love knowing I am the apple of God's eye.
You are too!
Each of us is the apple of his eye.
We are God's treasured creations.
He hears the cries of our hearts and the prayers of our friends.
And no matter what, we can take comfort, shelter, and find hope and peace in HIM.

It's JoyDay!
Through all the ups and downs of life, I've come to the conclusion that counting and giving thanks are key to trusting God.  When we take time to see all that God is doing in and through our lives it's pretty amazing.  How can we NOT put our whole trust in HIM?  So… please join me in thinking back over the past week and counting seven things for which you are thankful.  This simple exercise of counting and giving thanks together in this space resets our compasses and put our eyes back on the Lord. And ultimately fills our hearts with JOY!
I'll start…
Thank you, God…
for my praying friends and hearing their prayers.
for giving me the physical strength I needed to get a job done.
for rain and more rain… the most ever for the month of October.  It seems too much but it will make up for the near drought we had this summer.
for the Thai lady at the farmers' market who takes such joy in growing "chemical free" vegetables.
for a great eggplant parm recipe and our impromptu visitors who enjoyed some with us.
for my wonderful new shoes that are a brand I love and will be perfect for the winter months ahead.
for your loving provision, day after day.
Now…it's YOUR turn!
List your 'seven' in the 'share your extraordinary thoughts' section below.  You'll be glad you did.
Thank you for stopping by and leaving your sweet thoughts.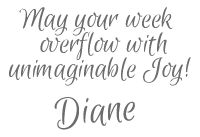 Receive FREE inspiration like this in your inbox!
Sign up Now. 
If you found this post helpful….please pass it on to your friends.