Back in my old stomping grounds, it's tulip time.
It's a fabulous celebration of tulips and things Dutch.
The funny thing is, usually before or after the big shin dig I'd drive over to see the tulip displays and fields of tulips.  But, I never attended the parade or any of the festivities.  I have a slight regret.  When you live in an area most of your adult life, you think you're going to have plenty of time to 'get there.'  After all, we had built our 'forever house.'  We lived in one of the loveliest places in the country, a true vacation destination, of course there would be plenty of time.
And then God does His thing and there you go selling the house that you insulated against the cold winds of winter, the house that you sanded and painted or stained every piece of wood, including the cedar siding and the floor boards, that house that had a pile of sand and sassafras seedlings for a yard until you transformed it, into an oasis for the spirit, and a home.
God does stuff like direct you to move 5 hours away, and then 3 hours away, and then 8 hours away,  and yet again another 8 hours, from fields of tulips and festivals that you will participate in someday, because you're living in your 'forever house.'
I love the first red tulips that pop out of the ground every year.  But, not in my yard.  Nope. I have always been smitten with May blooming tulips.  The ones that seemed to come on in a day and vanish, because of the unseasonably hot sun and dry winds that only visit for the duration of those lovely, but incredibly quick-lived, lily-flowering tulips.
Maybe it speaks to how so many things in life are fleeting.  Like the day I didn't take my camera with me when I walked to the grocery store and noticed a sea of pale lavender crocus along my path.  In the moment I was overcome with the beauty of those delicate blossoms.  My husband even suggested that we go back home and get the camera…only 3 or 4 blocks.   I said tomorrow I'll get their picture.   But, that night we had an incredibly hard freeze.
Do you do that too?  Put off something, thinking that it will be there forever, or feeling just a wee bit lazy, or just needing to do one more not-so-important thing, instead?
Today is the day!
It's the day to enjoy the tulips.  Whether it's taking a drive down the road to gather with all the revelers in the greatest traffic jam ever, or putting aside the urgent for the meaningful, these tulips, this moment, will only be here today.
Tulip time comes around and reminds me that this moment is what I have.  
The past is gone, I can't live in the future because, well, it's in the future.  What I can do is live fully in this moment.  It's easy to hurry, rush, or zoom around like I am known to do.  Or, I can talk with my friend, watch the clouds move over the mountain, stop and notice the blossoms on the maples as they swell, dance, and then fall, go for a tulip walk (Have you noticed all the colors and shapes and varieties of tulips?), or simply sit down and enjoy a leisurely meal and listen to my husband.
Instead of hopping in the car to find a new treasure for the house, look in the cupboards, or those boxes you never unpacked after the move, hiding in the basement or attic.  Pick a spot…the sideboard, the mantel, the top of a chest…and decorate it in a new and fresh way with things you have.  I'm all for enjoying a shopping excursion and coming home with a new pretty.  But, unless that pretty comes from an afternoon shared with a dear friend, it just might be more satisfying to force the creative juices to work.  For me,  living in the moment is another way to live.  It's not chasing after what could be when everything for a beautiful moment is already here.
The sideboard was created with some giant silk tulips I purchased in that Dutch town famous for its tulip festival.  They spent several years resting in their cardboard bed.  But, when one of my friends shared a photo of fuzzy 'wooden' shoes on Facebook the other day, memories came flooding back and I decided to see what I could put together.  I'm a huge fan of red, yet I don't usually decorate with it in the springtime.  And since this sideboard was an Annie Sloan Chalk Paint project of mine about 6 months ago, I haven't decorated it for all the seasons yet (you might remember this or this) so anything goes…the first time.  Yes?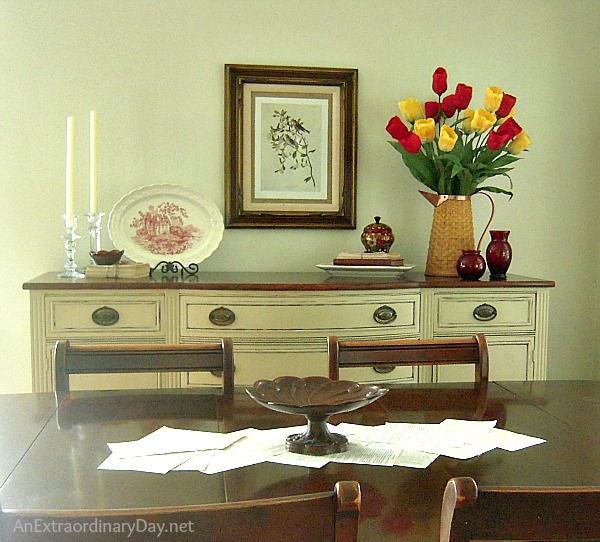 When I now look at the sideboard I see stories.  I remember the shopping trip to Holland where we happened on the giant tulips, the ruby-red glassware my husband surprised me with for my birthday and hid all over the house, the platter my friend who lives four hours away had delivered to me along with the sideboard, the hand painted wooden jar  I purchased in Russia for my mom, the stack of my dad's vintage business books that you frequently see because they have the coolest red bindings, and the artwork on the wall that has its own long story and I should do a whole post about for you.
All of these things together may or may not look lovely to you.  But, to me, they are a lovely moment.  And together help me remember many other lovely moments.
Do you live in the moment?

Have you created any moments?

When I talk about moments missed…what comes to mind?

What do you allow to get in the way of living in the moment?
I'm reminded that today is all we have.  This moment.  
We can savor it.  We can live in it to the full.  We can use it to bless others, to create, to show love, to relish the beauty around us, to say thanks, to laugh, to lie on the grass, to breathe, to tell a story, to see shapes in the clouds, to share a drink or a meal, to speak up for someone who cannot speak for herself, to be generous, to smell a flower, to light candles, to hold hands, to snap a picture, to give a hug, to eat from the good dishes, to walk in the rain, to watch the sun set, to wiggle toes in the sand, to walk on the shoreline or up the mountainside, to just. be. in the moment.
[sigh]
Those tulips sure helped me learn an important lesson about this moment.  You too?
Seizing the moment!
Diane
To receive FREE bits of inspiration like this in your inbox or reader, subscribe now.
Let's chat!   "Like" An Extraordinary Day ~ A Place of Joy & Inspiration on Facebook.