The party is finally over.
We managed to enjoy this blogiversary celebration for nearly two whole weeks!!
I am still in amazement at how much fun it was and how wonderfully gracious and generous my bloggy friends have been.
This week, for me, has been an extraordinary wrap-up to the celebration.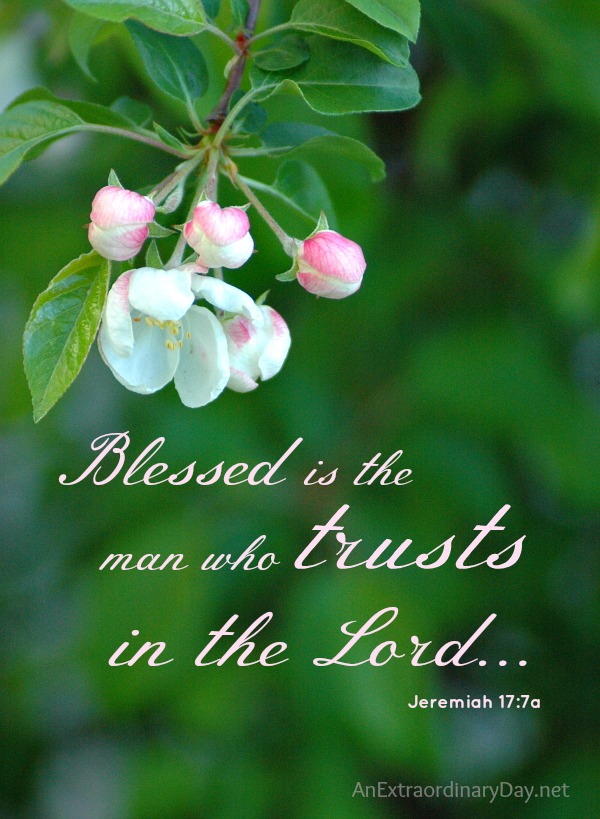 If you are a regular reader of Joy Day! posts each Sunday, you might have remembered seeing this scripture photo among the  other spring flowers filling the post.  One of you has quite a Pinterest following.   I couldn't believe my eyes this morning when I saw that it was pinned 289 times.   Wow!!  Two weeks in a row this kind of thing has happened.  I am truly humbled.  And grateful that so many have been blessed my 'art.'
~    ~    ~    ~   ~    ~    ~    ~    ~    ~    ~    ~    ~    ~   ~    ~    ~    ~    ~    ~    ~    ~    ~    ~
Catch up on all that's Extraordinary…
this week at An Extraordinary Day:
Here are this week's posts…
It really was An Extraordinary Week on the blog!
On Sunday night, the week of Giveaways, began with the iTunes gift card for a magazine subscription to Celebrating Everyday Living with Jennifer Carroll.   And the winner was Sheila!  Monday night Barbie won the "You Are Extraordinary" fine art print from Studio JRU.  Katherine won the book "Inspired You" from Miss Mustard Seed on Tuesday night.  Then Wednesday night our random generator selected Mel to receive a 12×12 cafe mount art print from Red Letter Words.   And Thursday night, Nicole was over-the-top excited to win the Longaberger Recipe Basket from Longaberger Lifestyle (that's me!).  Nicole told me that she and her mom texted each other each day to make sure that they remembered to enter the day's contest and do all the "requirements."  Is that not cool?!
I guess all that excitement made it feel like it was a busy week on the blog.
Sunday's Joy Day! post was a blessing to me to write and your responses blew me away.  God IS good.  Monday I revived a post I had written nearly a year ago.  It was a wee bit late when I originally posted it for those of you who want to start playing with plants between Mother's Day and Memorial Day.  And because I think I had all of five subscribers when I first published it, I decided to run it again with a little twist.
I meant to be back a few days later as I had been busy shooting and planning for a couple of posts, and then I wrote one that totally got me off my game.  You see, I had a post written one morning and then came back in the afternoon to give it a good 'polish.'  It felt really good when it was done and much better than the first draft.  I was just about to start to add photos when I got called away.  The laptop was set down and I never gave it another thought.  That evening I picked up the laptop again to link up to a couple of my favorite parties.  I may or may not have closed up the post on my laptop.  Does it really matter?  After all, WordPress saves drafts every minute…so my draft would be in great shape…regardless.  Or not.  When I went back later…to put in the photos…well you already know.  By that time I was tired.  And I said I would work on it tomorrow.  So far tomorrow hasn't come.  Once something is all tied up pretty, it's hard to pick it up in the middle when you knew that it was finished.  Now, who knows if those good thoughts will return.  I'm sure you've been there.  Arrrgh!!  Anyway…that sort of brought the posts for the week to a grinding halt.  Sorry….hope you'll forgive my silence.  And now on to happier news!!
Humbled and blessed.  
Thank you to the following lovely places for featuring An Extraordinary Day recently:
It's Overflowing    ~    Natasha in Oz    ~    A Stroll Through Life
One More Time to Celebrate   ~   Rain on a Tin Roof
Please take a minute to stop by these extraordinary blogs for even more inspiration.
Thank you for stopping by…. taking time to read, comment, and share.  And those of you who pray for the blog and me….thank you from the bottom of my heart…it means the world to me…especially during a personally challenging week.  I feel so blessed by this community and hope you do too.
Wishing you an Extraordinary weekend!
Diane
To receive FREE bits of inspiration like this in your inbox or reader, subscribe now.  
Let's chat!   "Like" An Extraordinary Day ~ A Place of Joy & Inspiration on Facebook.
*   *   *  *  *  *  *   *   *   *  *   *   *   *   *   *  *  *  *  *  *   *  *  *  *  *  *
Sharing with these Extraordinary spots: