Would you like to know how to receive God's blessing?
In my recent reading I made a discovery!
Each morning I walk out to our great room and look out the windows.  Though we live "in" town we have a great view.  The hill where we live quickly drops, it's like living on a second floor, looking above our neighbors' rooftops.  A small mountain lies just beyond.   I can barely see any houses on the mountain, even when the trees have dropped their leaves.  But, early in the morning, when it is still dark, the mountainside is dotted with lamp light.  It's a comforting view.
Now, as the robins summon the dawn, my view out the window is glorious.  Have you ever stopped to notice all the different colors in budding, blossoming, and leafing trees?  This tapestry, though more subtle, is as colorful as Fall's display and the texture is lacy and intricate.  It is made even more dramatic by the sun rising over the mountain.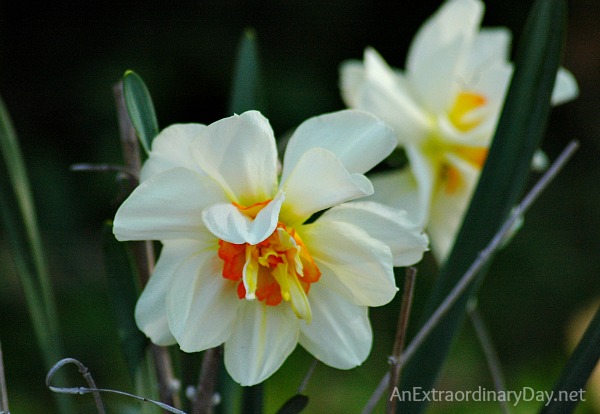 Sometimes I stand in front of the window for a long time.  In the quietness I have a sense of my smallness and HIS largeness.  This small thing helps me gain perspective for the day.   More of HIM…less of me.   It's a small thing that sets the course for the day.
On this particular day I asked the Lord for a word of encouragement as I opened my Bible.  Do you ever do that?  Often I take a section of scripture and move slowly through it, chewing on it as I go.  But, this morning I needed something more.  My Bible fell open to Jeremiah.  I'm not sure why, but God has often used passages there to speak to my heart in big ways.  I read a few chapters and came to these verses…
7 But I will bless those
who trust me.
8 They will be like trees
growing beside a stream—
trees with roots that reach
down to the water,
and with leaves
that are always green.
They bear fruit every year
and are never worried
by a lack of rain.

Jeremiah 17:7-8 Contemporary English Version
It was as if the words leaped off the page.
My Bible is a different translation than the one I shared above.  It's familiar to me, but often I like to look  up different versions for easier understanding or enlightenment.
In my version, verse 5  begins: This is what the Lord says:
When I come across passages that say something like "this is what the Lord says," I sit up and take notice.
Jeremiah goes on to talk about the person who believes in himself, the person who thinks he has everything under control and doesn't need God.  God says he is "cursed."
Okay…I don't know about you…but I have been guilty of that before.  I'm a fixer.  Need I say more?  That is one slippery slope and I can go down it pretty quickly.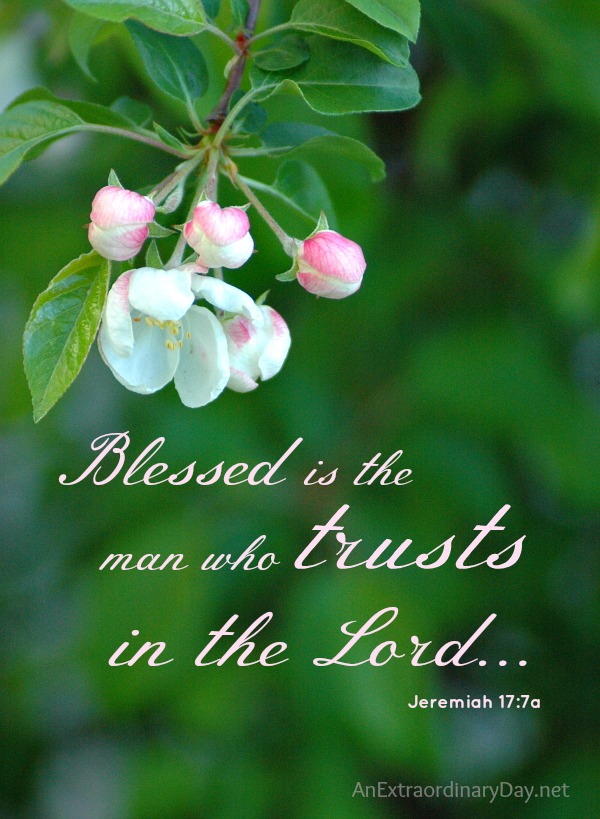 Here it is…how to receive God's blessing.
And then, I arrived at verse 7…"But I will bless those who trust me."
Each day we have a choice.  We can decide to humble ourselves and see God for the Almighty powerful loving God He is.  Or we can 'handle' things ourselves.
We can choose to be blessed or cursed.
I want blessing.
The only thing is….we need to make a conscious decision every day to trust God.  Some days, I need to do this multiple times during the day.  To trust and keep trusting.  Trust and keep trusting.
What I love is that by doing so, I set roots in the stream (God).  It (He) makes me strong.  It (He) helps me to thrive….free from worries…no matter what.  God has shown me that by living like this I will have a purposeful productive life that makes a difference.  To trust God is to choose joy.
Isn't that what we all want?
Meaningful, productive, joy-filled lives?
Today we have a choice.  Trust God and receive His blessing…or be self-sufficient, empty, worthless, and empty.
I choose JOY!
It's Joy Day!
The day when we take a look back on the past week and count gifts.  The good and the not-so-good things.
When we take time to be thankful for it all…the good and the bad…we find joy.
Will you join me in this?
I'll start:
I'm thankful for…
this first year of blogging
friends who pray
the struggle
the unknown
discovering God provided an answer before there was ever a need, before a prayer was even offered
sweet online friends who provided lovely gifts for the blogiversary giveaway
sunshine – all. week. long!
Now it's your turn!  
Scroll down to 'Share Your Thoughts' below and share just 'seven' gifts from the past week.  Your heart will be filled with joy.  I dare you!!  Want to push your joy envelope?  Take the Joy Dare.
Is there something you do each morning that helps your day off to a good start?
When I asked the question, "Would you like to know how to receive God's blessing?"  Did you expect this to be your answer?  Maybe not. Usually we think we have to do something to receive God's blessing.  He is much less interested in what we do and more interested in our connection to Him.  The more we trust, the more connected we are to Him.  Hmmmm…
Trusting in an Extraordinary God!
Diane
To receive more inspiration like this in your inbox or reader, subscribe now.  It's FREE!
Let's chat!   "Like" An Extraordinary Day ~ A Place of Joy & Inspiration on Facebook.