Need a coffee table but don't have one? This DIY modern farmhouse tray is a cheap and easy solution with style.
In my home, I'm the beneficiary of a nightly ritual that will make most wives jealous…
My husband prepares a cup of cocoa or chai for me every evening before bedtime.
He's been doing this for most of our married life and I love it.  It's a very special way to end the evening.
Since we've been living in this postage stamp of an apartment my choice is to sit at the table or on my little loveseat.  Usually, I choose the loveseat.  But, it's risky for balancing a luncheon plate with a mug of cocoa and a cookie and my stevia.
Remember that old axiom, "Necessity is the mother of invention"?
In this case, I didn't invent a tray, but when I saw other bloggers sharing lovely trays they created, I filed that idea away for the "just in case" moment.
Fortunately, I haven't had any accidents.
I really need a coffee table and I don't have one.  But, being a charter member of the "fixer" club, I looked at what I did have and decided to use that for a coffee table.  Yup…. my footstool, or ottoman or hassock if you prefer.
Actually, the footstool isn't a much better idea than setting my plate overflowing with a mug and all the accoutrements of my nightly ritual on the loveseat.
However, my footstool is generous in size and would make a handy coffee table IF it were topped off with a nice tray.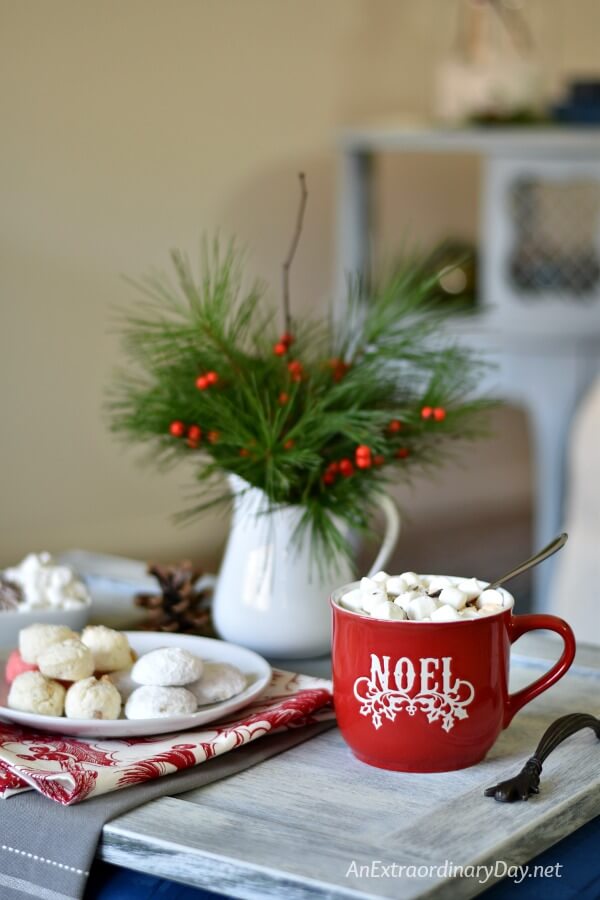 It just so happened that my car turned into the local ReStore shop and I popped in to see if they had a cabinet door that would serve as the tray.  Oh, happy day!  They did for the grand sum of $6.00.  My next step was to find handles.  Two seconds later I had a pair of antique brass handles with a lovely wheat design in my hand.  They are perfect for my DIY modern farmhouse tray.  A little more costly than I had hoped, I decided they were unique and later realized they were originally much more expensive, so it was a win for me and a win for the ReStore shop.
I was on my way to having a fabulous new coffee table err modern farmhouse tray and it was going to be ah-door-able.
This is such a simple project, provided you have a drill.
Using the handles as a guide, create a template for drilling your handle holes.
All you need to do is run a pencil lead over the handles' holes and press down on a sheet of heavy paper and you have your template.
Next measure to find the center of the sides and middle of the edges where you'll place your handles.  This is your guide for lining up the template you created.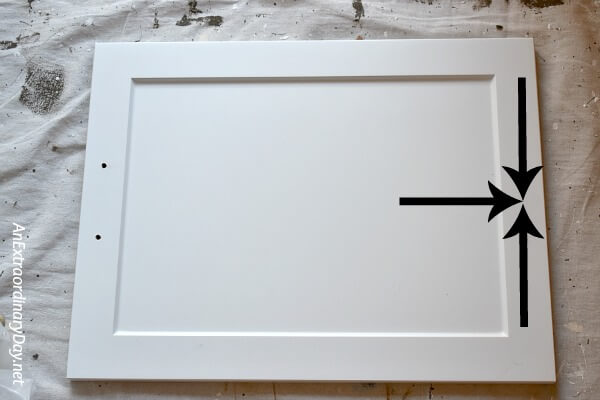 Using your template, drill your holes, being sure to hold your drill exactly perpendicular to your door.
Before you attach your handles, it's time to paint the door and give it that old weathered farmhouse look.
But first, grab your handy painters' tripods
.  I only recently purchased these and have used them for various projects.  How did I ever manage before?
Using an inexpensive 2″ paint brush, a paper plate for mixing paint, and various acrylic craft paints in shades black, white, cream, and gray begin painting your cabinet door.
My plan was to layer the paint to give the tray a distressed, old painted or weathered wood look.  I began with black paint.  Note I did not paint the door solid with paint… instead, I gave it a sort of dry brushed look for the first color of black and for each additional color I subsequently used the dry brush method as well, so that I didn't apply a heavy amount of paint and the various tones could be seen.
At first, I thought that I needed to give a little bit of an accent to the tray, so I taped off a small area on the inset portion and painted it black.  It looked great, but I felt it was too dark for the room, so I went back and dry brushed it again with some lighter shades of gray.  I think the tones look great with my new rug.
To finish it off, I added some plastic bumpers to the bottom of the tray to raise it up just a wee bit for other uses.
I couldn't be happier with my new coffee table… um, modern farmhouse tray.  It's perfect for my nightly cocoa or chai ritual.  And it also serves as a little desktop when I'm working away on the loveseat, which I do every day.
If you're looking for more horizontal real estate in your family room or living room, then you'll especially love how easy it is to make a tray and turn your footstool into a coffee table.
Here's a supply list to get you started…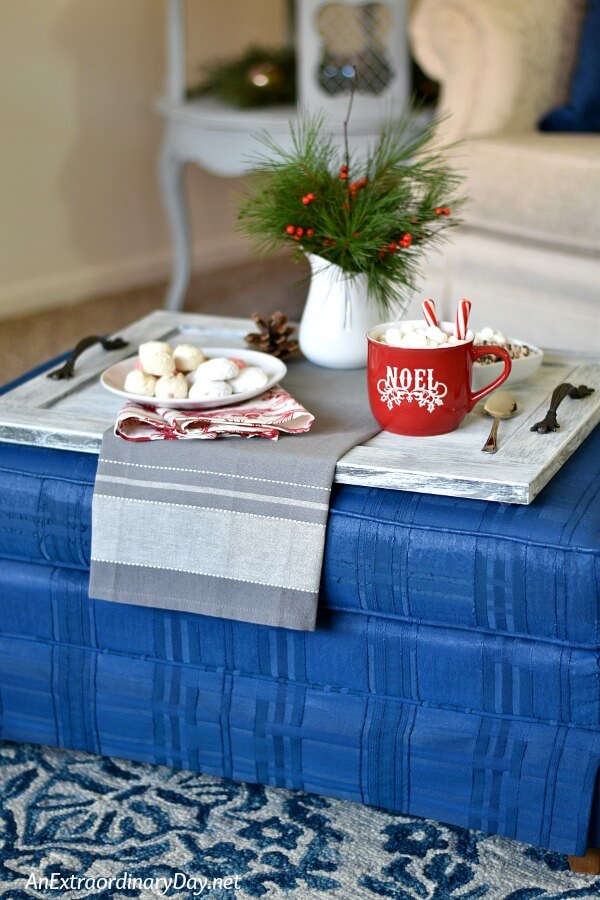 Wouldn't you love to see and pin even more Modern Farmhouse Tray Ideas for Christmas?
I thought so.  That's why I joined up with some of my favorite blogging friends for another extraordinary blog hop hosted by Maryann of Domestically Speaking, Mary Beth of Cupcakes and Crinoline, and Malia of Yesterday on Tuesday.
Grab your favorite holiday beverage and take a little Christmas tour on the following blogs…
Domestically Speaking
Inspiration for Moms
Home with Cupcakes and Crinoline
Clean and Scentsible
An Extraordinary Day
Yesterday on Tuesday
The Country Chic Cottage
Redhead Can Decorate
Create & Babble
My Uncommon Slice of Suburbia
Thanks so much for popping by today!
If you enjoyed this post, please use the sharing buttons
to let your friends know and "pin it," too.

Receive FREE inspiration like this in your inbox!
Sign up Now.

It's Easy! How to Make a Modern Farmhouse Tiered Tray