"There is always Hope."
One of my friends posted a beautiful graphic she created with those words on Instagram.
Immediately my mind went to these words from scripture…
And Hope does not disappoint.
Romans 5:5
People disappoint… but God never does.
I'm not saying that God gives me everything I ask for.  No, far from it.
We had moved to a new state and my husband was working for a new church that was quite large.  After several months, I wanted to restart my home decor business, so I sent invitations to my new friends at church and those that were on my husband's ministry team, created wonderful desserts, fluffed my new home, and waited for the doorbell to ring.  I didn't know what to expect, but ever the optimist I thought that a handful of people would come.
No one came.
And at that moment I realized I was an alien.
I wasn't a hometown girl.  I was an outsider.
As I sat in my guest-ready home with a carafe filled with coffee that I would never drink and a table filled with luscious desserts that would get thrown away, I realized that I wasn't just an alien in my new town, I was an alien in this world.
This world is not our home.
God doesn't want us to get too comfortable here.
Jesus told us when he left the earth that he was going to prepare a place for us.  He's been about his preparations for quite some time, so I'm thinking that it's going to be pretty amazing.
He doesn't want us to feel too at home here when he has something much better in store for us ahead.
For me, it would be like settling for cheap dollar store cocoa that comes in a paper package when I could enjoy a tall hot chocolate breve (made with half and half) from Starbucks.
Or… a tiny backyard garden and pool when we could be enjoying the flowers and waves on some exotic island.
Actually, those two examples pale in comparison to what God has ahead for us… but you get the idea.
Look at what museums have to do to maintain the integrity of the items from the past they have on display.  Jesus talks about how we shouldn't be building bigger barns to store all our treasures which will one day rot away.  He wants us to focus on what will last… which is my relationship with him and others that chose to follow him.
God used that painful evening to show me that I don't belong here.
As a gal who is all about home and friendship, God has allowed me to have many experiences which have solidified my alienhood.
Because I'm a follower of Jesus I have hope.
Actually, this hope is hope with a capital H.
My Hope is Jesus.
If I get no-shows to every invitation I send out… I still have Jesus.
And though no one wants to feel rejected or like an outsider I know I belong to Christ.
Therefore, since we have been declared righteous by faith, we have peace with God through our Lord Jesus Christ,  through whom we have also obtained access by faith into this grace in which we stand, and we rejoice in the hope of God's glory.  Not only this, but we also rejoice in sufferings, knowing that suffering produces endurance, and endurance, character, and character, hope. And hope does not disappoint, because the love of God has been poured out in our hearts through the Holy Spirit who was given to us. 
Romans 5:1-5
We are all going through challenging situations.
There's pain in rejection.
But, the apostle Paul tells us to…
rejoice in sufferings, knowing that suffering produces endurance, and endurance, character, and character, hope.
In the midst of those hard times, it's not easy to be grateful for the difficulties and challenges that we walk through.  However, just as we know that we will get stronger because of the have muscle pain we have from exercise, we know that God doesn't waste our sufferings.  With each new challenge which we push through in his strength, we become stronger, we're able to endure, and that process builds our character and increases our hope.
Our hope for what God has ahead for us…
Our Hope… Jesus.
And that HOPE… does not disappoint!!
On this First Sunday of Advent we reflect on the HOPE that we have in Jesus.
"Joseph, son of David, do not be afraid to take Mary as your wife, because the child conceived in her is from the Holy Spirit. She will give birth to a son and you will name him Jesus, because he will save his people from their sins." This all happened so that what was spoken by the Lord through the prophet would be fulfilled: "Look! The virgin will conceive and give birth to a son, and they will name him Emmanuel," which means "God with us."Emmanuel… God with us.
Matthew 1:20-23

We rejoice that Jesus… Emmanuel… not only means "God with us" but that HE IS ALWAYS with us.
Just before he left the earth he said these words…
"And be sure of this: I am with you always, even to the end of the age."
Matthew 28:20
Whatever you're going through…
There is always hope.
And HOPE does not disappoint.

It's JoyDay!

This first Sunday of Advent, you can choose to experience your best Christmas ever and get your joy meter soaring!
Please join me in thinking back over the past week and counting seven things for which you are thankful.
This simple exercise of counting and giving thanks together in this space resets our compasses and put our eyes back on the Lord. And ultimately fills our hearts with JOY!
I'll start…
Thank you, God for…
the HOPE that resides within me… Jesus!
the knowledge that that Hope NEVER disappoints. 
stamina for all the time spent in the workshop this week.
all the fun in creating ornaments and having my skinny tree come together.
my dear friend and all the good times we have working together.
Pastor Pete's teaching on the Sabbath.
healing my ankle incredibly quickly from that crazy fall.
Now…it's YOUR turn!
List your 'seven' in the 'share your extraordinary thoughts' section below.  You'll be glad you did.
For more hopeful advent inspiration click here. 
Thank you for stopping by and leaving your sweet thoughts.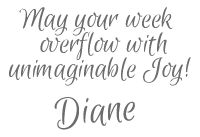 Receive FREE inspiration like this in your inbox!
Sign up Now