I couldn't wait any longer.
It was time to get out my can of spray paint and indulge in a little coastal decor DIY makeover!
This summer I really started missing the Great Lakes.
I'm a 'Mitten State' girl who grew up a bicycle ride away from Lake Michigan.  And more recently we lived 20 minutes away from Lake Erie and 40 minutes from Lake Ontario.  Spending time at the beach in the summer is one of those things that renews my spirit.
Since I wasn't going to be making the trip to the beach, I decided to bring the beach home.  It may not be the same.  But, I have had a ton of fun along the way.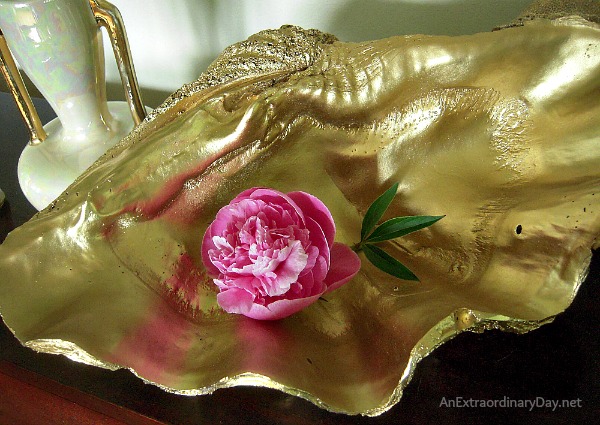 You may remember my gilded clam shell I transformed for Darlene's Ditto Challenge.
As gorgeous as she was, she was just a little too fancy for my everyday lifestyle.
So with spray paint in hand….I gave my Glam Clam a makeover.
When it comes to coastal decor DIY….the beauty is in the details.
First I carefully taped the edge of the portion I wanted to remain gold.
Then I added newspaper…taping it down securely….so no spray would inadvertently drift and settle on the gold.
Then on to my handy spray painting station (a box & newspaper) in my back yard, where I painted it a creamy white.
As soon as it was dry…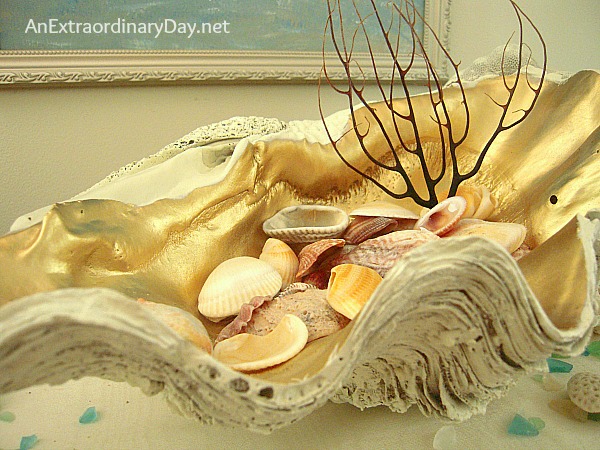 a lovely new clamorous bit of coastal decor emerged.
Isn't she sweet filled with various found shells from a trip to Florida?
She's rough from all those years she spent on the neighbor's woodpile, holding down the tarp.  But, with a fresh coat of gilding and now a lovely creamy exterior, she sparkles.
My coastal sideboard vignette definitely has a stunning new star!
Have you done any coastal decor DIY ing this summer?

Better yet….have you been to the beach?  If so…what's your favorite spot?
Wishing you an Extraordinary week filled with sunshine!
Diane
I'd be delighted if you'd share the extraordinary goodness here with your friends
by clicking any of  the sharing buttons at the bottom.
To receive FREE bits of inspiration like this
in your inbox or reader, 

subscribe now

.