There's nothing like a day at the beach.
Living at least five hours from the beach, I decided to bring the beach to the mountains of Pennsylvania.
At least to my dining area.
Will you  join me for a beachy brunch?
The table is simply set with my Longaberger dinnerware and crystal goblets, and my vintage silverplate that we use everyday.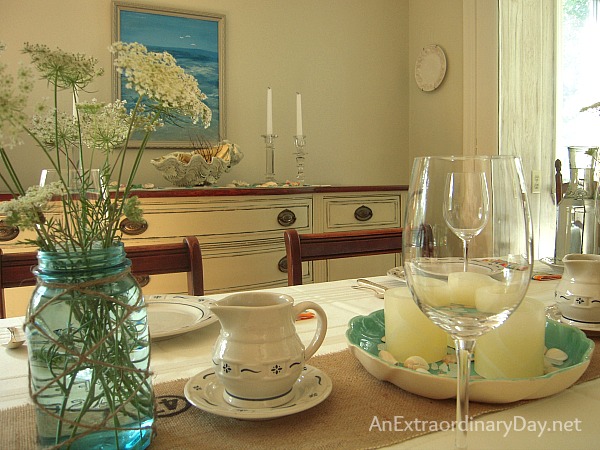 We're having the yummiest blueberry pancakes with real maple syrup.
Creamers sitting on saucers are perfect for serving the syrup.  And cute too.
An old vintage low bowl with a sea green interior is filled with candles, seashells, and beach glass.
A strip of burlap, cut from an old coffee bean bag turned table runner, is suggestive of sandy beaches.
The sideboard against the wall is festooned with a coastal vignette that includes the giant clam shell that had two cosmetic makeovers, and my first attempt at painting the sea.
I'm smitten with the vintage blue Ball jars which are filled with fresh-picked Queen Anne's Lace.  One of my favorite summer flowers and just the touch for that beachy feel.
At my request, earlier this summer, my kind husband created the netting around the jars that remind us of the old-fashioned glass floats.
And to complete the look, I found some striped napkins in my stash that remind me of a summer beach towel and give a punch of color to an otherwise mostly monochromatic table setting.
We had a lovely, last minute brunch with special friends.  My husband made blueberry pancakes, one friend brought a wonderful egg casserole, and another an amazing fresh fruit salad.  Simple and delicious.  Great conversation.
Moments before our guests arrived, I realized I had forgotten the water goblets, so I quickly set them on the table and then grabbed the camera to snap most of these photos as our friends were walking to the door.  Whew!
Then as I was editing these photos I thought I could have added a colorful beach towel to the table decor to give our beachy brunch a little color kick.  Next time.  Maybe.  I also noticed I had forgotten to add more seashells to the burlap runner.  I'm guessing you didn't miss them, so we'll decide that it all came together perfectly for a last minute Saturday brunch.
I hope my beachy brunch inspired a few coastal decor ideas for your fun table setting. Everything I used, came from my stash.  Take a look in your cabinets and cupboards… I bet you'll be surprised how easy it is to set your own beachy brunch tablescape.
Have you ever had a beachy brunch far from the crash of the waves?

What is your favorite table setting theme for summertime?
Wishing you sand, sunshine, and the splash of the waves…even if only in your dreams.
Be Extraordinary!
Diane
To receive more FREE inspiration like this
in your inbox or reader, subscribe now.