"Never lose an opportunity for seeing anything that is beautiful;
For beauty is God's handwriting — a wayside sacrament.
Welcome it in every fair face, in every fair sky, in every fair flower,
And thank God for it as a cup of His blessing."
– Ralph Waldo Emerson
Have you taken time to go for a walk?
Not the kind where you try to see how quickly you can get the miles in.
But, the kind where you try to see how much beauty you can take in.
I dare you to play "I Spy" with your walking partner.
I think Emerson had it right.
Beauty is God's handwriting.  
Just look at this exquisite daylily from my garden.
~    ~    ~    ~   ~    ~    ~    ~    ~    ~    ~    ~   ~    ~    ~    ~    ~    ~    ~    ~   ~    ~    ~    ~   ~    ~    ~
Catch up on all that's Extraordinary…
this week at An Extraordinary Day: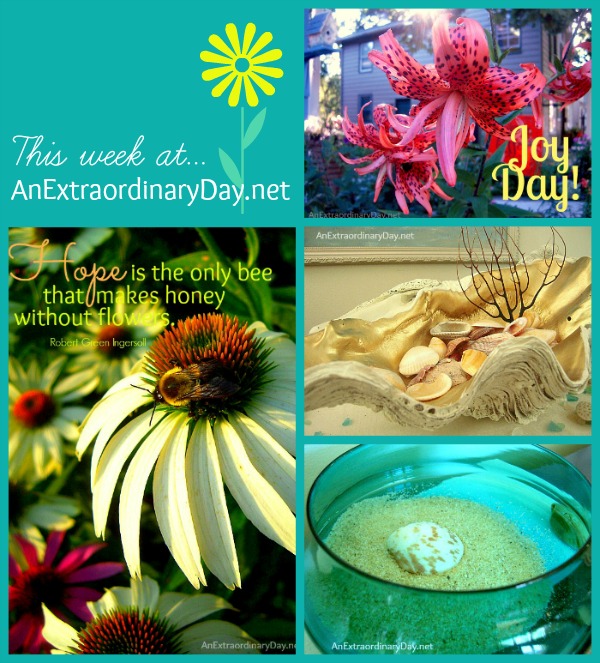 Here's a rundown of this week's posts…
It was another Extraordinary Week on the blog!
Our Saturday's wrap up of the week included a few thoughts on hope.  Something we all need in big doses.  Joy Day! was brief because the scripture I shared was so amazing I really didn't have much to say.  Yeah…just a few words from me…that was a surprise!  The week then took a coastal twist with some large and small shells.  There'll be more beachiness on the blog next week…I'm loving my coastal series…hope you are too.
Humbled and blessed.
This week I was pleasantly surprised to discover the blog was in a round-up of features here:
Green Willow Pond    ~    The Taylor House    ~    Le Creme de la Crumb
and as the featured blogger at The Intentional Blogger's Friday Meet & Greet
Please take a minute to stop by these extraordinary blogs for even more inspiration.
On a Personal Note
The week began with our four friends from this area coming over for Sunday brunch.  It was so good hanging out together.  I love it when we enjoy a shared meal.  So much yumminess!!  It was the last hurrah before we are consumed with boxes.  Monday, I set a new schedule for my week to prevent chaos and started packing.  And I completely wore myself out.  I limped along the rest of the week.  Seriously….what is this paralysis of packing that I am suffering from?  The days fall off the calendar….but I cannot move any faster.   Help!  I need your prayers.  I can be a whirling dervish….my husband says.  Instead, it's my head that is spinning.  Arrrrrgh!!!   An anticipated reply from my appeal to AdSense hit my inbox, too.  My appeal was denied.  I seriously have no idea what I did to warrant having my account with them disabled.  Could it be a spammer was irritated with me because I added the check box to the comments?  I wonder.  Regardless…I'll miss the small income I received and now need to figure out a more lucrative advertising plan.  The good news is that the week did have two more bright spots in it.  My neighbor whose flowers I watered….surprised me by stuffing an envelope with a thank you and a pretty 'greenback' under my front door.  Our good friends from Michigan popped by (with fresh-picked blueberries!!!!!!) on their way to Virginia  this week and we crammed dinner, a sleepover, breakfast, and lots and lots of talking, in about 10 hours.  It was all good.  And because you're dying to know….we're still looking for work.  And please tell me why no one has the courtesy to say they have received your resume and cover letter???  And why after others do phone interviews, do they not let you know they loved you or that you're dirt, or even respond to follow-up e-mails?  Really.  Why?  In exactly two weeks we say goodbye to this quaint town and sweet house and hello to who-knows-where.  Above all….God is good.  Every day.  All the time.  I believe we are faithfully following and trusting.  But, oh I do wish he would show us his plan.  [sigh]  I guess that's why we need faith. [wink]
So now that I've shared my week…please fill me in with what's been happening with you.

At the very least…tell me about some beauty that you discovered across your path this week.
Wishing you an Extraordinary weekend!
Diane
I'd be delighted if you'd share the extraordinary goodness here with your friends
by clicking any of  the sharing buttons at the bottom.
To receive FREE bits of inspiration like this
Let's connect!  Facebook  ::  Pinterest  ::  Google +  ::  Shop-Longaberger Lifestyle
How many times have you been to the beach or ballgame or just had some memory-making family fun and gotten a great snapshot? But, once it's downloaded, it just ends up on your computer, forgotten.  We all do it!  Canvas People is an affiliate of mine.  Let me suggest that you take advantage of their terrific SALE and have a nice canvas art print made to enjoy that special moment everyday, just not when you happen across that cherry photo among your kajillion image files.  Click on the image link below for all the details.  And thanks!!