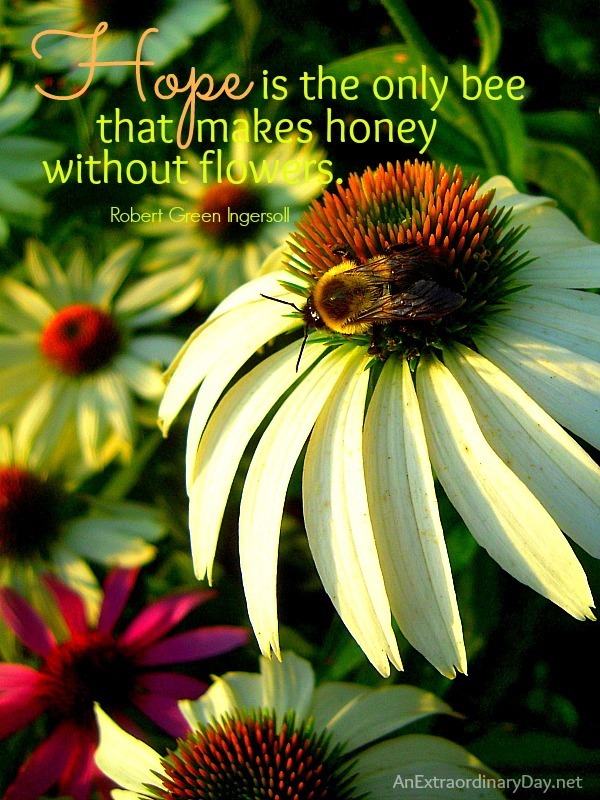 An Extraordinary Day! is a place of joy and inspiration.
Some days, the inspiration is as much for me, as it is for you.
Sometimes we just need a ray of hope.
The golden hour is the time when I prefer to take a walk.
It's the time when I can get the best photos.  Or at least I make the attempt.
Not many, but when they happen they are dramatic thanks to the lovely light.
Isn't this white Echinacea stunning in the light?
As long as there is sunshine and flowers…there is hope.
and then again…
Hope is the only bee that makes honey without flowers.
Robert Green Ingersoll
That's where you'll find me.
With the bee who makes honey without flowers.
Hope.
It comes from the ONE who IS and gives us HOPE.
Hanging on to HIM.
~    ~    ~    ~   ~    ~    ~    ~    ~    ~    ~    ~   ~    ~    ~    ~    ~    ~    ~    ~   ~    ~    ~    ~   ~    ~    ~
Catch up on all that's Extraordinary…
this week at An Extraordinary Day: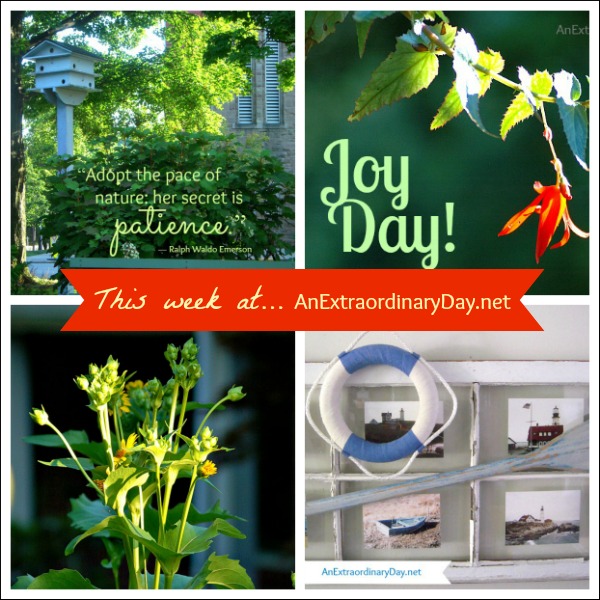 Here's a rundown of this week's posts…
It was another Extraordinary Week on the blog!
Our Saturday's wrap up of the week included a few thoughts on patience and a photo in the park with an Emerson quote.  Joy Day! began with a story of how God demonstrated his care for me and some words to encourage us both in the journey.   Then on Monday, I shared my vintage window in yet another seasonal dress.  This particular post was also run as a guest post on A Diamond in the Stuff.  I have to say, I am really happy with the way this window looks.  Plus it's a totally different look.   Wednesday took a different twist with more floral photos and my response to a quote I read by Jeff Goins on waiting.
On a Personal Note
Instead of doing anything really important this week, I played.   I even got out my paint brush and painted a water picture, and created a new vignette, and decided to make the sun room all coastal (there might be pictures…providing the gray clouds go away soon).  And even though my garden will be someone else's soon…I weeded and swatted bugs and moved plants around and came inside all dirty and sweaty….and it was good.  And in between….first I forgot (hangs head) and then I remembered…watered my neighbor's many potted flowers while she was away.   Then there was the midnight walk in the fog when I couldn't sleep one night.   And oh the delight of the best blueberry pancakes ever…two days this week….made by my sweet husband.  Those are all the good things, while we wait, and wrap our minds around the idea of packing, which I avoided all week, and still not knowing where we are going on moving day.  We know God knows…please pray that he shows us his plan…quick.
So now that I've shared my week…please fill me in with what's been happening with you.

Did you or do you need an extra dose of hope?

Have you been playing the waiting game too?

What good things made your heart sing this week?
Wishing you an Extraordinary weekend!
Diane
I'd be delighted if you'd share the extraordinary goodness here with your friends
by clicking any of  the sharing buttons at the bottom.
To receive FREE bits of inspiration like this
Let's connect!  Facebook  ::  Pinterest  ::  Google +  ::  Shop-Longaberger Lifestyle