This has been one of those weeks….
where you realize that you are totally not in control
and at the same time, grateful God is in control. 
 If you'd like a 5×7 print of this photo & quote…click here…and save it as you would any photo.
So…when this quote from C.S. Lewis came across my path it certainly gave me pause:
Hardship often prepares an ordinary person
for an extraordinary destiny.
― C.S. Lewis
The sun drops in the sky, the air begins to cool, and the lighting is exquisite.  That's how it was this evening when we left the house for a walk, with plans to capture a few pictures.   We won't have too many more of these extraordinary times in this quaint town and so we'll attempt to capture a few more moments in the remaining days.
Last Saturday morning, we went left our home to walk through the art fair.  A prospective buyer was coming to see the house we rent.  On Monday, we learned they made an offer, and our lease will be terminated at the end of August.  Tonight the buyers went through the house, again.  So, we made the most of the hour, snapping photos (including the one above), sitting in the park watching families and a couple having their engagement photos  taken, sharing an extra malty chocolate malt, and walking through town and chatting with those along our path.  It was a perfect evening.  Sort of.  It felt strange.
At least a For Sale sign won't be going up in our yard, nor will the real estate agency's agents be tromping through the house, nor any other strangers for that matter.  That's good.
There are questions.  Where will we move?  How will we move?  When will we move?  And what about that elusive job that actually makes it possible for us to move with purpose other than….?
It's a good thing God has all the answers?  It's a good thing that this was no surprise to him.  It's a good thing that he holds us in his hands.  It's a good thing nothing is impossible for him.   And it's a good thing we've been learning to trust him.
The past seven months have been hard.  No one likes not knowing.  Not me for sure.  But, if C.S. Lewis is correct, I guess all this has been preparing us for "an extraordinary destiny."  I'm not sure that's a comfort.  But, it is something that helps me look forward, expectantly, to what God is going to do.
Two things I know from HIS word:

With God's power working in us, God can do much, much more than anything we can ask or imagine.  Ephesians 3:20 NCV
We know that in everything God works for the good of those who love him.  Romans 8:28a ERV
And on this I will stand.  And watch God work.   For me.
Not because I am worthy.
But because he loves me.
Because I am his child.
That's it.
It's humbling.
My heart is full.  Gratitude spills over.
Grateful for grace.  And HIM.
Whatever the future holds…I'm certain God really does have "an extraordinary destiny" for me….and you too!
~    ~    ~    ~   ~    ~    ~    ~    ~    ~    ~    ~   ~    ~    ~    ~    ~    ~    ~    ~
Catch up on all that's Extraordinary…
this week at An Extraordinary Day: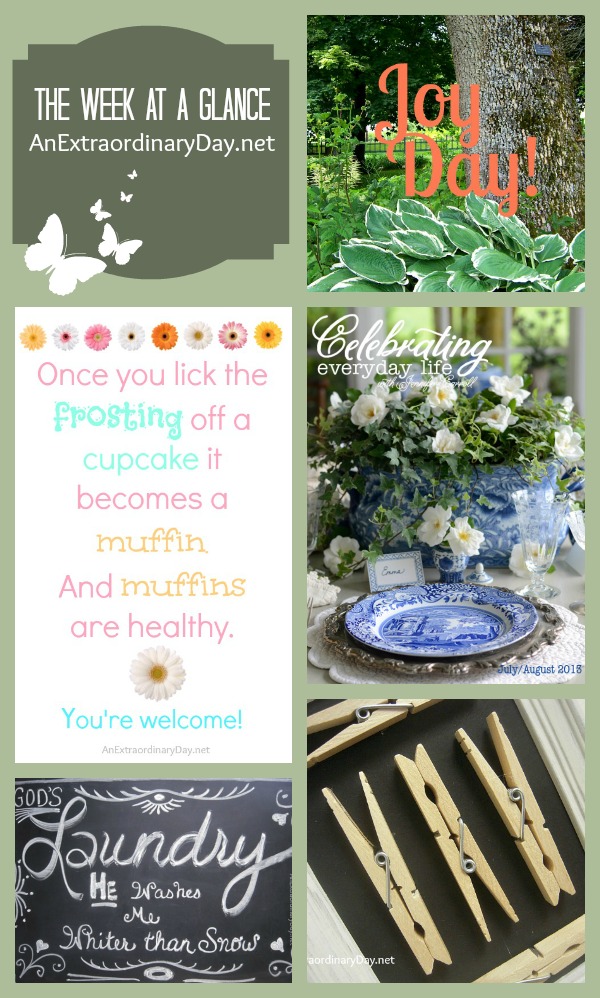 Here's a rundown of this week's posts…
It was another Extraordinary Week on the blog!
Saturday's weekly wrap up featured a fun printable…perfect for the next time you serve cupcakes.  Sunday began with Joy Day! and a few thoughts on how my cat helped me think about my place of safety.  Then on Monday, I featured an extraordinary magazine and an interview with the amazing creator and publisher.  The remainder of the week I teased you with glimpses of my finally finished laundry closet/room.  There's nothing like finishing something just in time. [wink]
Humbled and blessed.
This week I was pleasantly surprised to discover two posts from the blog featured here:
Craft Storage Ideas    ~    Under the Cover of Prayer

Please take a minute to stop by these extraordinary blogs for even more inspiration.
And why is this post late?
Well that is a good question.  As I was finishing up this post around midnight, I made a few changes and clicked to preview them.  When I did, I received an error message.  Thank you WordPress or Blue Host.  I have no idea the how's or where's.  But, I do know that I was so very tired.  And losing the entire bottom half of the post was disconcerting.  I also lost all the backdoor things that readers don't see.  But, what's interesting is that I didn't lose my latest edits before saving and previewing.    With my eyes burning, I decided to get up in the morning and recreate the second half of the post.  And to make sure I got up, my Lily, sat on my chest and purred into my face this morning.  How's that for an alarm cat?
What's even more puzzling….this morning I did recreate the second part of the post.  But, when I saved my draft and clicked to preview, I discovered that this section was gone.  So…..I just wrote it again!  Fortunately that was all that was lost.  I guess it's time to give thanks…. Yes?
So now that you've heard what's going on in my neck of the woods….
tell me one thing that was extraordinary in your week.  I can't wait to hear!!
Wishing Extraordinary YOU an Extraordinary weekend!
Diane
I'd be delighted if you'd share the extraordinary goodness here with your friends
by clicking any of  the sharing buttons at the bottom.
To receive FREE bits of inspiration like this in your inbox or reader, subscribe now.
Let's connect!  Facebook  ::  Pinterest  ::  Google +  ::  Shop-Longaberger Lifestyle