Day 23
Today I looked ahead to November.
Can you believe that Thanksgiving is just 4 weeks away!  Whooa….time is ticking away too quickly!  I'm loving this fall, finally!  But, before you know it Thanksgiving will be here!  And 4 weeks later…Christmas!  Too much goodness on the horizon while I'm in the midst of savoring the season and not wanting to look ahead just yet.  Today it was 70 degrees and sunny.  A real Indian Summer.  Simply gorgeous.  And pretty soon it will be time to order my turkey.  Yikes!
With that in mind I thought that maybe we should begin thinking about Thanksgiving.  We don't need to do anything rash, quite yet.  We'll wait until the third week in November for that.  Now…we'll just contemplate the good things we can look forward to enjoying.  Of course….if we do a bit more than contemplate….we should be ready to have a truly extraordinary holiday.  Stress free, fun, and hopefully relaxing.  But, of course in order to do that we must plan ahead.
This year I was blessed with lots of pumpkins, and the best part, I don't think that if I went myself to the pumpkin patch that I could have picked any nicer.  That's one of the lovely things about being blessed.  Thank you dear pumpkin benefactor!!   However, I don't know for sure that all my pumpkins will survive until Thanksgiving.  Some of them are thinner skinned and don't weather well.  So, I took it upon myself to experiment and makes some burlap ones.  Tell me what you think of them….
These burlap beauties were pretty easy to make and with just a little effort I should have a bevy of them ready for feast day.  If you want me to put a tutorial up…please leave share your thoughts below.
If I'm able to keep my pumpkins and bittersweet until Thanksgiving…I'll fill a Longaberger Basket or a silver bowl with some.  Hopefully these will last.
Now that we have the pumpkin thing settled, we need to think to think about some floral decor.  A few weeks ago I put together this bit of fabulous fall floral frivolity.  You might remember my Wannabe Fall Mantel?  There is something about squashes that exude a sense of comfort and contentment.  Don't you agree?  I have no idea what I'll find along the highways and byways….but I'm sure that I can find something in some lovely tans and browns.  Asters will no doubt be in many of the arrangements at the grocery store.  I'm loving that bit of purple….you too?
We then need to think about doing a little tablescaping.  I love that word.  Landscaping has always been my thing.  Now I get to create tabletop environments.  Too fun.  But….what shall we do?  Since I'm not that far along in my thinking yet, why don't we take a trip over to over to one of my favorite bloggy friends for a bit of Thanksgiving inspiration.
Here's a lovely outdoor tablescape with every detail right down to the place cards put together by my friend Jennifer Carroll of Celebrating Everyday Life.  Isn't it lovely?
Then there's the food thing.  Seriously I could spend all my time making things look extraordinary.  At the same time I love really good food….served beautifully.  I always say that presentation is everything.  Presentation really can make a simple ordinary menu extraordinary!!   I think the perfect way to set things off is to serve an extraordinary salad.  This Constructed Pear Salad from Stone Gable Blog is ah…maaazing.  There's nothing like starting off our feast with a salad that is just a little bit over the top.  Are you loving it?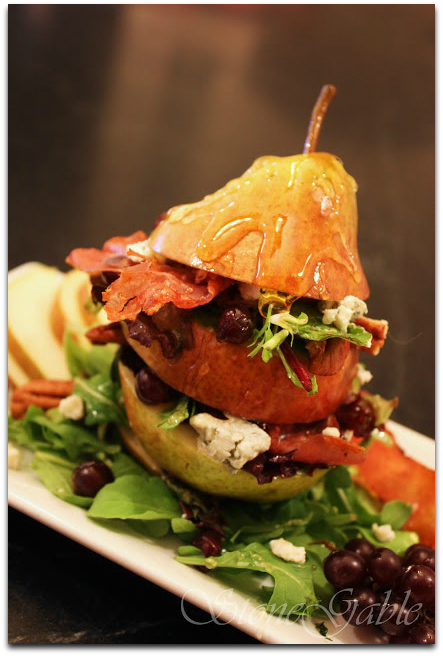 When dinner is over, sending guests home with leftovers is just one more way to bless them.  I love Big Red Kitchen's idea for using Mason Jars to easily stack the  leftovers for easy reheating and serving.  And they make a super cute way to send leftovers home with our guests.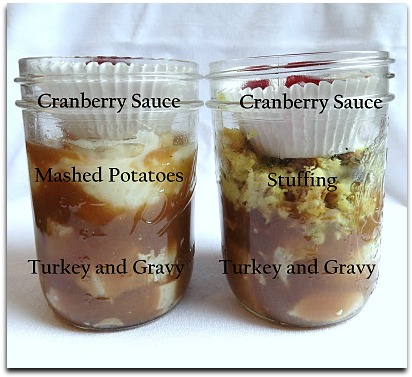 When do you start to get ready for Thanksgiving….or any other major holidays?
Why be Ordinary when You CAN be Extraordinary
Thinking about that turkey & cranberry sauce…
Diane
Sharing with The Inspired Room + Jennifer Rizzo + Stone Gable + Nifty Thrifty Things + How Sweet the Sound
Will you join me each day in October for…