Have you ever had an idea to create something and it came out even better than you hoped?
This simple water fountain I created for my balcony garden is the best thing ever! I cannot tell you how much joy it brings me to have it bubbling and gurgling all day and evening.
In the process of creating a garden for my balcony, I decided that it would be fun to have a water feature. I had no idea we would enjoy it as much as we do.
Here's How I Constructed a Simple Container Fountain
With a few ideas in mind, I decided to go online and do a little research on DIY portable fountains. That's when I discovered that our local hardware store carried an all-in-one water fountain kit for containers.
Once you get an idea to make something, isn't it just torture to have to drive all over town to find the parts you need, when all you want to do is to get going on your project?! That's me, so I was thrilled to see my hardware store had a SmartPond Container Fountain Kit in stock. One left. Seriously, I couldn't wait to get to the store the next day. I totally loved the idea of purchasing a kit so that I didn't have to figure out how to make the various parts work together, especially as I have no idea how water fountains actually work.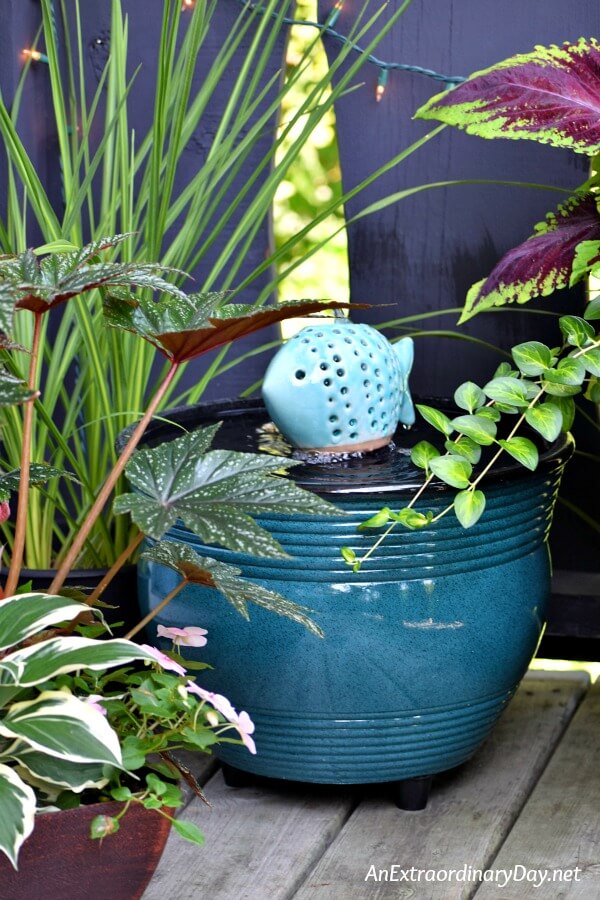 I have to tell you, putting the fountain together was incredibly fun.
Our store had a water feature section in the garden center and there I found the one container fountain kit I needed. Hooray!!
With our kit in hand, we decided to see what we could find for our container. I had several ideas in mind, but when we came across this dark turquoise pot, Tim said he really liked it.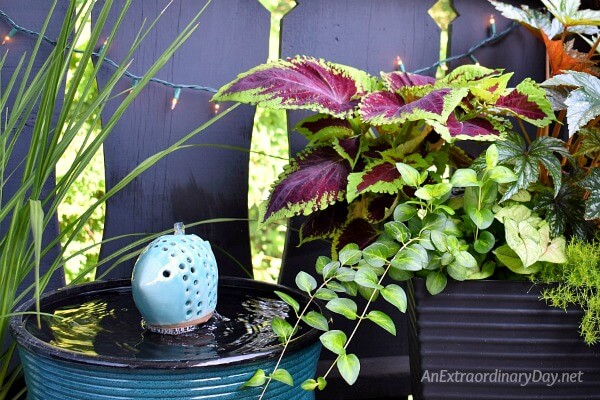 He went to find a shopping cart and left me happily standing in the aisle still looking at the various containers. As I looked up, I noticed some ceramic fish. They caught my eye because they were cute and had a pretty light aqua color. PLUS… I soon discovered they were on sale for $2 and change. Although the shelf tag listed the ceramic fish as a tea light holder ("Cover" might have been more accurate as it wasn't capable of holding anything as it had no bottom or top.), I immediately saw it as the perfect whimsical addition to my water feature. How fabulous would it be to have water spurting out the top of the fish?! And the color was perfect!
My water fountain idea was beginning to come together.
Now I just needed to figure out how to support the ceramic fish over the fountain. We walked all over the store and the garden center until I had the idea to stack two black plastic pots (small over large) to hold the fish, cutting out the centers to allow for the neck of the fountain to come through the pots. I was so excited. The inside of the pot was black and so everything inside the pot and under the water would be black, too. How much better could it be?
Create a Portable Water Fountain ~ Tips & Tutorial
Supply List
Large Water-Tight Container/Pot (Mine was a 16 inch, allen + roth — dimensions 15.75 x 15.75 x 11 in.)
SmartPond Container Fountain Kit (This is very similar to the one I used.)
Power Drill and flat boring Drill Bit (We used a 1 1/4″ bit according to the instructions… but 1 1/2″ would have been a better choice.)
E6000 Adhesive
Black flower pots in 2 sizes (test to make sure they are large enough to go over the pump and stack)
Ceramic Fish (Or something similar for the fountainhead to shoot out of.)
Water and a nearby grounded Power Source
Assembly
I was so excited to start the project that I went to work on making my water feature almost as soon as I got home.
For the most part, everything came together easily. I didn't exactly time things, but I think I was enjoying the sounds of dancing water in about 2 hours, and that included taking photos of the process.
The kit came with thorough instructions and I followed them exactly. Except I cut a hole in the bottom of the pot, not on the side as suggested by the instructions.
There was one hitch to this set-up and that was having to go back to the store to get a special drill bit to cut the hole for the plug and stopper. Our container was made with a stopper that I originally planned to pull to install the wiring, but it was centered in the bottom of the pot (and a bit small) so it didn't work for our set-up. Because I wanted the fountain to be centered in the pot, I needed to offset the hole, especially as the wiring and stopper were bulky and the fountain extension from the pump was not centered either. Truly a small inconvenience.
A simpler way to solve the problem would have been to simply drape the cord to the fountain pump over the side of the container. If you don't have a power drill or don't want to use one… that would be an easy way to set up a fountain.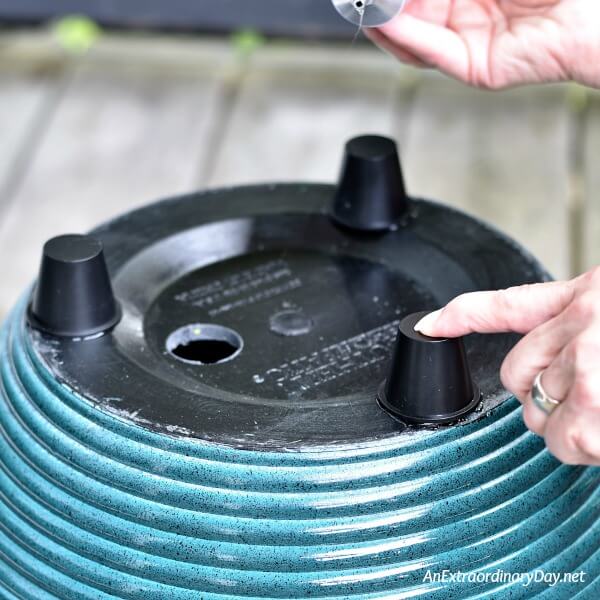 The kit came with feet that could be glued to the bottom of the pot (I used clear E600 adhesive to attach the feet.) which raised the pot just enough to allow for feeding the cord out from the bottom of the container and the stopper that stuck out a bit.
After cutting the sides and tops of the black plastic flower pots that I chose to go over the fountain housing to hold up the ceramic fish and allow for water flow, the power cord, and the fountain extension tube with water spray nozzle, I assembled everything. Then I had Tim push the stopper holding the electrical cord into the hole I drilled into the bottom of the pot. I tried, but the stopper is quite stiff and I wanted to be sure it would be secure, so he gave it the necessary muscle.
It was then time to fill the container about 2/3 with water before plugging in the fountain. Do not turn it on without sufficient water covering the pump.
The kit comes with 3 styles of fountain heads. I chose the water spray nozzle insert thinking that a pretty cascading fountain of water would be fabulous coming out of the fish. It would have been if my container had been much larger in diameter. It was beautiful, but it over sprayed the sides. I tried the other fountain heads, but they were not quite what I wanted for the fish. After taking a second look at the spray head, I decided to give the center a little twist, and by doing so, the fine spray stopped, and instead, I got more of a spurting effect. It was perfect! The water still shoots and dances a bit over the top of the fish, but it doesn't splash outside the container.
I couldn't have been much happier. Except that it seemed that my fountain was leaking. I positioned a small plate under the fountain to catch the water. It wasn't something I wanted to do in the long run, but I wasn't eager to dump about 5 gallons of water and go through the process of having to seal the stopper to the container. My procrastination paid off! On the third day… the fountain ceased to leak any more water. And it's been dry ever since. For nearly a month, we have been enjoying water music in our garden.
Last week we made another addition to our lovely balcony garden fountain…
Goldfish!
Now, it's even MORE fun! We love how the fish get excited and gather up when they hear us open the slider and our little neighbor LOVES to come up and feed them.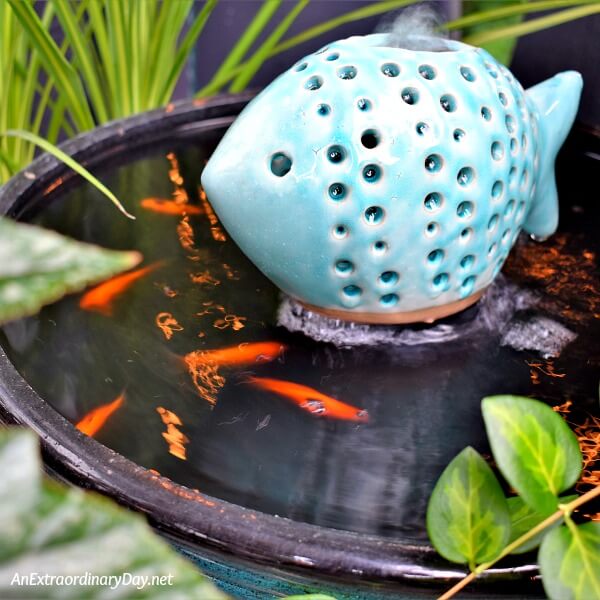 One thing that I don't like about living on the top floor of our apartment building is not having a connection to the land. As a gardener… that's a big deal. Being able to create a garden with a water feature on our small balcony has truly made all the difference. I love having the slider open on the nice summer days and evenings and being able to listen to the soothing sounds of our water fountain in the midst of all the pretty plants and flowers. It really is a little oasis… high up in the treetops.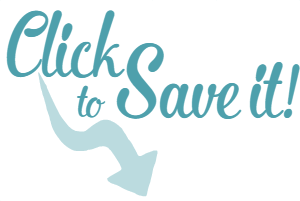 This is my first water fountain. We have talked and dreamed of having ponds in our various gardens, but we didn't have or want fences around our yards, so without some engineering, ponds stayed in our dreams. Isn't it just like God to bring a dream to reality when we're living in the in-between?
This is my view of the container water fountain from my breakfast table. It's such a lovely way to start my day… beautiful plants… gurgling water… and feeding happy goldfish.
Do you have or have you ever created a water feature or water fountain for your yard, garden, or patio?
If not… you've got to create one, too! It's such a reward for a wee bit of effort and a fun creative endeavor too.
Small Space Patio/Balcony Decorating Ideas
Please Join Me in My Wonderful Balcony Garden
What You Need to Know to Plant a Beautiful Window Box
Outstanding Outdoor Living Ideas for Your Home
18 Creative Planter Ideas to Pretty up the Patio
Thanks so much for popping by today!
If you enjoyed this post, please use the sharing buttons to share it with your friends and "pin it," too.

Receive FREE inspiration like this in your inbox!
P.S. This is not a sponsored post. I just wanted to share my joy of having a water fountain and how I made it happen, so you can make one, too.