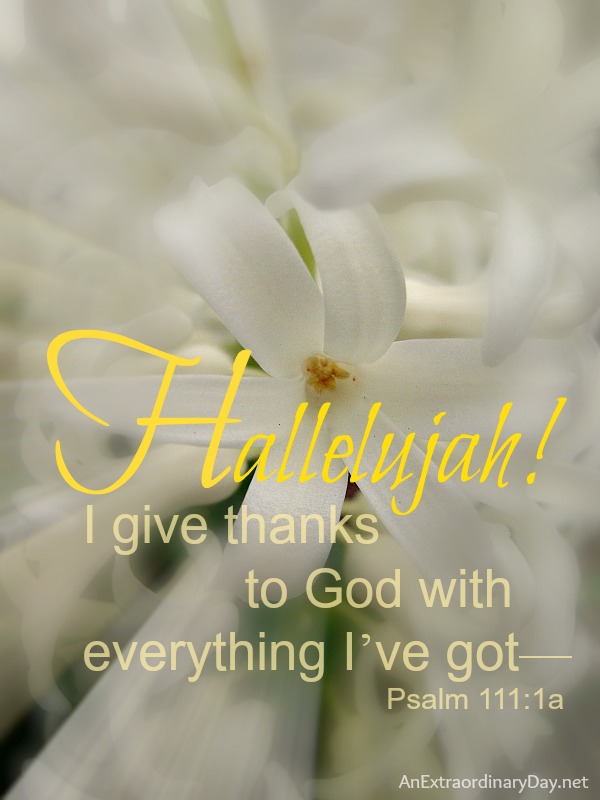 Hallelujah!

I give thanks to God with everything I've got—
Wherever good people gather, and in the congregation.
God's works are so great, worth
A lifetime of study—endless enjoyment!
Splendor and beauty mark his craft;
His generosity never gives out.
His miracles are his memorial—
This God of Grace, this God of Love.
He gave food to those who fear him,
He remembered to keep his ancient promise.
He proved to his people that he could do what he said:
Hand them the nations on a platter—a gift!
He manufactures truth and justice;
All his products are guaranteed to last—
Never out-of-date, never obsolete, rust-proof.
All that he makes and does is honest and true:
He paid the ransom for his people,
He ordered his Covenant kept forever.
He's so personal and holy, worthy of our respect.
The good life begins in the fear of God—
Do that and you'll know the blessing of God.
His Hallelujah lasts forever!

Psalm 111:1-10  The Message
Weather wise, this week has had its up and downs.
We went from the mid 50's to high 70's and tonight it will drop into the mid 20's.  A roller coaster of temperature changes.  Do you ever feel like that's your personal week as well?
Though I would love to change my circumstances, the only thing I can change is my attitude.  In order to prevent a roller coaster of emotions matching my roller coaster journey, I have continued my Lenten fast of early morning time.   That extra time in the darkness and solitude — alone with God — has helped me immensely.   Though I have read this passage many times, the other day it jumped off the page at me. Very early in the morning, while it was still dark, Jesus got up, left the house and went off to a solitary place, where he prayed. Mark 1:35.
What is it about this early time?  Why has it taken me so long to "get it?"
The only thing I can be certain about, is that when I fill my mind with His word and acknowledge His greatness and count my 'gifts' — good and no-so-good, my day is better in every way.  Every way.  There is something about this extended early time I spend in His presence.  It's different then getting up and reading and praying and getting on with the day.
Maybe this is the sacrifice of praise?  Maybe it's the setting aside my desire for sleep that puts me in the right spot for Him.  It's too easy to put myself first.  Like always. [wink]  But, this practice forces me to lay down my desires and honor & worship Him in obedience.
Today is Joy Day!
As we gather in community here to count our seven….giving thanks for the good and the [sigh] things we wish were good…we can mediate on the verses from Psalm 111 found at the beginning of this post.  It is a wonderful guideline for mediation and for guiding us in praise of our amazing and awesome God.
Will you join me now
…in counting just 'seven' things from this past week and give thanks?  I'll start:
Thank you Lord…
for an amazing morning of enjoying your creation, snapping countless photos in an attempt of capturing the beauty!
for a few hours of paying work.
that you provided funds to make the final car payment this month!
for encouragement and support from my bloggy friends.
that though there is nothing yet on the job front for my husband, You are our provider.
that we can walk to everything we need and save gas.
that you are healing my sweet Lily (tabby cat).
Now it's your turn!
Please scroll down to "Share Your Thoughts" below and count your 'seven.'  I can guarantee that your 'Joy Meter' will rise.  It really does make a difference.  I dare you!!   ~ Want even more joy?  Take the big Joy Dare.
Thanks for joining me for another Joy Day!
I hope you too will be able to say, "I give thanks to God with everything I've got."
May God overwhelm you with His goodness and JOY this week!
Diane
P.S.  Exciting News!
I want to let you know that in one week, I will be celebrating the first anniversary of An Extraordinary Day.  Please be sure to come back and help me celebrate.  There will be a VIP guest joining in the fun on Monday, April 29.  I'm looking forward to a week full of giveaways for you, too.  Don't miss it!  Please make plans to invite your friends to come and join us in the celebration.
To receive bits of inspiration like this in your inbox or reader, subscribe now.
Let's chat!   "Like" An Extraordinary Day ~ A Place of Joy & Inspiration Facebook.


*   *   *  *  *  *  *   *   *   *  *   *   *   *   *   *  *  *  *  *  *   *  *  *  *  *  *
 Please stop by Longaberger Lifestyle and check out the new online catalog.
Don't miss out on fantastic Tuesday & Wednesday SALES!