In case there was ever any doubt, I LOVE fresh evergreens at Christmas.
Did you purchase an evergreen wreath or two for your home and now, the week of Christmas it's crunchy? It happens. I wonder how far in advance commercial wreaths are made. Besides that, if you hang your wreath in a place where it receives the warm air currents and do not spray it regularly, it WILL dry out.
One of my friends always buys a wreath on Black Friday to use on her coffee table. It looks amazing, but come Christmas it's pretty dry. If that's you… you can make a fresh evergreen wreath for Christmas decorating yourself to replace the fading one… and today I'll be giving you a quick tutorial to show you how.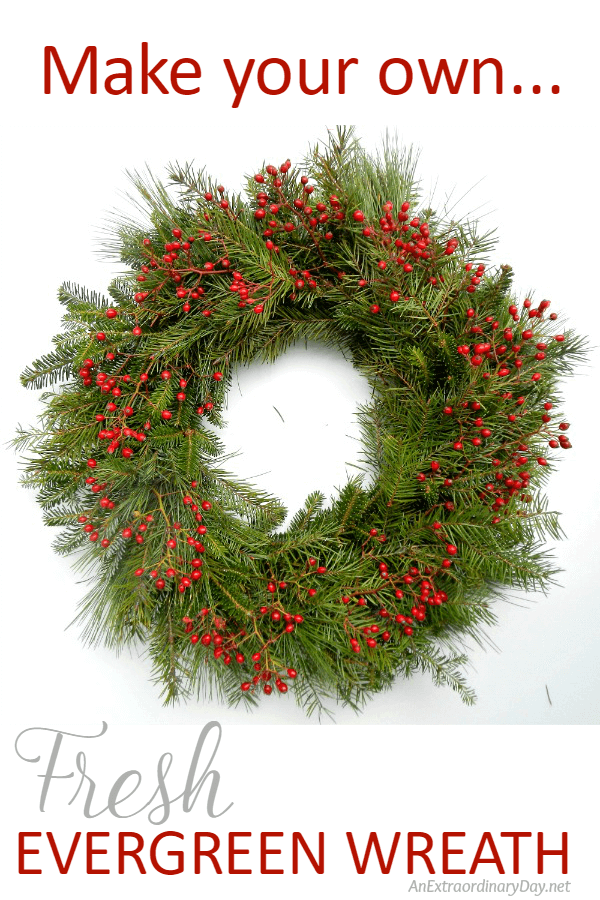 This post contains affiliate links. When you click on a link, I may receive a small commission at no extra cost to you. Thank you!
One of my favorite uses for an evergreen wreath, other than hanging on the door or wall, on those years when I do a lot of entertaining is to nest a punch bowl in the center of the wreath. It really makes a great statement. It also looks fabulous to fill the center of a wreath with candles and candlesticks (Although I wouldn't burn those. That would be a great place to use battery operated candles.) or even a pot of paperwhites or poinsettias.
First I want to give you a Christmas TIP…
When you're getting your tree and decorating early in the Christmas season, be sure to plan to freshen up your evergreens . One thing I do, whether I purchase a fresh tree or decorate with a faux tree, is to get extra evergreen branches. If you're lucky you can get some from your yard. If not, ask or purchase extra from a grower or Christmas tree seller. The extra boughs are usually very reasonable. Generally about $5 for an armload. Keep the extra boughs tucked away outside for the few days before Christmas. That way you can do a switcheroo and have fresh greens for your celebrations at Christmas time.
With those fresh extra greens you can also make a fresh evergreen wreath; here's how:
Let's Make a Fresh Evergreen Wreath…
Supplies
Pruners
10″ Wire Wreath Frame or Wood Crewel Hoop
Green Paddle Wire – 22 Gauge
Wire cutter (If you don't want to mess up your Pruners)
Assorted Evergreens cut to approximately 8 inches long
Rose Hips or Winterberry or Pine Cones or artificial picks
Olive oil
Assembly Instructions
Gather your supplies…
I used one of the hoops from a pair wood crewel hoops for my wreath frame because I had it on hand. But, my favorite is a single metal ring as opposed to the traditional green multi-wire wreath forms you typically see, but if that's your best option, use it.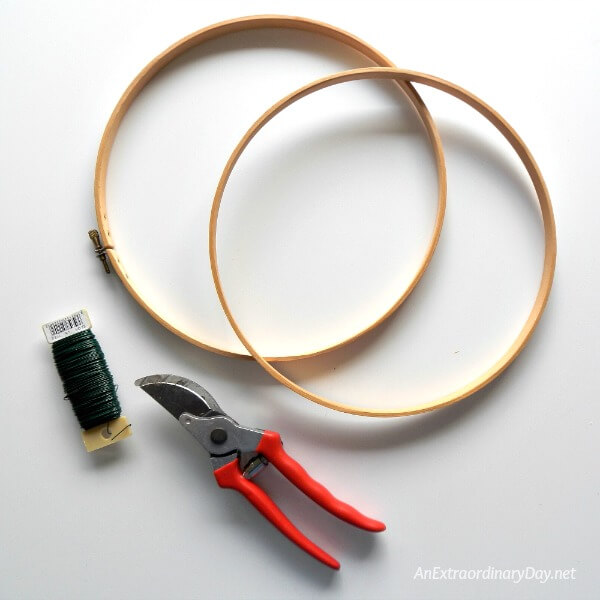 Cut your greens to about 8 inches.
No ruler is necessary… your hand spread… flattened out… from the tip of your pinky to your thumb should be about 8 inches.
Take a small handful of the cut evergreens (usually I mix the varieties if I have a variety) and then with your paddle wire
, wrap the wire around the bunch twice.
Then, lay the bunch on the frame with the wire still attached (and holding the bunch and the frame together in your hand), begin wrapping the wire around the stems and the frame. It will vary and you will find your sweet spot, but probably about 4 times around (moving down the stem and frame as you wrap the wire) will suffice.
Continue to gather a handful of evergreen, holding it together, lay the fluffy part over the stem parts of the previously attached evergreens and wrap the wire around the new stems and the frame as before. In order to keep it even and fluffy, you may be wiring on top of stems as well as the wire frame. The key is to keep it evenly fluffy as you go. Please note that you DO NOT cut the wire until you have finished your wreath.
Be sure to keep your wire pulled tight around your evergreen stems and wreath form the entire time. That way you won't have to worry about evergreens falling out.
When you get to the end, you will have a gap. Make one or two more evergreen bunches and continue the process, pulling up the first bit of evergreen "fluff" and tuck and wire the final stems under that fluff so that it looks continuous.
Here you see the back side of a completed wreath…
And here is the front side of a completed wreath.
You'll see the paddle wire is still attached.
At this point cut your wire about 8 inches or more from the base of the wreath with your pruners or wire cutters.
Run the wire, leaving a big loop, back around the wreath frame and then twist the loop. Now you have a hanger. (Sorry I never thought to photograph it for you, so I hope you get the idea.)
I had previously cut some rose hips. If you don't have them in your garden, keep your eye open for them as you drive in the country. Though I actually found mine on a fence in a condo development that was securing a retention pond for safety.
Fresh Winterberry, pine cones, or artificial stems will also work. You could also attach a bow if you like. Though that won't be necessary if you use your wreath on a coffee table or as the surround for a punch bowl.
My first wreath too me about 40 minutes to make. The second one I made in almost half the time. It takes a little while to get the rhythm. It's really a satisfying process.
The rose hips I used were just stuck into my wreath. I found that they showed better that way then when they were actually gathered with the greens and wired on. If you're using your wreath flat that will be just fine. I have mine hanging on my windows inside and it's great, too. However, if they were on a door where wind and people would be a factor, you'll want to glue or wire the berries in place.
If you've never handmade an evergreen wreath before… please give it a try. I've been making mine for years and I have to say that it's kind of like baking cookies (only better) for me as it's become one of my traditions.
TIP: When you finish with making your wreath your hands will be sticky and full of pine pitch. Just so you know, pine pitch doesn't easily wash off with soap and water. Here's my little trick. Grab that bottle of olive oil
from your cupboard and pour a half teaspoon into the palm of your hand and then rub your hands just like you would if you were sudsing up your hands with soap. As you rub your hands together you can work off the pitch. Then wash and rinse your hands with warm soapy water. Your hands should be soft and free of pitch. If not, put a little olive oil on some paper towel and rub off the pitch. I've discovered olive oil works better than plain vegetable oil.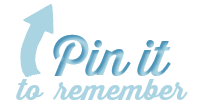 I hope this tutorial inspired you to try your hand at creating a handmade fresh evergreen wreath for your holiday celebrations.
There's nothing like the aroma of fresh greens in the house and there's something special about decorating with fresh greens too.
Do you use fresh evergreen in your Christmas decor? I'd love to hear how and if you have any traditions or tips or tricks involving evergreens.
I've gathered up a little more fresh Christmas inspiration for you here…
More Evergreen IDEAS for Your Holiday Celebrations…
How to Make a Fresh Evergreen Centerpiece for Christmas
Decorating with a Woodland Touch
Growing Paperwhites for the Holidays

Receive FREE inspiration like this in your inbox!
If you found this post helpful….please pass it on to your friends.