This year I've had fun making my New Year's table sparkle with gold and silver and candlelight.
You might remember my Thanksgiving table.  The gold trim on the plates were the hint I needed to splash gold accents all over my table.  Then for an early Christmas party I decided to splurge and purchased some silver chargers for just 99 cents.  That table setting was a twist on elements of the Thanksgiving table but in silver.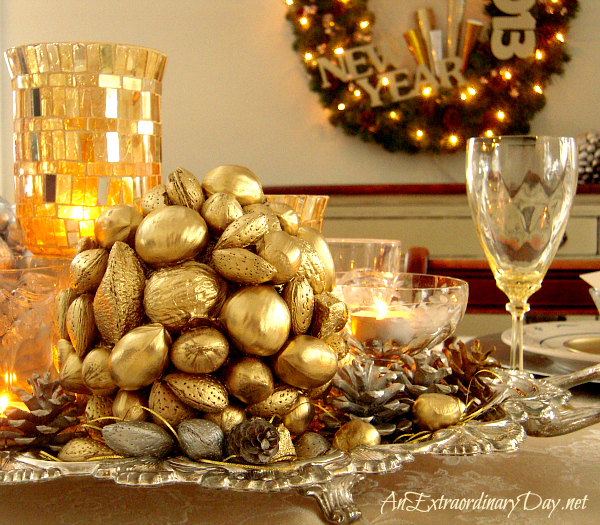 In preparing my New Year's table setting, I thought it would be fun to meld the gold and silver together for a perfectly imperfect New Year's Celebration.
You may notice a return of some familiar gold and silver accents.  It really is a lovely combination and makes the table feel quite celebrative.  Perfect for a party on New Year's Eve or a brunch or dinner on New Year's Day.
This gold and silver tablescape is really dressy.  But, why not ring out the old year and ring in the New Year with plenty of pizzazz?
The centerpiece of the table was created on a very ornate footed silverplate serving tray.
The tray was gifted to me quite a few years ago and spent its life in the box until now.  Shredded golden ribbon I used around the nativity on my sideboard was next placed on the tray.  To that I added a gold and a silver nut ball.  I usually like to place items in odd numbers, but only two would fit in the space and allow room for the vintage water glasses, small sherbet dishes, gold mosaic hurricanes – which I picked up at Wegman's several years ago, and even a bud vase. You'll notice that one of the gold hurricanes is taller.  I turned a sherbet dish upside down, topped it with a ring of sticky tack, and firmly placed the hurricane on top.  So easy and fun.
Once all the major elements were in place, I added various nuts and pine cones that I had previously spray painted gold or silver.  As pretty as it is, the addition of tea lights make the centerpiece bright and dramatic.  I had lots of fun photographing it with my tiny Nikon Coolpix S610 pocket camera.  A few shots have been reserved for a later time.
This is not a matchy matchy table setting!
A mix of pieces, each place setting begins with silver chargers, then a Classic Blue Woven Traditions Dinner Plate from Longaberger, a small plastic plate from the Dollar Tree which I spray painted gold, and a vintage dessert bowl filled with a silver leaf and a golden walnut holding a blessing place card.  The silverware was my mother's and the vintage goblets are a golden yellow.   All this loveliness was finished with the addition of ivory stripped napkins I made, and inserted into the leaf-topped napkin ring which I also created for Thanksgiving.  The little gold plate was added so that the crystal dessert bowl wouldn't disappear on the plates and to add a bit of gold to the table setting.
What could be more special at New Year's than giving your guests a blessing?  
Instead of the usual place cards, which are fun but not necessary for a small dinner party, I thought I would make blessing cards.  Which spot would you choose, just based on the blessing cards?
The walnut place card holders are the same ones I used at Thanksgiving.  I shared how easily they can be made here.  The gold cards with silver lettering were created using Microsoft Publisher.  The font is Rochester.  Then they were printed on cardstock and cut with a paper trimmer and scissors.  Very simple.
For the festivities, I created a New Year's Wreath to grace the wall over the sideboard which I recently painted.
For a little extra panache I added a vintage creamer and sugar bowl that was silver on the outside and gold on the inside.  With the addition of a lit tea light, those little pots glowed!  An assortment of gold and silver leaves and nuts were sprinkled about along with die cuts of 2013.   More leaves, nuts and numbers were placed between guests on the sides along the main centerpiece, too.
This gold and silver tablescape sparkles with light and color!   It is equally as stunning in the daylight for a brunch as it is for ringing in the New Year at midnight.   The beauty is in the elements of nature – glowing in silver and gold, an assembly of mixed vintage glassware, an assortment of dinnerware, and candlelight to make it all shine and come to life.
What are your plans for New Year's Eve or New Year's Day?
One of my favorite things to do on New Year's Day is to watch the parade.  Don't you think it would be fun to work behind-the-scenes on making one of the floats?  They are amazing works of engineering and art.
Wishing you the most extraordinary and blessed New Year!!
Diane
To receive more inspiration like this…
subscribe now