Learn how to create a budget Thanksgiving table setting with dollar store items that's simple and elegant, plus a fun DIY pumpkin centerpiece project.
It was just the two of us that Thanksgiving.
As usual, since we moved to the Southtowns of Buffalo, there was snow and lots of it.
There was no way I was going to get in the car and drive 8 hours for dinner.  So I set the table as elegantly as possible and roasted a turkey.
Tim and I were having a blast in the kitchen together, making a week's worth of stuffing, potatoes, Far East Celery, two kinds of cranberries, broccoli, and apple AND pumpkin pie.
He made the apple, I made the pumpkin.
And somewhere in the middle, we timed everything so we could sit down and watch the National Dog Show.   I'm not a lover of dogs unless that dog is a Maltese Poodle named Oscar.  So there is a certain absurdity about this tradition I've created of watching the dog show each year.
After the show, I steamed the broccoli, made the gravy, and Tim mashed the potatoes. The aromas were amazing.
As we were getting the food on the table, Tim took out the dish of potatoes that had been warming in the oven with the oven mitts and set it down on the stove.
He checked to make sure that there was a trivet on the table for the potatoes and turned around and picked up that oven hot dish filled with a fluffy mound of potatoes holding a pool of melted butter in the center and proceeded to put it on the table.
It didn't get to the table.
Well not exactly.
Actually, mounds of white fluffy lava were flung at the table, coating the table legs and chair and carpet.
Did you see it coming?
Tim, without thinking, returned to the kitchen to pick up the dish of potatoes without the oven mitts.
Lots of cold water and more cold water were run over those burnt fingers.
It's a miracle his hands were not burned worse.
And if that wasn't bad enough, hot potatoes will instantaneously ruin the finish of fine furniture.
Tim's fingers fortunately healed quickly, but we still have the reminder of that Thanksgiving embedded not just in our memories, but in the legs of our dining room table as well.  One day I'll sand the legs down and restain and refinish them, but until then, those legs will always hold the memory of that Thanksgiving when the two of us had our own very special Thanksgiving.
Thanksgiving has been celebrated in different ways over the years.  Once my Aunt Martha moved to Florida, our usual tradition of enjoying the day with her became a memory.  We then awkwardly went to my in-laws, where I learned that if we wanted gravy we could palate, I needed to offer to make the gravy.  The same was true for the mashed potatoes.  And we always brought the pies.  Once we moved out of state, we rarely went "home" for Thanksgiving.  Usually, we enjoyed dinner with friends or hosted friends.  One year we dressed to the nines and went out to an exclusive restaurant for Thanksgiving and then went home changed clothes and proceeded to feverishly decorate the house for Christmas in preparation for a large dinner party we would host the following weekend.
This year, we have an invitation out to some friends, but they aren't certain what they will be doing.  That's the thing about Thanksgiving and families… there's lots of coordination and things may or may not happen as you plan.  That's okay.  We'll still be setting the table and making the food and whether our friends come or we eat alone, it will be good.
It's especially good this year.  God has blessed us with a roof over our heads, food on our plates, and much much more.
In anticipation of Thanksgiving, I started planning my table as soon as fall decor began appearing in the stores.
It was then I took my little neighbor out to lunch and shopping.  That day I explained to her that shopping for me is usually hunting.  I go with a plan in mind… for what I NEED, within my budget.
Recently, I did the same thing… this time to supper and shopping… and mentioned my "plan."  Shortly thereafter I was talking with her and her brother about how they spend their money.  And I was suggesting that he save his money for something specific, not just spend it on the gum or airplane that catches his eye that day.  She said, "I remember you said that you have a plan, so I'm saving my money for something."  I hope that concept sticks and her brother catches it.
I actually made what was for me an extravagant purchase the day she and I were shopping together.  I bought two sets of placemats for fifteen dollars.  That's a LOT more than the dollar or dollar and a half I usually spend for a placemat.  I debated returning them to the store, but in the end, chose to keep them.  I'm glad I did.  They really helped me set the feeling of the table. I love their soft orange color and graphic pattern in the fabric.
The table feels so light and bright and airy to me.  Thanksgiving Day is almost dark and gray, so light and bright is a plus.
In anticipation, I purchased my pumpkins at JoAnn's when they were 50% off.  I knew their colors might not be right.  But, I also knew that it could easily be fixed with some paint.  I could have used natural pumpkins, but I would need something smaller to keep the scale right.
Did you know that your centerpiece should never be taller than your forearm and hand?  And easy measurement is placing your elbow on the table.  If your table decor is taller than your fingertips… it's too tall.  Don't you love it?!  You have a handy measure wherever you go, so you won't make that mistake again.  Personally, I like to keep my centerpieces even lower than that.
I removed the stems from the two larger pumpkins and left the stem of the small one.  It looked fairly natural to me, so I wasn't going to waste time on it.
It probably took an hour to paint the pumpkins, including some dry time in between coats.
Once the pumpkins are painted as you like, you can hot glue them together or run a skewer through them to keep them together.
For the base of my centerpiece, I used a silver bowl you might remember from my Easter tablescape.  It was so simple and easy to fill the space between the pumpkins and rim of the bowl with pretty flowers to complement the dishes and placemats.
I wanted to use fresh flowers around the sides of pumpkin along the bowl, but couldn't find any flowers other than the bronze mums that would work.  However, late summer I had picked up some off-white daisy mums for a song at JoAnn's and decided to try those out.  They were just what I needed.  After arranging those around the pumpkin, I filled in with some fresh cut bronze mums and added some fresh and faux leaves as well.  I really don't think that the eye takes time to distinguish between fresh and faux when they look so good together.
You'll be happy to note that none of the flowers are stuck into floral foam or in water… they are just arranged around the pumpkins. You don't need to worry that they will wilt away.  They will look great for several days.  A big win when you want to put things together in advance of your big dinner or party.
Whenever I have a special dinner planned, I also take the time to set the table in advance.  Last minute surprises that take me away from food prep the day of a party… large or small are not happy occasions, so advance planning works best for me.  Plus I get to enjoy my pretty table, too.  Obviously, because I wanted to share my table with you in advance of Thanksgiving, so I set it extra early.  It will take me just a few minutes to put together again since I have photos to go by and everything is ready.
Just for fun, I took photos of the table as I set it up so you could see it all come together in a video format.
Although the table looks so very pretty, it was inexpensive to put together.
A tablecloth is not necessary, it really can help to dress up a table.  This tablecloth came from Meijer back in the spring and I choked at paying $19 for it, especially at Meijer.  But, my instincts were good.  I've used this pretty tablecloth over and over and over since setting my Easter table with it. I love the white print on the light off-white background.  It provides a light textural interest that's perfect.
The placemats were the most expensive part of the table at $7.50 for a set of two at TJ Maxx. They really set the tone perfectly so I think they're worth it.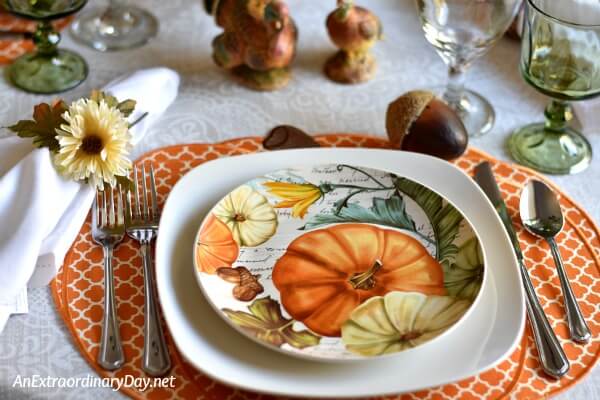 My next big splurge was the salad/dessert plates with the pretty pumpkin pattern. I think they were $2.39 a piece at Walmart.  It's interesting I walked in one morning and they were there right inside the door.  So pretty I couldn't resist.  A week later I went back to the store for something and everything was gone and they were not replenished.  So if you see something there you like… snatch it up.  It's now or never.  Generally, I don't like to pick up things on the spur of the moment, but I'm learning to plan more in advance so that I will know if that is something I'll need or not.
I tried to replicate the pumpkin colors of the plates when I painted my centerpiece pumpkins.  I'm pretty happy with the results.
The Dollar Tree was my source for the squarish dinner plates as well as the clear water goblets.
The green goblets for sparkling cider were snagged at the Goodwill for just eighty cents a piece.
The napkins were purchased some time ago from Tarjay.  A nice white cloth napkin is a necessity.
Hobby Lobby has big change-of-the season sales with huge markdowns.  The napkin rings came home with me for mere pennies.
To dress up the napkin and napkin rings I used flowers cut from the same bush of flowers that were used in the centerpiece.  I'm thinking that the floral bush was no more than $1.50.
My mother-in-law gave me the turkey salt and pepper shakers a few years ago.  I'm guessing because I tend to be the most helpful in the kitchen prior to the meal and in cleaning up.  Or maybe she knows that I would take good care of her treasures.  Aren't they just so perfect and cute on the table?
Just for fun I also swapped out the centerpiece I created with some pumpkins that I used to decorate my home to give you an even simpler budget table setting idea.  Check out the swap out in this brief slide show below.
Over the past year, I have collected various dishes and table accessories for creating pretty tables, mostly from thrift stores and the Dollar Tree and everything except the tablecloth and pumpkin placemats have been on sale.  Though I have to say, if it came from TJ, it pretty much is on sale. If it has a red sticker, too.  All the better!
So what do you think?
I hope my table setting has inspired you.
Do you have special ways or traditions for setting your Thanksgiving table?
What one thing do you look forward to most each Thanksgiving?
And, even more, I hope that you and yours have a blessed and happy Thanksgiving.
More fall ideas await you HERE and below.
Thanksgiving Table Top Inspiration
Thanksgiving Tablescape :: Creatively Using Woodland Elements
Make a Simple but Spectacular Silver Thanksgiving Centerpiece
Table Art for Fall or Thanksgiving Table Settings
 Thanks so much for popping by today!
If you enjoyed this post, please use the sharing buttons
to let your friends know and "pin it," too.

Receive FREE inspiration like this in your inbox!
Sign up Now.