Inspiration and tips for hosting a super easy to pull off sunflower themed tea or luncheon.
One of my favorite things about blogging is that I have an excuse to do the things I love and share them with you.
More than anything I would love for you to be able to join me for a little breakfast tea where we could swap stories and get to know each other.  But, since that's not to be, today I set the table for an early fall morning tea and I'm pretending that you are sitting here with me.
It's a beautiful mostly sunny day.  The trees have a little bit of color, but here in the mostly oak woods where I live, it's still pretty green.
I wanted to take time to encourage you to do something you might not usually think to do… invite a few friends over for tea or coffee.
It may seem like too much work to get the house ready for such a seemingly insignificant occasion, plus set the table and put out food, too.
So today I'm challenging you to phone, email, or text your invites and then…  do what YOU love to do… what makes YOUR heart sing… and don't worry about the rest.
Personally, I LOVE setting a pretty table.
If you love baking a coffee cake or breakfast treat… go for it!!
We always bless our guests the most by loving them with what we love doing.  They feel valued when we give them our best.
If your home is a little cluttered don't fret… just grab a basket and zoom through the main area where your guests will be and gather up the papers and whatnot and whisk them away.  Then grab a dust cloth and give the horizontal surfaces a quick swipe.  Next, run the vacuum… though I know some people think you should vacuum first.  Whatever.  I love vacuuming last because then there are no footprints on the carpet when I'm done and it just leaves me with so much satisfaction.  Finally, grab your glass cleaner and give your powder room a quick spritz and polish and call it done.   And don't hesitate to close the doors to other areas of your home.
Not a single one of your friends is going to bring white gloves (Seriously have you ever tried to find white gloves for something… it's almost impossible!) to see how clean or not clean your home is.  They will be so happy that you thought they were important enough to invite them.
Whatever you do… DO NOT offer any excuses for how not perfect your home is.  For the most part, you'll all be sitting around the table anyway.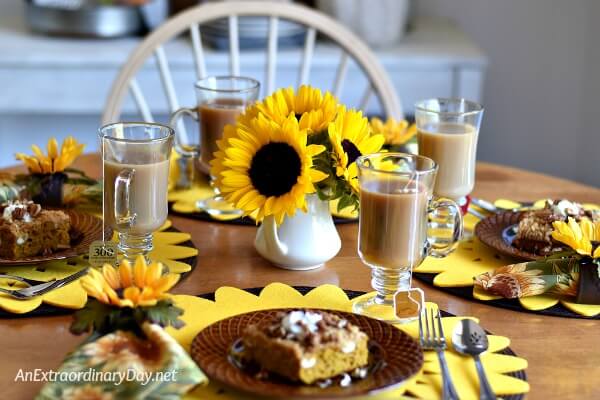 Here's something to always remember when entertaining…
This isn't your time to show-off… your spotlight is on your friends.  This time is all about blessing them, loving on them, listening hard, and caring about whatever is going on in their lives.
Everyone is always tuned to their favorite radio station WIIFM (What's In-it For Me) so when you focus carefully on your guests… they will be the station you've tuned to and they will leave your home feeling heard and known and loved  And there's nothing better than that.
This breakfast treat I'm serving… I would love to tell you that this wonderful cream cheese filled pumpkin coffee cake came right from my oven.  Instead, it came from the grocery store bakery.  In fact, I doubt that they even baked it there, I think it was shipped in from a larger bakery.  But, I did do a couple of things to give it that extra touch and you can do those things too.
Although this pumpkin coffee cake was filled with cream cheese, it has some wonderful spices.  I think it's always nice to have a little whipped cream to go with any spicy treat.  It sort of smooths out that spiciness on my tongue.  And because I love pecans I chopped some up and sprinkled them over everything.  Yum!!
I'm not a coffee drinker… so I decided to serve Chai… regular and vanilla.  What a great way to warm hearts on a slightly chilly fall morning.
That's it!
Coffee cake and Chai.
My table setting took more time to put together than the food.  And that's okay.  Because in my world, I would rather fuss with the table setting than the food.  And the only reason it took longer… was because I just had to make these adorable sunflower napkin rings.  Here's the tutorial for making your own stunning sunflower napkin rings.
So what do you think?
Have you been encouraged to throw down the welcome mat and invite a few friends over for coffee?
It doesn't need to be more complicated than sending a few texts, picking up a treat from the grocery store, and opening the door.
And if someone offers to bring something… accept their offer. That might be the ultimate blessing for your friend.
Now… it's time to start thinking of those gals who would love to sit at your table.  Who will you invite?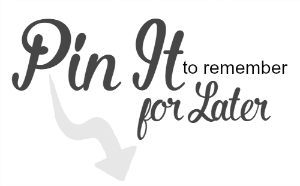 ONE MORE THING…
Do wish you could take better pictures for your family or sharing on Instagram or maybe for your blog? Wouldn't you like to know some quick and EASY ways to use your camera in manual mode and get really good results?
My good friend, Jennifer Carroll of Celebrating Everyday Life is an excellent photographer and magazine stylist and publisher in addition to being a blogger.  Over the years I have admired her mad photography skills and encouraged her to put together a course for those of us who needed to improve our photography skills.
I'm thrilled to announce that Jennifer has indeed created such a course!
I have had the privilege to preview the course and have already put to work several of her many tips.  You may have noticed an improvement in the photos here on the blog. I'm totally amazed by my new found confidence and skill.
If you would love to create magazine-worthy photographs… then you absolutely MUST sign up for a FREE video training of her new course.
In the previews, Jennifer is generously sharing some incredible tools you can immediately use, at no cost to you.
I can't encourage you enough to sign up for the FREE preview sessions.  Please use my link here to register.  It will be the best thing you've ever done to enhance your picture taking skills!
Thanks so much for popping by today!
If you enjoyed this post, please use the sharing buttons
to let your friends know and "pin it," too.

Receive FREE inspiration like this in your inbox!
Sign up Now.