Today I want to remind you that no matter how difficult the day seems…
God has promised rich and glorious blessings
to each of us who have chosen to call him Lord.
Many of those blessings come in the most unexpected ways.
I'll be sharing just one here today.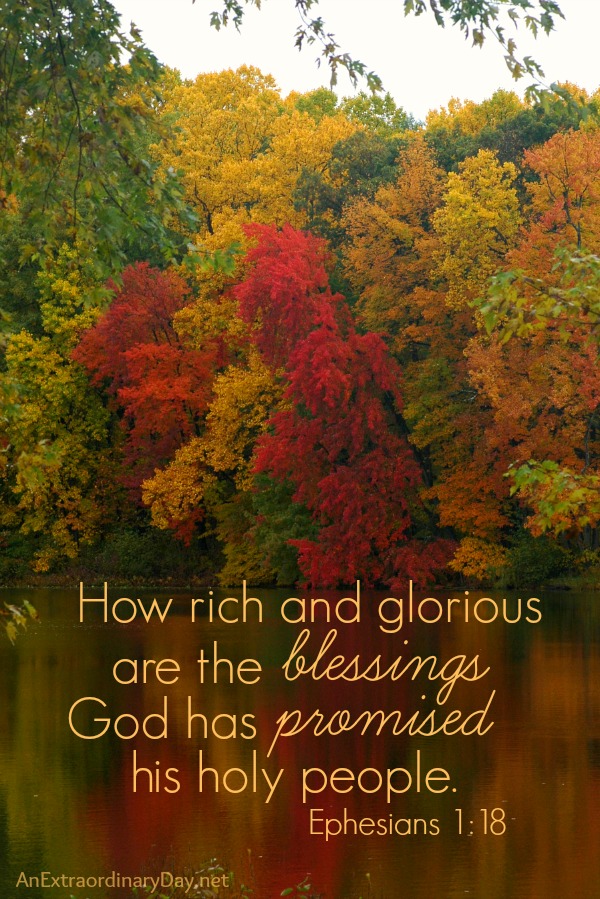 Early each morning, I post an inspiring greeting on Facebook.  Today it was this verse:
I pray also that you will have greater understanding in your heart
so you will know the hope to which he has called us and that you will know
how rich and glorious are the blessings God has promised his holy people.
Ephesians 1:18 NCV
The verse stayed with me through the day and I realized you just might need to be reminded of God's amazing love for you. 
And of his grace given in extraordinary measure through Christ:
In Christ we are set free by the blood of his death,
and so we have forgiveness of sins.  How rich is God's grace,
which he has given to us so fully and freely.
Ephesians 1:7-8
I love these words that the apostle Paul prayed over the church in Ephesus and essentially over us too…
I always remember you in my prayers, asking the God of our Lord Jesus Christ,
the glorious Father, to give you a spirit of wisdom and revelation
so that you will know him better.
Ephesians 1:16b-17
Isn't our deepest yearning to know God better?
Paul's prayer (with which we began) continues…
I pray also that you will have greater understanding in your heart
so you will know the hope to which he has called us and that you will know
how rich and glorious are the blessings God has promised his holy people.
Ephesians 1:18 NCV
There's much more to Paul's powerful prayer, which you can read here.
 
Today I want to talk about God's blessings.
When I became a Christ follower, I thought my life would be wonderful.  That every road I traveled would be smooth and that I would excel and be prosperous in everything I did.  At least I was led to think that by people I listened to and respected.  Seriously, I was surprised when bad things happened.  I didn't expect that.  After all, I was a child of God.  Now I admit, I might have misunderstood my teachers.  There also is a very real possibility, as well, that they didn't prepare me for the challenges of the journey.
Since, I have come to have a "greater understanding" of this "hope to which he has called us" through life's challenges.  My experiences have taught me that God's blessings are not always the blessings we expect.  But, they are always good.
As an only child, born to older parents, and without children, I don't have much family.  But, what's interesting, is that God has blessed me richly with sisters.  There are dear women in every state I've lived who have become loving friends.  And then there are fellow bloggers and readers who are also wonderful sisters in the Lord.   In some unique way, God has blessed me with each of these women.
This week, I finally got to meet a blogging sister in person.
Sometime ago, when I was visiting Deborah's blog, Green Willow Pond, she mentioned her anxieties at her husband receiving a lay-off notice.   I reached out to her, because my husband lost his job, and I know those feelings she was experiencing.  We exchanged emails and prayed for each other.   And, praise God, her husband was called back to work.  Since that time, she has continued to encourage and pray for me in my seemingly endless journey.
This week she traveled to visit her daughter, not too far from me, which gave us an opportunity to meet for breakfast.  What a treat to be able to sit and chat in person and to get to know Deborah more and to hear her heart.  She has such a sweet spirit and is raising her children to be amazing people.  We only got to spend a few hours together as she had a long drive ahead.  As we parted, Deborah presented me with a beautiful gift…  a gorgeous fringed scarf in a stunning shade of pale sea-green aqua with pretty earrings in the same color.  It not only was the perfect color, but I have always admired scarves like it and never had one.   I was so touched by her thoughtfulness,  kindness, and generosity.   What a joy it was to get to spend a little bit of time together.
You know, if my journey had been free of bumps, I doubt that I would have met Deborah.  I would not have had the compassionate heart to hear and understand and to have been able to pray with such confidence had I not experienced loss.  If I had excelled and prospered at everything I had put my hand to, I doubt very much that I would have become a blogger, or at least not in this vein.   God's rich and glorious blessings come to us through the trials of life.  And friendship certainly is one of God's richest blessings that I wouldn't want to miss for anything.
What are some rich and glorious blessings that you enjoy?
Which have you taken for granted?
And what blessings would you have not experienced had it not been for the bumps in life's journey?
It's Joy Day!
On Joy Day! we take a few minutes to reflect and count our blessings.  All the wonderful gifts that we have received, midst the good and not-so-good, we count.  They are infinite… but today we rejoice and give thanks for just seven.
I'll start…  And then you follow by leaving yours in the 'share your extraordinary thoughts' section below.
God, I'm grateful for…
a beautiful day and the joy of creating and working outside in your amazing creation.
a new possibility for Tim when we thought there might never be another.
the anticipation of meeting a friend in person and the blessing of our get together.
healing my friend's dear kitty.
bringing people and circumstances into my life to challenge me to step up my game.
twilight.  Oh how I love that you created this magical time of the day.
YOU.  That you are an amazing loving, caring, wise, faithful, unfailing God.
Now it's your turn!!
You'll be glad you did….I dare you!
Want even more joy?  Take the Joy Dare here.
Thank you for stopping by today.
I appreciate you and your sweet comments make my day.
Joyfully!
Diane
To receive FREE bits of inspiration like this
in your inbox or reader, subscribe now.
If you enjoyed this post….please pass it on to your friends.
Click any of the sharing buttons at the bottom.