Ever notice that sometimes when you look at the face of someone you're close to, their face is telling?
The other day we were at the laundromat when my husband asked me if I was okay.
I mumbled something.  But I wasn't okay.
In addition to internally fussing over the inconvenience of having to schlep my towels, bedding, and clothes to a laundromat (albeit with my dear husband's help), I had a laundry list of items running through my mind which I had allowed to pull my spirit down.
I guess it was written across my face.
At that moment I knew I needed to start a new list…. a list of blessings.

And I did….right there… sitting on that icky stained chair at the laundromat.
And there… in that place I despise… I found myself telling Tim those sweet blessings.
You know what?
My list of blessings was way bigger than that other list.
I also found that sharing my list of blessings made me feel even better than counting them.
Sure that laundry anxiety list I had been running in my mind was significant.
There were some really really critical things on that list.
But, if I kept running them over in my mind I wouldn't accomplish much… I'd just create anxiety.
Instead… 
Thanking God for what he has done for me was a huge spirit lifter.
Speaking aloud those words of gratitude made it doubly good for me because I not only spoke the goodness and truth I had realized… my ears heard it and my heart internalized it and ultimately it blessed me and Tim.
I love reading the Psalms.  The verses below really spoke to me and made it clear to me how this little exercise of choice, in the midst of an unpleasant experience, was a heart and mind-changer that truly lifted my spirits.
Thank God! Pray to him by name!
Tell everyone you meet what he has done!
Sing him songs, belt out hymns,
translate his wonders into music!
Honor his holy name with Hallelujahs,
you who seek God. Live a happy life!
Keep your eyes open for God, watch for his works;
be alert for signs of his presence.
Remember the world of wonders he has made,
his miracles, and the verdicts he's rendered—
Here are FIVE things you can do to lift your spirit…
Keep your eyes open for God, be alert for signs of his presence.

Watch to see how he is working and what he has done.

Tell God thanks for it all.

Tell others what God is doing and has done for you.

Remember, and keep thinking about, all the amazing things he has done.
I don't know about you….but right now… just talking about this is a real spirit lifter.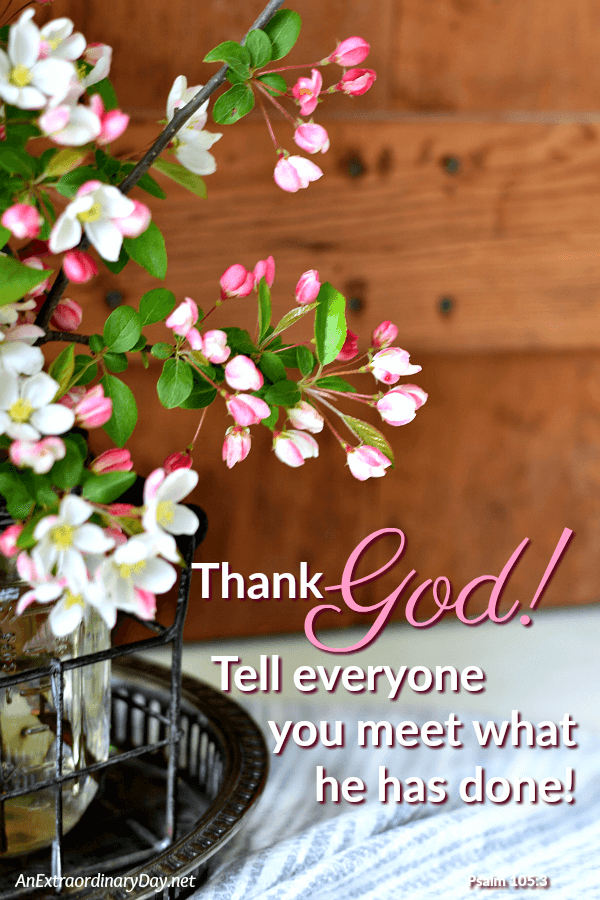 Take minute…
 ~ Think back over the past day or so… did you see God at work or sense his presence?  
 ~ What do you need to do to consciously look for God throughout your day and be mindful of his blessings?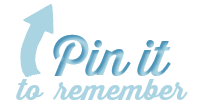 It's Joy Day!
Joy Day! is the day when we look back over the past week and count 'seven.' 'Seven' blessings, gifts, the good and the not-so-good things of the past week…we list them and give thanks. I'd love to have you join in.  It may feel a bit outside of your comfort zone… but give it a try…
I'll start….
God, I'm thankful for
YOU… and your extravagant goodness.
showing me how to pay attention throughout my day and watch for those special 'God-sightings."
extra work this week… even if it wore me out.
19 cent goldfish for our little balcony fountain. So fun!
an evening to have one of my besties over for dinner… one of our menu favorites, too!
extra work for Tim.
the fun of making dinner together… so simple… but so wonderful after such a busy week.
Okay…it's YOUR turn!!
Scroll down to the comment section…Share Your Extraordinary Thoughts….and list your 'seven.'  I can guarantee it will change how you see the world around you.  It's the best!!
If you haven't already….
I'd love for you to take a few moments to fill out my 2017 Reader Survey.  It's totally anonymous and will help me craft new extraordinary content for the blog that better meets your needs and interests.  Thanks so much for helping to make this spot, extraordinary!

Thank you for stopping by and leaving your sweet thoughts.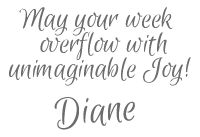 Receive FREE inspiration like this in your inbox!
Sign up Now. 
If you found this post helpful….please pass it on to your friends.
Click any of the sharing buttons…