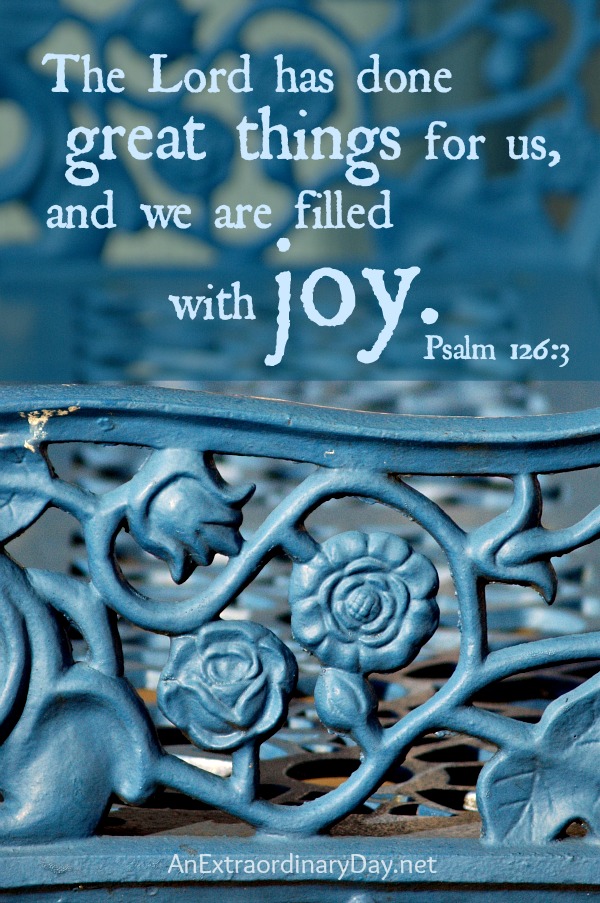 Filled with Joy….
Psalm 126
A song of ascents.
1 When the Lord restored the fortunes of Zion,
we were like those who dreamed.
2 Our mouths were filled with laughter,
our tongues with songs of joy.
Then it was said among the nations,
"The Lord has done great things for them."
3 The Lord has done great things for us,
and we are filled with joy.
4 Restore our fortunes, Lord,
like streams in the Negev.
5 Those who sow with tears
will reap with songs of joy.
6 Those who go out weeping,
carrying seed to sow,
will return with songs of joy,
carrying sheaves with them.
As I was reading these verses this morning I read them with hope in my heart.
Wouldn't it be a blessing to have all that we have lost…restored….beyond what we had before?  To be able to laugh and sing songs of joy in community and have all those around us point to God and give Him the honor and glory for what He has done in our lives?  That would be amazing.
As I continue reading the next verses, I think of all the tears I've shed over the last four years.  More than I care to admit.  Yet…the psalmist speaks of those who sow with tears or go out with weeping, saying they will sing songs of joy and reap a harvest.
Following that reading, the Holy Spirit directed me to some other verses.
Lord God, you created heaven and earth by your great power and outstretched arm; nothing is too hard for you!   ~Jeremiah 32:17 CEB

"I am the Lord, the God of all people. Nothing is too difficult for me."    ~Jeremiah 1:27

Nothing is impossible for God.   ~Luke 1:37 CEB

Jesus answered, "What is humanly impossible is possible for God."   ~Luke 18:27 GNT
Do you see a theme here?
God can do anything!! 
This verse often comes to mind…
It reminds me that we have a big, big God and that He is not limited by our small thinking.  God is in the business of doing way more than we can even dream.
 Now to Him who is able to do exceedingly abundantly above all that we ask or think, according to the power that works in us, to Him be glory in the church by Christ Jesus to all generations, forever and ever.  Amen.    ~Ephesians 3:20-21
All of these verses lead me to believe…
we can expect to see what was lost or taken, abundantly restored; to reap with songs of joy.
This past week has some unexpected challenges.
Being told I was not suitable for the new job was one.   That was hard to accept knowing my abilities and experience.  But, the blessing is that I worked enough to pay a bill that was due yesterday.   For that I am grateful.  The lyrics from Matt Redmond's song, "Blessed be Your Name" came to mind: "You give and take away You give and take away My heart will choose to say, Lord Blessed be Your name."  Job says something similar in chapter 1 verse 21.
Some days we feel like Job.
That's okay….
But, what I want to do is to be able to trust God as Job did.
I want to be able to say, "May the name of the Lord be praised."
I want to camp on the words of that Psalm.
I want to believe God's word is true for my life today.
I want to trust God for the impossible.
I want to expect Him to move on my behalf to bless me and show His greatness in ways that I would never even dream.
I want to hear people say, "Look what God has done."
I wan to be filled with JOY!
I want to be faithful to give Him thanks….in ALL things.
Today is Joy Day!
Will you join me in looking back over the past week…counting all things….the good and the not-so good and giving thanks?
I'll start:
God I offer my gratitude for…
Gorgeous blossoming trees
Homemade broth in abundance
My job loss
A one-time paycheck
Silence on Tim's job front (so hard to give thanks for this)
The most encouraging comments from sweet readers
Your everlasting love and faithfulness
It's your turn!  Please join me in counting just 'seven' from the past week.
Scroll down to 'Share Your Thoughts' and tap in your seven offerings of gratitude.  Joy will come!  Don't pass the opportunity to give thanks in community.
Want more joy?  Take the Joy Dare here.
The Lord has done great things for us, and we are filled with joy.  Psalm 126:3
Blessed be the Name of the Lord!!

May your fresh new week overflow with JOY!
Diane
P.S.  There is a big party being planned here at An Extraordinary Day!
It all starts on Monday with a guest post from a VIP blogger.  It will be an honor to have her here to help celebrate my first year of blogging.  But, that's not all!!  Every single day there will be a new giveaway….thoughtful things to hopefully bless you. You can help make this an Extraordinary celebration by popping by every day this week, and using the share buttons on the side to let your friends in on all the goodness in store.
To receive more inspiration like this in your inbox or reader, subscribe now.  It's FREE! 
Let's chat!   "Like" An Extraordinary Day ~ A Place of Joy & Inspiration Facebook.