When strawberry season comes I cannot get enough strawberries.
We eat strawberry shortcake for at least one meal a day during that short time. I know. Do you know anyone who could possibly eat so much shortcake and keep loving it?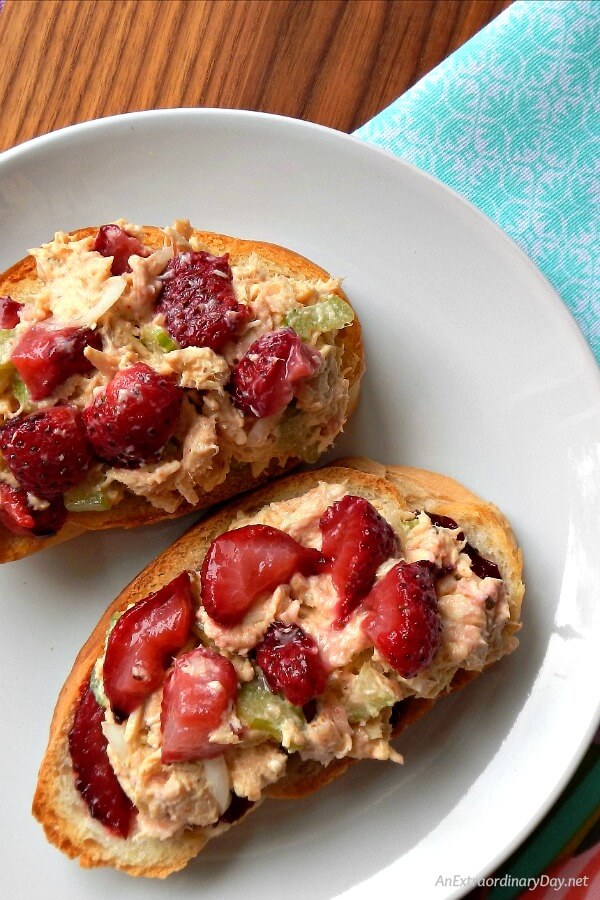 So when I was presented with strawberries for the Ultimate Recipe Challenge, hosted by my blogging friend Kim, I knew I had to create a recipe that was different… I'm sorry dear sweet strawberry shortcake! AND… all sweetness aside… it needed to be a savory dish.
Have you ever roasted fruit? The roasting process intensifies the flavor and sweetness… so I had to try it with the strawberries. Oh, my goodness… they are sooo delicious!
Roasted strawberries added a delicious richness and depth to another old-time favorite of mine… chicken salad. You've got to try it!
To make things even more interesting… I added chipotle to the chicken salad. I love chipotle. That smoky heat is good and it's a fun and interesting twist to this recipe. If you didn't know… chipotle is a smoke-dried jalapeño… so if you don't care for spicy foods… omit it from the recipe. This chicken salad is still super tasty and good without it. I like it both ways.
We enjoyed the chicken salad on a crostini (technically… it was French bread as our local supermarket bakery didn't have baguettes) and as a toasted open-faced sandwich. Of course, it would be simply delicious on a bed of spinach or baby greens dressed with a balsamic vinaigrette.



Before I give you the recipe… I want to give you a tip.

It seems the standard procedure for hulling strawberries (removing their cute little green leafy caps) is to cut across the top of the strawberry with a paring knife.
You can do that… I've seen top chefs do that. BUT… when you do that… the little white core at the base of the stem stays intact. Since I'm a strawberry connoisseur who has hulled quarts and quarts of berries… I found a better way and I'm here to share it with you today.
It's so easy!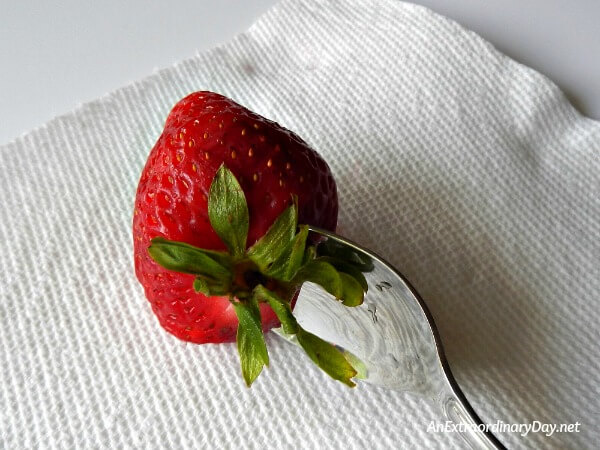 Grab a teaspoon from the drawer. The more pointy the better, and with the strawberry in one hand and the teaspoon in the other, place the tip of the teaspoon under the leaves at the base of the stem and push down. Then immediately scoop and pull up at the same time. It might take a little practice, but you'll have it down in no time.
When you do this you are pulling out that little white core along with the leafy top AND you are leaving more of the strawberry intact. This method makes hulling berries easy and fast.
That's it! Be sure to let your friends know this super easy strawberry hulling tip.
Tasty Chicken Salad and Roasted Strawberries with Chipotle
Ingredients
Includes affiliate links
1/2 Cup finely chopped onions… more if you like a little extra onion
1 heaping Cup thinly sliced celery
2 Cooked chicken breasts cut in small pieces
1 1/4 Cup Mayonnaise
1 teaspoon Chipotle or more to taste – or omit
1/4 teaspoon Basil
3/4 teaspoon Celtic Sea Salt
Quart of Strawberries for roasting
1 Tablespoon Coconut oil
1 Tablespoon sugar
Sliced French Bread or Baguettes
Softened butter
Method
Roasted Strawberries
Prepare strawberries… Wash, hull, slice in half, toss with coconut oil and sugar in a large bowl.
Heat oven to 400 degrees.
Place strawberries on a baking sheet lined with parchment paper.
Bake at 425 for 10 minutes.
Remove from oven, allow to cool, then chill in the fridge until cold.
Cut the roasted strawberries into 4ths or 6ths.

Chicken Salad
Cut up onion, celery, and chicken and place in a large bowl.
Mix salt, chipotle, and basil with the mayonnaise.
Coast the chicken mixture with the mayonnaise.
Gently add roasted strawberries to chicken mixture.
Crostini
Butter bread slices and place in a 350-degree oven for 10 minutes or more (depending on how crusty you want your crostini).
If you wish, you can smear some roasted strawberry halves on the bread at this point.
Remove crostini from oven and top with chipotle chicken and roasted strawberry mixture.
Open-Faced Roasted Strawberry Chicken Salad
Butter bread slices.
Top with chicken salad and roasted strawberry mixture.
Place in preheated 350 degree oven for 10 minutes.
Serve and enjoy!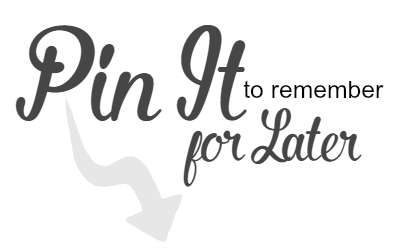 What's your favorite way to enjoy strawberries?
Have you ever roasted strawberries? Or any other fruit?
This is just the beginning of many strawberry recipes. Check out all the delicious links below.