I'm sure you've noticed, too.
This week has been filled with vitriol and gall.  Anger and hate.  Worry and distress.
It makes my head and heart hurt.
In the midst of everything… this verse has been swirling around in my head.
"Let me give you a new command: Love one another. In the same way I loved you, you love one another. This is how everyone will recognize that you are my disciples—when they see the love you have for each other." 
This verse is directed to Jesus' followers. Those who were traveling the countryside with Him when He was alive and those of us today who are trusting and believing in Him by faith.
This command is not for those who have not chosen to follow Him.
We who are joint heirs with Christ have been called to a higher standard.
Jesus did NOT say… "How about you think about loving…" or "Consider…"  or "Maybe it would be a good idea if…"
It was a command.  Not a suggestion.
In the same way I loved you, you love one another.
I know this is something I fail at way too often.
I don't love others the way Jesus loves me.  Do you?
Here's the thing.
What if?  What if we really did love each other the way Jesus loved us?  How would things be different?
Jesus said…
This is how everyone will recognize that you are my disciples—when they see the love you have for each other.

This is the part that hits hard and hits home.

Do my neighbors know that I'm a Jesus follower?
Do I look any different to the gal at the supermarket whose lane I usually go through to check out?
Do the kids in my neighborhood see me any differently than any of the other people they interact with each day?
Does my family look like Jesus' followers? Does yours?
Statistically… people who call themselves Christians really don't look much different to "the world."
Maybe that's why Jesus gave this command at the end of His earthly ministry.  He knew what was to come for believers.  He saw the struggles of the disciples and gave them (and us) a simple command.  The easiest hardest thing to do. Love.

Let's talk about these hard things.

People who are different are harder to love. 
There's the rich-poor thing.
The skin-color thing.
The city-country thing.
The beer/wine-teetotaler thing.
The healthy-sick thing.
The liberal-conservative thing.
The uneducated-educated thing.
The married-divorced thing.
The good kid-bad kid thing.
There's a label for everyone and a polar opposite for each one.
In Christ, there is no Jew or Greek… no black or white… no capitalist or socialist.  He sees us all the same.  And if we are Christians… little Christs… then we don't see labels either.
But… we do.
Jesus wants our eyes and our ears to see and hear with love and compassion and grace and mercy.
Individuals and families are hurting and going through unthinkable circumstances… often alone.
There are people who have had personal failures… others who feel like failures… and still others who are assumed to be failures by those with prideful critical eyes.
Some are facing health, relational, or financial issues with no one encouraging or walking along side them.
Sometimes it's pure selfishness or an unloving spirit that prevents one of us from standing with a sister, opening our wallets for a brother, or giving our time to another.
And frankly.  We. are. all. guilty.
I am not here to guilt.  No. No. No.
I am here to poke.
You see… I'm not sure how we can do a very good job of loving one another if we don't know each other.
We have to start with the basics.  We need to do life with each other.  We need to share meals together… pray together… offer to help each other.  We need to be real and not pretentious.  We need to be available and not always busy. We need to be willing to do the hard thing.  We need to love those who are different than us. We need to look to God to guide and direct us in our relationships.
This sounds super hard.  How can you do these things?
It's putting family first.  God's family.
Join up with another friend or family.  Take time to get to know them.  Play together. Work together.  Serve others together.  Serve each other.  Love each other.

Why is this such a big deal to me?
As hostilities in our country and around the world have escalated I have wondered how we as believers are making a difference?
Frankly… as a whole… we're not.  Yes… some Christ followers are loving others like Christ.  Most aren't.  Most are concerned about their personal comfort… their agenda… their busyness… their work… their kids… their "their."  Me included.
I have come to the conclusion that one of the reasons that our country is so full of hatred and strife is because we get caught up in selfishness and judgementalism.  Not love.  Can anyone see we are Christ followers?
This is how everyone will recognize that you are my disciples—when they see the love you have for each other.
We live in isolation… in media time.
We are not known by our love and are not influencing our neighbors, schools, workplace, or municipalities with this extraordinary love.
As believers… let's start a love movement.  
Sit-ins are not required.  Media attention is not required. We don't need to plug up Facebook or Twitter feeds… we just need to love one another as Christ loved us.
Wouldn't it be great if "the world" could be surprised by an extraordinary love?
The love of Jesus?
It could happen.
Will you help make it happen?
What will you do to start?
It's JoyDay!

And time to get our joy meters soaring!
Please join me in thinking back over the past week and counting seven things for which you are thankful.  This simple exercise of counting and giving thanks is something we do each week to reset our compasses and put our eyes back on the Lord.
I'll start…
Thank you, God for…
a second good interview.
praying friends.
Michael Card's teaching
working in the life of my friend in the D.R.
being able to see from a distance a young boy grow into a godly young man.
your love, mercy, and grace.
the future you have planned for us.
Now…it's YOUR turn!
List your 'seven' in the 'share your extraordinary thoughts' section below.  You'll be glad you did.
Thank you for stopping by and leaving your sweet thoughts.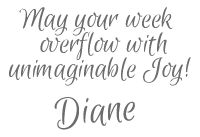 Receive FREE inspiration like this in your inbox!
Sign up Now. 
If you found this post helpful….please pass it on to your friends.
Click any of the sharing buttons at the bottom.