Most Friday nights as Tim works, my good friend and I go out on the town.  We live it up big.  This time we split a huge plate of chicken nachos and she did a little shopping for a Mother's Day gift as we talked and laughed nonstop.
In between bites at the restaurant, we chat about all kinds of things. Often my friend talks about her sons and her grandchildren.  A real prayer warrior, she covers her family with prayer daily, sometimes even asking me to pray for them, too.
I'm impressed with her practical love for them, how she exercises wisdom in staying out of her adult children's business and yet being readily available to them.  Her sons are Jesus followers and her grandchildren are as well.  But, she's concerned that given our current culture those little ones will have a true faith and understanding of God's word and are able to make it applicable to their lives.  So she lovingly and faithfully builds into their lives every opportunity she gets.
What a wonderful example my friend is of nurturing and mothering.  Even after her nest has emptied.  So Friday night, I chose to celebrate my friend with the perfect card (I love how God put it right in front of me!) and a small gift in her favorite colors.
My mom is in heaven, so I now love the opportunity to honor other moms on this special day, and my friend was so deserving.
Some of us have had wonderful relationships with our moms and others of us haven't.  For the most part, many of us can say that our moms did try to do their best to give us sage advice and teach us to love others.
She speaks with wisdom
    and teaches others to be loving and kind. 
Enjoy this 8×10 Scripture Printable for Personal Use
Click HERE to save to your desktop and print for framing.
Mother's Day used to be an icky day for me.
I didn't have a wonderful relationship with my mom and I am not a mom, so I hated the sappy sweet stuff of Mother's Day, especially the sermons at church.  But, then a funny thing happened…  one Sunday a young girl who was in my small group at church asked to have one of the carnations we had for the kids to give to their mothers.  She had gotten one for her adopted mom, but she came back and asked for another one… to give to me.  I'm not sure that she realized I wasn't a mom…. what I do know is that she knew that I was there every week and I loved her and helped her as she transitioned to a new country and culture after living in an orphanage in India.
Rupa saw me as an important loving nurturing female in her life.  And really, isn't that what a mom is?  Whether we have adopted a child or birthed a baby, or not, most of us exemplify those qualities in some way.  I know I tried to speak wisdom into the lives of the girls in my small group and I taught them to be loving and kind to others.
On Mother's Day…
we can focus on the not-so-good… empty arms, absent mothers (physically or emotionally), abusive mothers… or we can celebrate who we are as women and recognize other women who exemplify wisdom, love, and grace.
Celebrating on Mother's Day!




It's JoyDay!
And time to get our joy meters soaring!
Please join me in thinking back over the past week and counting seven things for which you are thankful.  This simple exercise of counting and giving thanks together in this space is something we do each week to reset our compasses and put our eyes back on the Lord.
I'll start…
Thank you, God for…
my mother who truly cared about my spiritual heart.
my Aunt Martha who filled in for all the shortcomings of my mother.
seeing spring unfold outside my door this week and the mighty oaks finally starting to leaf out.
my friends and getting to spend quality time with my friends this week.
hummingbirds at my feeder and the purple finches and cardinals and catbirds and orioles snacking on the oranges I put out for them.
being my healer.
Your love beyond measure.
Your constant care and provision… thank you for being all we need. 
Now…it's YOUR turn!
List your 'seven' in the 'share your extraordinary thoughts' section below.
You'll be glad you did.
Thank you for stopping by and leaving your sweet thoughts.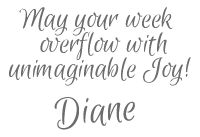 Receive FREE inspiration like this in your inbox!
Sign up Now.