Spending the day at the beach isn't always possible.
So when you find yourself dreaming of splashing waves and sand between your toes….
Put together a beach vignette.
Don't roll your eyes….it really is a sweet band-aid solution.  And it's super easy to do.
Have you ever noticed play sand for sale at the garden center?
When you do…be sure to buy a bag.  Yes…it may be more than you need, but I'm pretty certain that once you have your bag of sand, you'll be glad you bought it (and it certainly won't break the bank).  Plus, you'll find lots of ways to use that sand.  In fact, I could write a whole post on that….maybe later. [wink]
One of my favorite ivory Longaberger rectangle trays was commissioned to hold my "beach."
I added a raised dot bowl that reminds me of water and a few shells to the tray.  That's it!
You can't beat the simplicity!
Whenever I look at it…I am immediately be transported to my favorite beach.  Ahhhhh…. [sigh]
A day at the beach….
A tray with an aqua bowl, sand, and shells….the next best thing to being there.
And if you don't have those items in your stash….I'm pretty sure that if you do a little garage "sailing" you should be able to find a tray, some shells, and a pretty aqua bowl or object.
When was the last time you were at the beach?
~    ~    ~    ~   ~    ~    ~    ~    ~    ~    ~    ~   ~    ~    ~    ~    ~    ~    ~    ~   ~    ~    ~    ~   ~    ~    ~
Catch up on all that's Extraordinary…
this week at An Extraordinary Day: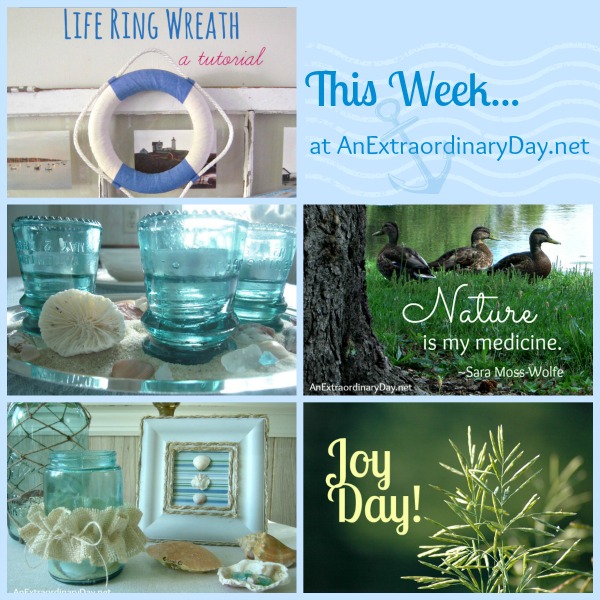 Here's a rundown of  this week's posts…
It was another Extraordinary Week on the blog!
I enjoyed showing you a photo of a recent nature walk as we wrapped up last week.  On Joy Day! I shared a story of how God demonstrated his care for me and we counted blessings as well.  And then….I went coastal! 🙂  Even though it's September, some of the best beach time comes in those final days before fall.  Since, I'm behind because of my move, I decided to go along with my schedule…just a little bit later.  That being said….we "played" in the waves so to speak with the table, some vintage insulators, and even embellished a Dollar Tree frame, yes, coastal style.  And I finally gave you the tutorial for making your own Life Ring Wreath.  A fun week, I think. [wink]
On a Personal Note
We're still looking and praying for that very elusive position for my husband.  I've been able to catch up with a few dear friends for lunch.  And I'm enjoying cooking and doing life with the sweetest of all ladies you'll ever meet.  The kitties are recovering from their travel ordeal and my energy is beginning to return.
This week has gone from the 90's to the low 60's.  The clouds are telling that fall has arrived.  And all of that happened in about 6 hours.  That's what I love about Michigan.
So tell me…are you ready for cooler temps, frost, socks, sweaters and jackets?
Wishing you an Extraordinary weekend!
Diane
I'd be delighted if you'd share the extraordinary goodness here with your friends
by clicking any of  the sharing buttons at the bottom.
To receive FREE bits of inspiration like this
Let's connect!  Facebook  ::  Pinterest  ::  Google +  ::  Shop-Longaberger Lifestyle