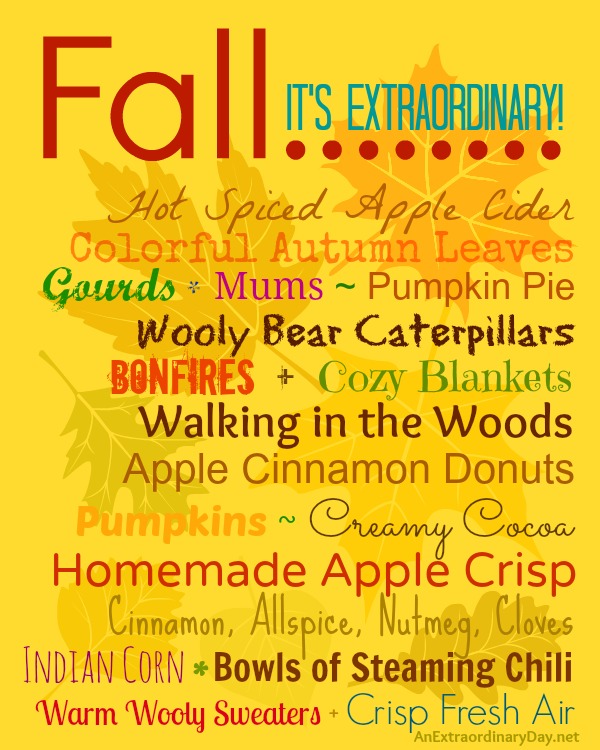 This past weekend we went from summer to fall in just a few hours.
The weather was picture perfect in every way.   Sunshine, temperature, the sky was even a gorgeous fall blue.
It was just what I needed to get in the mood for fall.
That got me thinking about some of my favorite fall things.
Actually I came up with…
 20 Things I Love About Fall!
Homemade Apple Crisp or Apple Pie

Amazing Fall Sunsets & Clouds

Hot Spiced Apple Cider

Wooly Bear Caterpillars

Crisp Cool Air

Apple Cinnamon Donuts from the Cider Mill

Colorful Gourds

Bowls of Steaming Chili

Indian Corn & Corn Stalks

Spices…Cinnamon, Allspice, Nutmeg, Cloves

Snuggly Blankets on My Bed

Walks in the Woods

Hot Chocolate made with Cream

Mums & Asters

Warm Wooly Sweaters

Bonfires

Pumpkin Pie

Canada Geese Flying in Formation

Trees Ablaze with Colorful Leaves

Picking the Perfect Pumpkins
You may remember I said I would be wrapping up my coastal series this week.
I changed my mind.  A girl can do that….Yes?
But, I wanted to be sure that it was okay with all of you, so I took a poll on Facebook.  It seems that the majority of you who commented share my feelings and want to see fall posts, too.
So today, I'm officially announcing my Fall Nesting Series  
Fall…It's Extraordinary!
We're going to have fun between now and then end of the September.
I have lots of ideas and even a few recipes for this amazing season.
Plus, we'll have a sweet giveaway, too!  Doesn't it sound like fun?
What are your favorite fall things?

What would you like to see here on the blog for fall?
If you like the subway art above….I've made it into an 8×10 format for you to download and print.  Oh happy day!!
Just click here, and save the image to your desktop.
I'd love to see how you use it in your fall decor.  Be sure to share your photos on Facebook!!
For lots more inspired fall nesting, pop over to The Inspired Room to see what Melissa and her friends are doing to feather their nests for fall!
Fall Nesting….It's Extraordinary!
Diane
 I'd be delighted if you'd share the extraordinary goodness here with your friends
by clicking any of  the sharing buttons at the bottom.
To receive FREE bits of inspiration like this