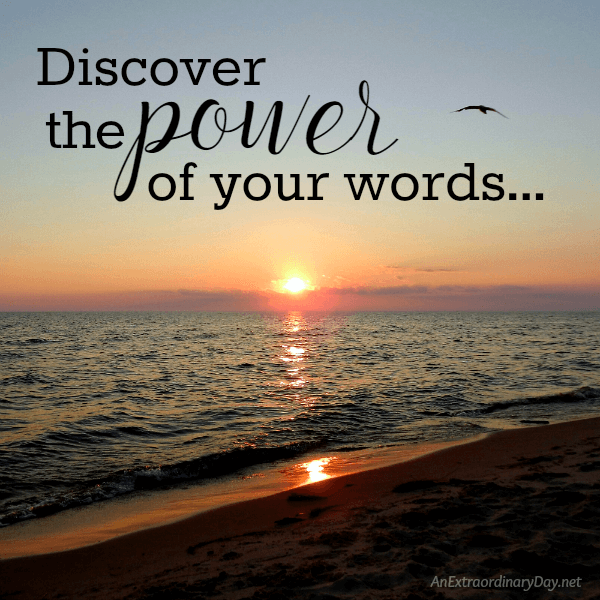 Do you talk to yourself?
I remember working with a gal who talked to herself.  More often than not, I would stop what I was doing because I thought she was talking to me.  And then she would say, "I'm just talking to myself."  Usually, she was walking herself through the steps of her tasks.  It seems kind of quirky doesn't it?
However… developing a lifestyle of talking to oneself isn't necessarily a bad thing.
In fact… talking to yourself can be a good thing.
If you read Psalms, you'll notice that some of the psalmists (writers) did the very same thing.
Why am I so sad?
Why am I so upset?
I should put my hope in God
and keep praising him,
my Savior and my God.
Psalm 42:11
My body and my mind may become weak,
but God is my strength.
He is mine forever.
Psalm 73:26
I can lie down and go to sleep,
and I will wake up again,
because the Lord gives me strength.
Psalm 3:5
I know the Lord is always with me.
I will not be shaken, for he is right beside me.
Psalm 16:8
What is it that you are going through?
Let me encourage you to talk to yourself… preach truth to yourself.
Find scriptures in the Bible and write them down and then say them out loud.
Let your ears hear you speak truth.
Our minds are capable of going off on any number of tangents.
We need to control our minds… bringing every thought into captivity to the obedience of Christ. 2 Corinthians 10:4-5
Make a conscious effort to train your mind to "think on these things."
Things may be going well right now in your life.  
Wonderful!
It's the perfect time to practice speaking and preaching truth to yourself.
So when your next encounter with trials and challenges comes your way… you will be ready.
In fact, I think that this practice will help you not only be ready… but prepare you to take those challenges and trials ahead, in stride.
I'm not suggesting that they won't hurt.  They will.  But your spirit will be lighter.
You won't feel as if all hope is gone.  Instead… you will be leaning in with expectation to the future… trusting God for His best.
We embarked on this week with a great deal of hopeful expectation.
The interviews had gone well.  We didn't sense any roadblocks from the Lord.  In our hearts, everything was full speed ahead.
Finally, we were going to be back in the saddle, we were going to regain our purpose, and our lives would return to "normal."
But, that's not what happened.  Instead… we received a long no.
Have you ever been told that you didn't fit?
It's kind of uncomfortable, isn't it?
Actually.  It hurts.  A lot.
In spite of all that… I can tell you that I did not slip into despair or despondency.
Not because I'm this awesome holy person with her head in the clouds all the time.
That's not me.
I can tell you it's because I preached truth to myself:
And on it goes.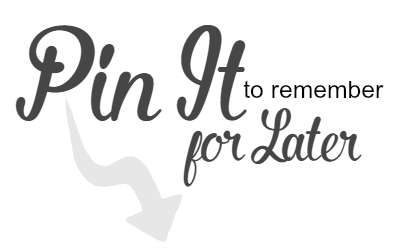 Let's face it.  Life is hard.  
We could all get stuck in thinking about the hard stuff.
Or we could get stuck thinking… God is good.
And that could be the start of thinking of all the different ways God has demonstrated His goodness to us.
Let's give ourselves grace.
And recognize just how much better the bad is when it's balanced out by the goodness of the Lord.
Are you stuck in stinkin' thinkin'?

What are you going to do to get out of that rut?
Let me encourage you, this week, to start practicing a new way of thinking.  It starts by talking to yourself.
People might think you're a bit quirky.  But who cares?
You'll be the upbeat, positive person, who talks to herself.
And you'll be loved all the more because of it.
It's JoyDay!
And time to get our joy meters soaring!
Please join me in thinking back over the past week and counting seven things for which you are thankful.  This simple exercise of counting and giving thanks is something we do each week to reset our compasses and put our eyes back on the Lord.
I'll start…
Thank you, God for…
grace to get through the news.
the miracle of communication with friends ministering in third world countries
amazingly cool breezes and a refreshing stroll along the boardwalk
a few hours of unexpected paid work.
your faithfulness to keep teaching and training me to better follow you and your ways.
your love, mercy, and grace.
the future you have planned for us.
Now…it's YOUR turn!
List your 'seven' in the 'share your extraordinary thoughts' section below.  You'll be glad you did.
Thank you for stopping by and leaving your sweet thoughts.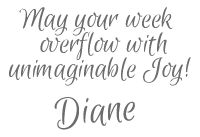 Receive FREE inspiration like this in your inbox!
Sign up Now. 
If you found this post helpful….please pass it on to your friends.
Click any of the sharing buttons at the bottom.