Do you believe that God cares about the details you care about?
Not long ago, my husband and I were having a conversation about my dream studio.
The list included these must haves… nice sized windows and good natural light for photographing, high and low work surfaces and plenty of space for creating, a great view of either a lovely garden or tree tops.
Fast forward a few weeks when we were in the midst of settling into an apartment… with just an inflatable bed and a card table and chairs… when I said to my husband, "You realize that our apartment windows provide us with a beautiful treetop view and the light is good and my studio has two windows? God heard me share my dream and He arranged this spot for us."
I love being on the upper level with the green providing relief from the heat of the summer day and then seeing the sunlight filtering through the leaves in the evening.
These are the things that God gives us to us sustain our faith.
Faith is a funny thing.
It's believing that all God's promises are true… even when we don't get the results we're expecting.
It's stepping forward in anticipation of God's answers… kind of like a child jumping from the side of the pool expecting dad to catch him.
It's trusting God even when things don't look even remotely possible… just like we don't give stones to our children when they ask for bread… God gives good gifts to us when we ask.
This week I've been meditating on Hebrews 11:1…
Faith means being sure of the things we hope for and knowing that something is real even if we do not see it. 
I've also been reading the rest of chapter 11 where I'm reminded of the great faith of Abel, Enoch, Noah, Abraham, Isaac, Joseph, Moses, and Rahab.
All these great people died in faith. They did not get the things that God promised his people, but they saw them coming far in the future and were glad.
I needed to be reminded of these heroes of the faith.
I needed a bigger perspective.
God has been faithful to us over the years.  
It's interesting that my good friend shared a memory on Facebook which I posted two years ago.  It was a post about God's faithfulness through a five-year journey (which has now stretched to seven) and how He IS trustworthy.
Still, I must confess I've struggled lately.
If you know me even a little bit, you know I'm all about home and homemaking.  Creating a beautiful home, opening my home to others and sharing my gift of hospitality makes my heart sing.  However, God has not made it a priority in the same way we have. My husband has worked like crazy to land a good job. Without a decent job, we cannot afford to get our household out of storage (8 hours away). This season has been more than challenging.  We've lived with friends, we've rented furnished vacation homes offseason, and now God has helped us secure an apartment that we can afford… if the work continues to come in. (And for the past two weeks… it has not.)  Even so… we are grateful for this place and we're trusting God for His complete provision.
There is a bit of humor in all of this.  When we called about this apartment we were given a familiar address.  It was the same address (with a different apartment number) we had back when we were first married, just before we built our dream home.  That's a long time ago. Everything is pretty much the same except the carpet and the Formica, plus an extra dose of wear and tear, and many coats of paint.  It's now old building and a bit run-down on the outside.  This is a hard bullet to bite for a gal who likes everything to look shiny and bright and takes care of things so they always look like new.
From Pinterest to HGTV you know that furnishing a home with thrifted furniture is in vogue.  
I'm all over it for wood pieces, lamps, and various household items.  Upholstered items challenge me.  Yet… sitting on a hard chair gets old… we didn't have the luxury of waiting weeks and months for something cushy to sit upon.  So… we were grateful to find a love seat and a chair with ottoman for about $70 at a local thrift store.  I had scoured Craig's List and everything looked super worn and too large for our small space. The love seat is comfortably firm and the chair is tolerable.  But… they are both a bit soiled.  I've been blessed with an incredible nose… if there is an odor to something I not only notice it, I can define it.  These pieces don't have any bad smells… but they don't smell fresh.  I'd love to have them cleaned…  I even checked out the price of cleaning the sofa.  $110.  A fair price… even for a $50 sofa.  But… not for my wallet.
I must say I have enjoyed going to garage sales and was blessed to find a beautiful vintage dresser and mirror, some lamps, and even a top of the line iron for incredibly low prices.  There are plenty of DIY projects in the works which I'm excited about and looking forward to sharing with you.  And yes, I am choosing to be grateful and live with joy.
Yet…  this hasn't been easy for me… especially the upholstered furniture situation.
That's why I needed God's reminder that in the big scheme of things… this is very short term.
Whether I have somebody else's cast off and soiled sofa or my own… it really doesn't matter does it?
What matters is that I have the kind of faith the apostle Paul talks about in the book of Hebrews.
Faith means being sure of the things we hope for and knowing that something is real even if we do not see it.
What must I focus on?
Loving God and loving others.  It's the first and greatest command.
And… I must strive to have a grateful heart, choose joy in my day, create with my hands, and be generous with what I've been given.
Something better awaits me.  Something even better than getting all my stuff out of storage.
They were waiting for a better country—a heavenly country. So God is not ashamed to be called their God, because he has prepared a city for them.
I'll be the first to admit that I'm not particularly heavenly minded.  It's my nature.  I'm a realist… embedded in today.  You won't find me reading science fiction or other genres that take place in the future. But, I am God-minded and I know that He is trustworthy and that He has good things planned for me (and you) in the days, weeks, months, and years ahead.  We just need to keep believing and not lose faith.
We also need to keep in mind that these heroes of the faith didn't get what God had promised. (Hebrews 11:13)
We will have plenty of opportunities to exercise our faith muscles.
In fact, God expects it.
We must continue believing and trusting so that we can see Him work in our lives and in the world.
When we walk in faith believing… God blesses us with the desires of our hearts.  Those little things like good natural light in my studio and a view of the treetops is just one way He has shown His intimate love and care for us. I'm not sure why He has us wait so long for that good job and to get our stuff out of storage… but in faith I choose to believe that His timing and His plan is better than mine and that somehow in the midst of it all He's putting together a beautiful tapestry which one day we'll be able to see and appreciate.
Where are you on your faith walk?
What challenges are you facing?
Where can you focus your faith?
What do you expect God will do?
What has God done to show you He cares about the little details of your life?
It's JoyDay!
And time to fill up our hearts with joy.
Please join me in thinking back over the past week and counting seven things for which you are thankful.  This simple exercise of counting our thanks is something we do each week to reset our compasses and put our eyes back on the Lord.
I'll start…
Thank you God for…
the good news that my dear friend and her son are driving to Michigan for a visit!
cool Michigan summer evenings.
daylight until almost 10 p.m. — at least for another two weeks.
Your faithfulness.  How You love us to trust you, no matter what.
slightly smelly and soiled thrifted furniture.
being able to worship you in community.
caring about the small details in my life… it's so encouraging.
Now…it's YOUR turn!
List your 'seven' in the 'share your extraordinary thoughts' section below.  You'll be glad you did.
Thank you for stopping by and leaving your sweet thoughts.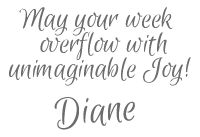 Receive FREE inspiration like this in your inbox!
Sign up Now. 
If you found this post helpful….please pass it on to your friends.
Click any of the sharing buttons at the bottom.