Please … "Pin-it" – Share it on Facebook – Stumble it!

My friend mentioned to me that there just had to be something she could do with the garbage can filled with acorns she had just raked up from her yard…aside from starting an oak forest.   You too?
Recently, I shared the first of several upcoming ideas for creating home decor with acorns here.
Can you imagine living in a virtual oak forest and never having crafted anything with acorns?  [guilty]
This year…I'm making up for lost time.  There's a county park within walking distance and I've filled up a couple of bags of assorted acorn varieties.  Some with fat wide caps and others with tall oriental style caps, tiny ones and jumbo ones.  It's so fun to discover their individual uniqueness.
Last year I gave up trying to score acorns (I guess the deer beat me to them.) and moved on to pine cones.  I knew that I had to think about bugs and such and I needed to dry them out…so I did a little experimenting with my pine cones and wrote this popular post.
With that past experience, I knew I needed to learn more about oak acorns.  I know nothing about oak trees….even though I have a Master Gardener certificate.  (I guess I dozed off during the oak tree lecture. [wink])
There's so much to learn…but today…
A few helpful tips for preparing acorns for decorating and crafting.
Try to pick up acorns early in the season and after a good wind storm.  You'll have fresher ones and more to choose from and the picking is easier.  Squirrels, chipmunks, and deer are pretty quick to scarf up their treats.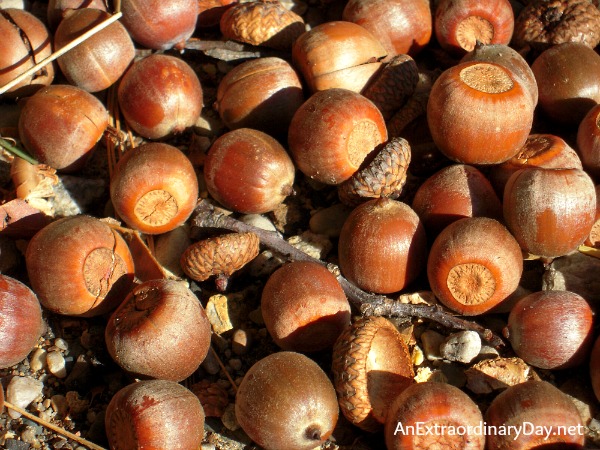 If you're planning on using acorns in your home decor, it's a good idea to wash your collected acorns and bake them to kill their insect residents.
The first thing you want to do, once your get your treasures home, is to clean them.  Place several handfuls in a large bowl and using the faucet's aerator, fill up the bowl with water.  Then agitate the acorns in the water, with your hands, briskly to remove the dirt.
Next, remove the acorns from the water and place them in a colander and dispose of the dirty water.
Repeat this process until the water is fairly clean….as many as four or more times.
If you want to eat your acorns or grind them into a flour…place a few handfuls at a time in a clean bowl of water.  If the acorn sinks…it's bug free and edible.  If it floats…there are little beasties lurking behind that acorn's pretty facade. (Most of mine floated even though many had little holes from which their inhabitants had already exited.)  Those will need to be baked for sure.
Once you have completed this process, lay your acorns on a foil covered jelly roll pan (cookie sheet with sides) and allow them to air dry before putting them in the oven to bake.
Set your oven for 175 or 200 degrees.  (In my haste I set mine for 250 degrees, but some of them darkened a little too much.)  Bake your acorns with the oven door ajar for several hours to dry and debug them…turning them (stir them around) several times.
Remove them from the oven and allow to cool.  Some will have shrunk and will need to have their caps glued on.
So there you have it!  My tips for preparing acorns for decorating and crafting!
I've always had a love/hate relationship with oak trees.
The home we built in Michigan had two oak trees and my neighbors had scores of them down the street.  Our neighborhood was a virtual oak forest.
After cooling us with their lovely green canopy all summer long, and finally after 14 years, growing tall enough to shade our dining room from the hot sun in the west, they seemed to maliciously shed their leaves and corns come fall and winter.  Some years they even had the audacity to hang onto their leaves until there was plenty of snow on the grown and then in the midst of all that pristine whiteness they would drop their leaves.  The nerve!!  Anyway…that's all I know about oak trees, their leaves and nuts.
This year as I walked a local county park I discovered some very tiny pale tan round balls.  Littering the ground. They looked like they were made of wood or clay.  I picked up a few, examined them, and looked around for their source.  As I carefully scanned the giant oak above my head, I spied tiny little tan balls clinging to the twigs midst the leaves.  What were these little balls?  Another oak fruit or nut I never heard of?
After a bit of Googling, we discovered those tiny balls were first year acorns.  Have you ever heard of such a thing?  I cannot believe that after years of oak trees in my yard and tromping through the woods and scavenging for leftovers from Mother Nature's bounty, I never ever saw them before now.
These tiny acorns will grow a cap and increase their size many times in their second year.
You know how you hear that there will be a bad winter when there are lots of acorns?  If that's the case…we're in for a doozy.  The poor photo above is of acorns along the side of the road where I walk.  Just a few….
Last winter was the worst I've known, and there were hardly any acorns in my neck of the woods… so I guess the tale is just that.
I think the production of acorns is more in keeping with the kindness of the growing season.  If the summer is harsh and dry, those first year acorns probably won't make it the first year, let alone hang on and mature to the second year.  This was a good growing year.  There was plenty of moisture and it wasn't overly hot, which was helpful to the tree.  So, the second year corns were able to grow and ripen quite nicely.
How do you decorate or craft with acorns?

Do you have any tips for preparing your acorns?
If you enjoyed this post….please pass it on to your friends.
Click any of the sharing buttons at the bottom.
Best wishes for An Extraordinary Day!
Diane
To receive FREE bits of inspiration like this
in your inbox or reader, subscribe now.