The coffee table is often the center of attention in our living rooms and family rooms.  It's a spot that so many want to get just right.  Especially since hours can be spent around that rectangle, square, or round low table.
I've had many readers say, "Please help!" Because they just don't know what to put on their coffee table… besides a cup of coffee.  The idea of "styling" that focal point is intimidating.
And for some reason… many feel the decorating pressure to create a perfect fall coffee table.
After all… fall decor is coming close to pushing Christmas off that first place spot.
You know what?
It doesn't matter.
[gasp!]
I know.
If you know me, I fuss with my decor and try to get things, just right.
It's okay… and it's not.
You see… creating the perfect fall coffee table is not important.
What is important is that I have an opportunity to ply my gifts and talents… to be creative.
Charles Faudree via Pinterest
I know I just said that it wasn't important…
In the scheme of things… a jaw dropping fall coffee table… is not important.
What is important… is that we invite people into our homes to sit around the coffee table.
What is important… is that we share life with others.
That stories are told and heard.
That we listen.
That we laugh and cry.
What's important is that we make our homes a sanctuary of peace for those who reside with us inside the walls of our homes.
What's important is that we take the love and encouragement given and received within our homes and take it to others outside the walls of our homes.
Having a perfect fall coffee table might or might not be important to you.
Something else might be important to you.  Something else as trivial as a coffee table.
You see… we all have a desire to have a perfect fall coffee table.  It just has a different name and it's in a different room in our house.
I'm not going to tell you it's okay, either.
You see… it's taken me a long time to "get" that having the perfect fall coffee table is so not important.
I've had to live through a whole lot of changes to see this.
What I do know…
Decorating a coffee table for fall should be fun.
It shouldn't be costly.  And it doesn't need to be showy.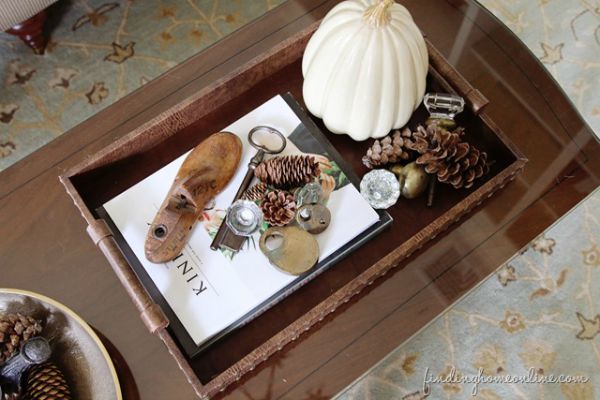 If you want to create a fall coffee table… go for it.
But don't obsess over it.
Please don't obsess over it.
Therein is the danger.
Between magazines, Pinterest, blogs, Periscope, Instagram, HGTV, etc., it's easy to obsess about home decor.
I've done more than my share of that.
I know the slippery slope too well.
Sometimes it's our excuse to escape from a crazy world.
Sometimes home decor becomes the god we worship.
Sometimes our focus on decor is an attempt to fill the empty place we have in our souls that's designed for something so much better.
Ashley Whittaker Design via Decor Pad
And really… there are no perfect fall coffee tables.
None.
Beauty is only beauty if it's beauty in the eyes of the beholder.
We all have different ideas and tastes.
Ashley Whittiker Design
Having said all that…
I do have some simple tips for decorating your coffee table for fall.
Styling Tips for the Not-So Perfect Fall Coffee Table
Don't run to the store… Select items from around your home that are special to you or evoke special memories for your coffee table.
If you love books… place a few of your favorites on the table.
It's a great spot for travel mementos… even a handful of collected rocks.
Choose things in varying heights… or create heights.
An empty vase or pitcher or candlesticks or a tall lantern can be your tall item.
A small basket or bowl filled with pine cones or acorns you gathered with someone you love placed on on top of a few books could be your middle height.
A small plate or tray is lovely for a low height item… and it doesn't need to hold anything if it's eye-catching on its own.
Add various textures and finishes to your coffee table vignette.
Mix wood and metals.
Choose bowls or plates or vases that have interesting surface texture
Remove the jackets from your books for a stronger color and textural interest.
Fall is filled with textures… pine cones, acorns, feathers, pumpkins, gourds, leaves.  Have fun gathering or visiting the farmers' markets for these items.
Large rectangular or round trays are a great help in styling your coffee table.
The tray makes a statement on its own… even an empty one can serve as a handy spot for placing beverages… ready for entertaining at a moment's notice.
When you have no idea how to arrange a few items… place them in a tray… move them around until things look good to you… what could be easier?
Corral several smaller items in a shiny tray… place a wood bud vase filled with fall leaves  in a tray, next to a stack of books topped with grandpa's magnifying glass, and a bowl of apples.
Don't go overboard…
Visually empty space is necessary for the eye to rest.
You need room for drinks and a plate or tray of appetizers or snacks, too.
Place your items on the table in a pleasing arrangement to your eye.
Don't worry if it's perfect or not…
Relax…. and enjoy this moment you've created.
You see… there's really no perfect fall coffee table.
No need to fret about whether you've arranged it perfectly or not.
It's your creative inspiration.
And it's good. All good.
Home decor is important… but it's not the do all, end all.
Clean and uncluttered to me is a higher value.
What is important is that we need to make our homes warm, welcoming, places for family and friends.
What's more important is that our hearts are warm, and loving, and welcoming to all who step through our doors.
And that we open our doors to those who are hurting.
That's what's important. 
On an aside but not entirely…
I've been thinking…
How do we open our doors to those escaping religious persecution?
I've been thinking about this poem engraved on the Statue of Liberty…

"Give me your tired, your poor,
Your huddled masses yearning to breathe free,
The wretched refuse of your teeming shore.
Send these, the homeless, tempest-tossed, to me:
I lift my lamp beside the golden door." ― Emma Lazarus
I have no answer.  Just a prayer.
And the realization that the perfect fall coffee table doesn't matter…
The only thing that matters are those gathered around the coffee table…
and we don't want to exclude the wretched refuse from our tables.
Creating the perfect fall coffee table is not only unimportant…
it's easy compared to what is important.
What is important… is hard… and there are no easy answers.
Or maybe there are… they just aren't comfortable.
What do you think?
Thanks for stopping by today… I can't wait to hear your lovely thoughts!

Receive FREE inspiration like this in your inbox!
Sign up Now.