This past week one of my dearest friends, after getting her son off for his freshman year at college, turned around and drove south with her daughter to help her settle into a new home for graduate school.  As she was sitting in the hotel lobby, we started to get caught up on the details of these momentous life events when something came up on the TV there and she asked if I knew about the events in Barcelona, Paris, and Charlottesville.  Frankly, beyond Charlottesville, I was unaware of the maddening attacks.  I had hardly been home all week and mostly absent from social media and news media.
My home is a place of peace and sanctuary so we do not have a TV that bombards our minds and souls with all types of vile, vitriol, and more.  (I don't have anything against TV… I just prefer my home to be a haven where a giant screen does not fill my world with the media's version of world events.)  However, that doesn't mean we don't care about what's happening in our country or the world.  We do care.  A lot.
It's out of that place of caring that my heart grew heavier as the week progressed. Through my brief online experiences, there were blog posts that caused consternation, there were Instagram posts that made my heart sad (Please… why do people post text on IG?!), and as I listened to NPR during the brief time I was in the car I was appalled.  The tone and tenor greatly dismayed me.  Bitterness and judgment seemed to be perverse and pushed out all possibility of gentleness and love.
Maybe that is why these words penned by C. S. Lewis
rang so true for me.
The rule for all of us is perfectly simple. Do not waste time bothering whether you 'love' your neighbour; act as if you did. As soon as we do this we find one of the great secrets. When you are behaving as if you loved someone, you will presently come to love him. If you injure someone you dislike, you will find yourself disliking him more. If you do him a good turn, you will find yourself disliking him less….   But whenever we do good to another self, just because it is a self, made (like us) by God, and desiring its own happiness as we desire ours, we shall have learned to love it a little more or, at least, to dislike it less.
And there were these verses that then came to mind…
In everything you say and do, remember that you will be judged by the law that makes people free. So you must show mercy to others, or God will not show mercy to you when he judges you. But the person who shows mercy can stand without fear at the judgment. 
The only thing that counts is faith expressing itself through love.
There is a posture of mind and spirit that can truly make a difference in the way we respond to those around us. This mindset will influence our words and actions so that we don't tear down, but instead, give life and value to others.
I created this light-hearted graphic /scripture printable in a 5×7 size so that you can download it to print and frame, if you desire, as a reminder of God's best way for us to live in this broken and hurting world.  Please feel free to share it with friends and embed its words on your heart.
CLICK HERE to download your free Scripture PRINTABLE.
This week as you go and participate in conversations and activities, be careful to not judge… but thoughtfully and prayerfully respond with love and mercy.  Because in the end… we need to remember… the only thing that counts. And that is a very good thing!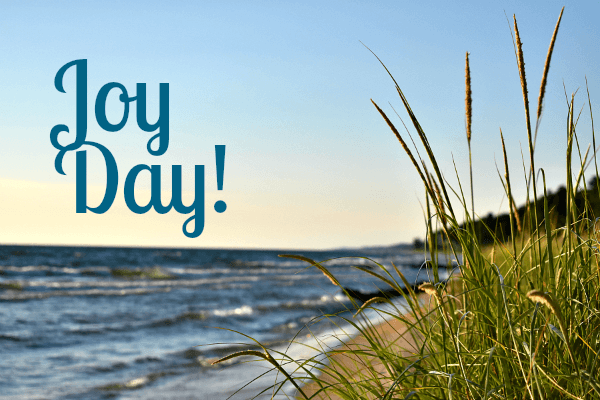 It's JoyDay!
And time to get our joy meters soaring!
Please join me in thinking back over the past week and counting seven things for which you are thankful.  This simple exercise of counting and giving thanks together in this space is something we do each week to reset our compasses and put our eyes back on the Lord.
I'll start…
Thank you, God…
for a good hard week of work.
for giving us the opportunity to bless our special friends.
for the blessing of a new chair for Tim.
for a spectacular rainbow the other evening. 
for demonstrating to us the way we should love others.
for YOUR care in all the details of our lives.
that You are my loving faithful Father.
Now…it's YOUR turn!
List your 'seven' in the 'share your extraordinary thoughts' section below.  You'll be glad you did.
Thank you for stopping by and leaving your sweet thoughts.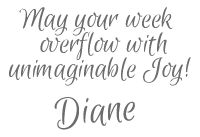 Receive FREE inspiration like this in your inbox!
Sign up Now. 
If you found this post helpful….please pass it on to your friends.