Do you ever look at your home and wonder if it would be better to have a tornado sweep through and start over fresh?
There are times when all of us… those of us who don't have a natural decorating bone in our bodies and those of us who relish making a room into a happy sanctuary for those we love… need to be inspired.
My friend Melissa Michaels from The Inspired Room just launched her latest book, Simple Decorating.
It's a small book. But, don't let the size fool you. I've been reading and collecting decorating books for years and this is one that you will want to keep close at hand at all times. It's FILLED with ideas!
You know how I've been living in this temporary apartment with everything thrifted with the tiniest budget ever? This book is even a wonderful guide for me. It doesn't matter what your budget is or how savvy you are or aren't at decorating, it's filled with inspiration.
There are so many practical ideas, like this one: #31 – Hide Distractions with Everyday Concealers. In this apartment, one of the things I deal with is an ugly old fashioned phone jack on the wall that we don't use. Finding a way to disguise that eyesore with a clever concealer was a priority to me. There are lots of things I can't do and don't want to spend the money to do in this little apartment, but making the walls prettier with decor to hide the ugly… that is something I can do. And you can too. As you read through the book you'll discover countless ways to make your home more lovely. It's a terrific springboard to get you thinking outside the box. (Book?!)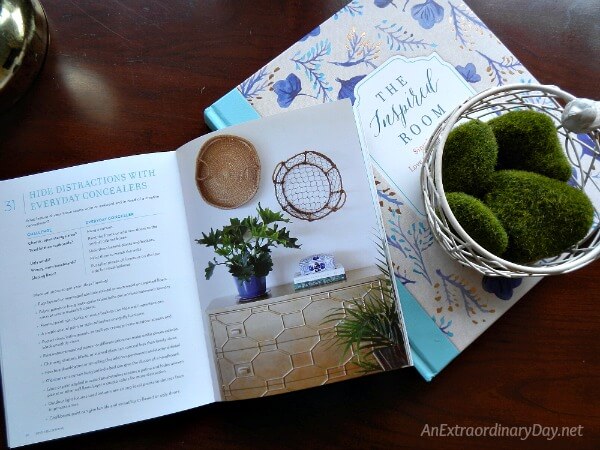 The book
's tagline is 50 Ways to Inspire Your Home. Ha! 50 Ways! It has more than 300 ways because each of the 50 topics has many ideas to inspire and guide you.
There's nothing like a surprise FedEx delivery on a Saturday. I was in the midst of a huge time crunch for one of my writing projects, but when the box arrived… I had to open it immediately!
Melissa kindly sent me this box with her inspiring book and two sweet gifts. Just because. I was and am so touched to have been so richly blessed this way. The Inspired Room was the first blog I followed, back in the day, and was the inspiration for starting An Extraordinary Day.
I can't wait to find a way to use this sweet tea towel in my decor. Keep your eyes peeled… you'll never know where it might turn up! And the pillow cover that came all rolled up!! I immediately put an iron to it and filled it with a pillow form that was waiting on my shelf. It couldn't be a more perfect for my $25 thrifted chair. Even my husband remarked about it when he came home.
It's amazing how this pillow with the whimsical arrows and compass directions is just the right touch to give this stodgy old chair new life and put some fun into my space. Melissa has lots of tips for transforming your space with pillows and this was the perfect start for me!
Bit by bit, I'm working on my space. I have plans to throw some paint on this little side table. It's right in keeping with one of Melissa's suggestions to not buy new, but to work with what you have. Although it was a great thrift store find and the perfect fit for our space, it just feels too new for me, so I'm going to apply her suggestion for sure. And that bright gold lamp? It was free and now in the midst of a makeover that is weather dependent for the next step. That shiny fake gold has got to go!!! Hurry up Spring!!
Simple Decorating
, 50 Ways to Inspire Your Home, is listed for $14.99 and will release on April 1. But, it's on pre-order SALE on Amazon – TODAY for $8.56. Don't be a fool [wink] and wait until April Fool's Day! Click here to Order now and SAVE.
That way you'll be able to get started right away using all these wonderful ideas and tips for making your house a home you can't wait to come home to!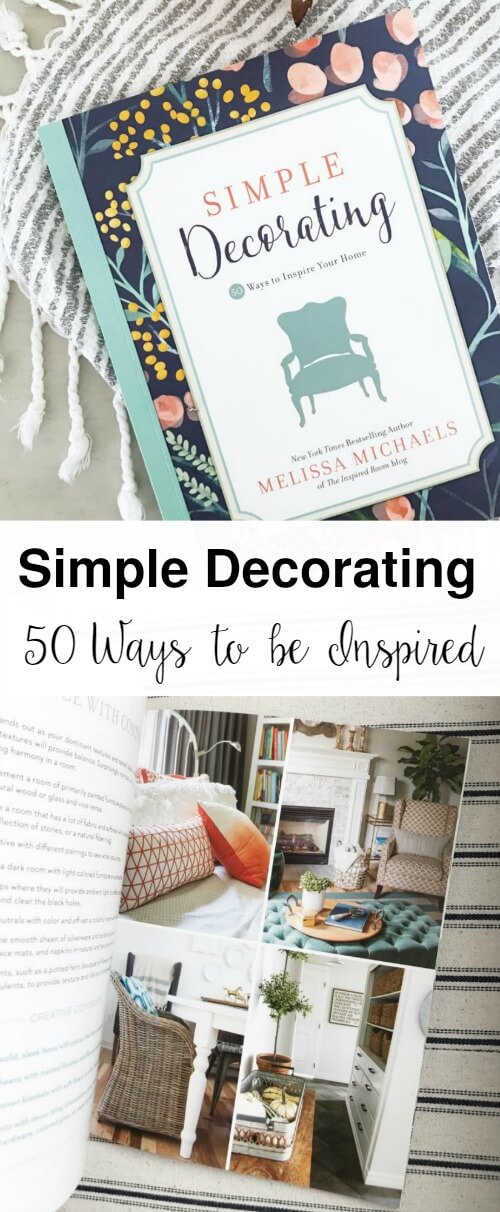 Thanks so much for popping by today!
If you enjoyed this post would you please share it with your friends and "pin it," too?

Receive FREE inspiration like this in your inbox!