Do you have a framed print that you like, but the mat needs to be refreshed?
Several people have commented about this wall art which makes an appearance whenever I share a new vignette on my piano. This is the latest iteration.
Today I'm going to show you an Easy DIY Book Page Mat Tutorial.
Last year I picked up a typical pink floral print with a mauve mat in a gold frame from the thrift store.  It screamed early 90's and I had no idea what I was going to do with it.  So it sat in my studio whispering my name.
By now, you must know that I am smitten with book pages.  Is it because I loved the smell of the old library I used to frequent when I was young?  I could spend a whole afternoon there anytime.  Or is it because I was taught to revere a book, not dog-ear the corners, not eat while I read, and surely not write on a book's pages.  Maybe it's because I treasure the written word and love nothing better than to read a well-crafted story written by a true wordsmith.  Whatever it is…I'm having so much fun decorating with book pages.  I wish I had some really old ones.  But, paperback books will do just fine for my projects.
One day that cast-off frame got past whispering and shouted my name.  So, I picked it up and put it on my studio table and wondered what I could do.  For a moment you might have thought I lit sparklers!  Why hadn't I thought of this before?  Of course!  Why not cover up that dusty so-20-years-ago mauve mat with book pages!!  A little dancing may or may not have ensued.
I can see you thinking about what you have in the corner of the closet or the recesses of the basement or attic.  The sparklers have been lit!
Refresh a Mat with Book Pages – An Easy DIY Tutorial

Supplies:
Old dictionary or any used book
10 Easy Steps:
Tear several pages from your dictionary or book.
Measure your mat's width or thickness (the distance between the art edge of the mat and the frame side of the mat that you want to cover).
Turn the paper in your paper trimmer for several pages so that the text is on an angle for interest – see photos.
If your mat is 3 inches, cut 3 inch squares or 3×4 inch squares from your book pages.
Cut a small stack of book page squares (my mat took about 30).
Lay your book page squares around the mat to see if you have enough.
Arrange your book page squares on the mat for visual interest.  Try not to get the same pattern side by side.
Apply adhesive on the mat and place the book page square on top.
Be sure to keep your inner edge perfectly lined up for a finished look.  If your outer edge is off a bit, it will be covered up by the frame.
That's it!  Slip your mat in the frame, add your artwork and voila!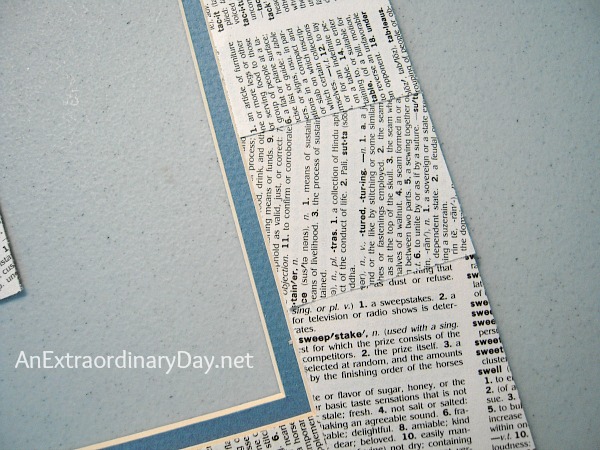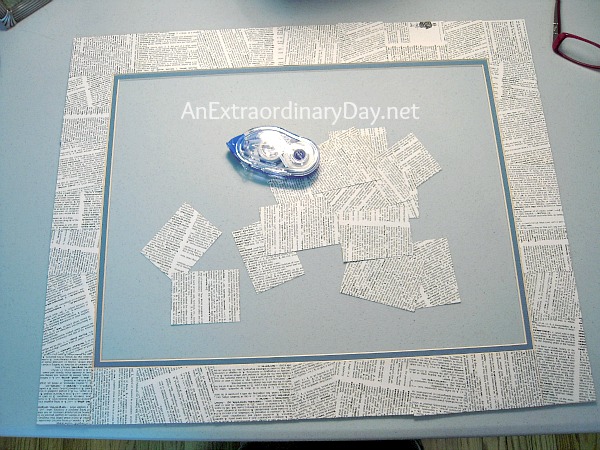 Refresh the Frame, too!
Remember how I said that the frame was gold?  That just wouldn't look right in my home.  I needed a more muted look and I wanted my frame to have a hint of a pewter cast.   What should I do?
First thing I did was check out my stash of craft paints and I found some metallic and pearlized paints.  Unfortunately some of them were old and sort of dried up.  That did not stop me.  I worked with what I had and with a light hand, brushed on some silver and some bronze and then some pearl, and repeated as necessary.  About midway through the process,  I took a dark red and painted an inside line in the crevice of the inner molding.  Then I took a toothbrush and spattered red and brown paints to give it a more interesting look and did a little more brushing of the bronze.
There is no specific method to painting like this.  Just be artsy and treat the craft paints like highlighters or embellishments.  I used some artist's brushes in my stash for this project.  Sorry I did not take a before photo of the ugly gold and pink frame and mat.   Have you ever gotten creative in the moment and then said, phooey, how did I forgot to take photos?    Good, then it's not just me!!
What about the art print?
For those of you who like the print itself.  That was an easy DIY too!  I just cut a page out of an Audubon book that I picked up a number of years ago at one of those tent book sales.  After applying a few spots of adhesive to the back of the print and then…you'll love this…stuck it to the back side of the faded pinky print that came with the frame.  Okay, it did take a little work to get it centered properly, but aside from that, it was E.A.S.Y.!!  And you can do something like it too.
Inspired?
Hopefully you found a bit of inspiration, and will now take those cast-off framed prints in yesterday's color combinations and give them a new fresh look with my easy DIY book page mat tutorial (and frame and print tips).  I'd love to hear what you think of this little project.  Let me know if you're going to try your hand at this too.
As I always say…"Why be ordinary when you can be Extraordinary!"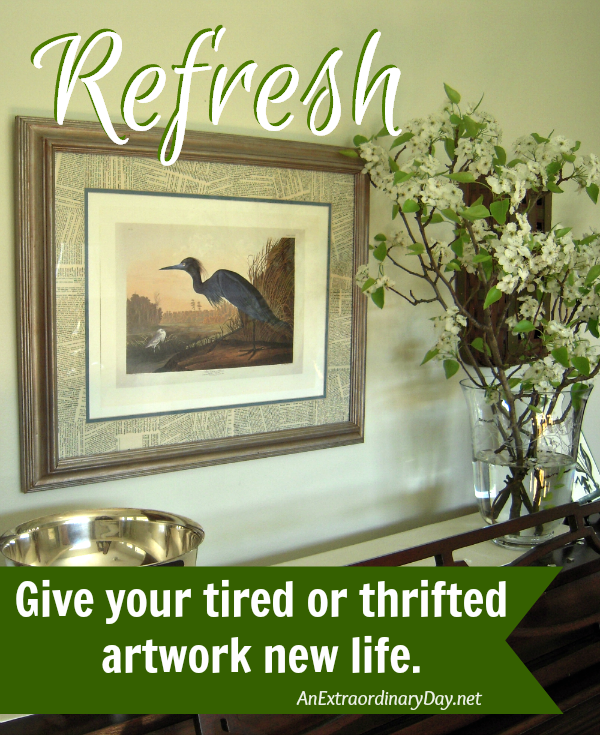 Please "Pin" and share this image.
Jumping up and Down Exciting News!

I want to let you know that next week, I will be celebrating the first anniversary of An Extraordinary Day.  Please be sure to come back and help me celebrate.  There will be a VIP guest joining in the fun on Monday, April 29.  Let's just say I'm more than a little bit excited about that (her)!!!   You can look forward to a week full of giveaways, too.  Don't miss it!  Please make plans to invite your friends to come and join us in the celebration.  Share like crazy!!
Wishing you an Extraordinary weekend!
Diane
To receive bits of inspiration like this in your inbox or reader, subscribe now!  It's FREE.
Let's chat!   "Like" An Extraordinary Day ~ A Place of Joy & Inspiration Facebook.
*   *   *  *  *  *  *   *   *   *  *   *   *   *   *   *  *  *  *  *  *   *  *  *  *  *  *
 Please stop by Longaberger Lifestyle and check out the new online catalog.
Sharing with these Extraordinary spots: The Dedicated House + The Gingerbread Blog + Tatertots & Jello + My Simple Home Life + A Night Owl Blog + Natasha in OZ + Funky Junk Interiors + Tutus & Tea Parties + Twigg Studios + Nifty Thrifty Things + Sunny Simple Life  + The Tablescaper + i heart nap time + Life on Lakeshore Drive + Flamingo Toes + Sew-licious + The Self-Sufficient Home Acre + Silver Pennies + DIY Showoff + Three Mango Seeds + One More Time + Uncommon Designs – Monday Funday + Boogieboard Cottage + Frugal Foodie Mama + I Should be Mopping the Floor + Create with Joy-Monday + Sew Can Do + Stephanie Lynn + Between Naps on the Porch + Mod Vintage Life + Rain on a Tin Roof + Coastal Charm + The Dedicated House + Cozy Little House + A Stroll Through Life + Kathe with an E + My Uncommon Slice of Suburbia + Cedar Hill Ranch – The Scoop + The Rustic Pig + Creative Cain Cabin + Knick of Time + Today's Creative Blog + Our Home Away from Home + Home Stories A to Z + Titus 2days + Nap Time Creations + + Memories by the Mile + Not Just a Housewife + A Diamond in the Stuff + Carolyn's Homework + Elizabeth & Co. + A to Z Celebrations + Green Willow Pond + The DIY Dreamer + Knick of Time + Whimsy Wednesday + Savvy Southern Style + Clean and Scentsible + DIY by Design  + Lavender Cottage + Mums Make Lists + Timewashed + Southern Lovely + SNAP! + Free Pretty Things + Ivy & Elephants + Polka Dots on Parade + Trendy Treehouse + Rose Chintz Cottage + From My Front Porch to Yours + Fine Craft Guild + No Minimalist Here + A Delightsome Life + All Things with Purpose + Stone Gable + 52 Mantels + Live Laugh Rowe + Designed Decor + Rooted in Thyme + Shabby Creek Cottage + Katherine's Corner + Artsy Fartsy Mama + A Glimpse Inside + Made in a Day + Imparting Grace + Common Ground + Bernideen's Tea Time + The Charm of Home + Thrifty Groove + French Country Cottage + Redoux + Jennifer Rizzo + 5 Simple Things + Create. Craft. Love. + Craftberry Bush + My Repurposed Life + Tidy Mom + The Home Girl + The Answer is Chocolate + Homespun Happenings + My Romantic Home + 504 Main + Shabby Nest + 30 Handmade Days + In the Studio + Shaken Together + Serenity Now + Five Days 5 Ways